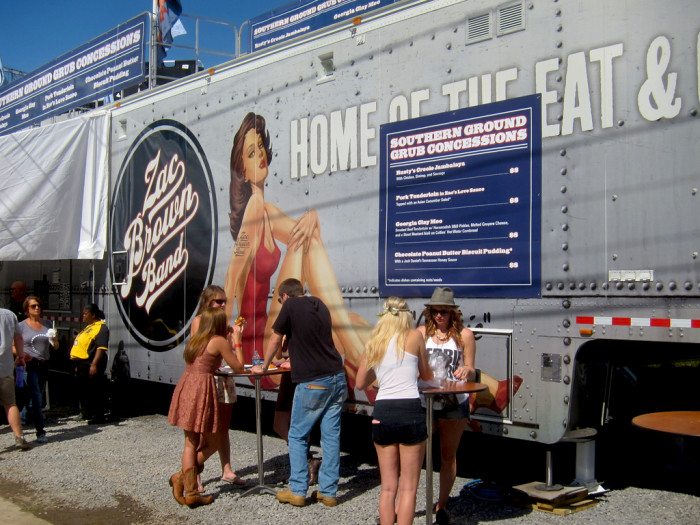 Country music star Zac Brown's first big hit was titled "Chicken Fried," so it's no surprise that he's into Southern food. But with his Southern Ground Music and Food Festival, Brown takes the connection between vocals and vittles to a new level. His partner in crime in the project is Rusty Hamlin, a long-time Atlanta-area chef who handles the foodie half of the touring festival, now in its second year.
Brown and Hamlin met nine years ago through a mutual friend named Wyatt Durrette, who was Zac's songwriting partner and Rusty's bartender. Over food and beers around a campfire at Brown's Lake Oconnee house east of Atlanta, the group hatched a plan to someday feed and entertain the masses once they had hit the big time. Fast forward a few years later and Brown's music career had taken off about the same time that Hamlin became a chef/partner of a successful Atlanta eatery named Atkins Park.
The chef and musician decided to hit the road together, with Hamlin purchasing a rickety old 14-foot trailer to use as a mobile kitchen. The pair pioneered the concept of the "eat and greet," an opportunity for Brown's growing legions of fans to interact with the Zac Brown Band before concerts. The tradition grew from feeding 150-200 fan club members, radio contest winners and sponsors to the huge event that has become the Southern Ground Festival.
The little trailer has been replaced by a 54-foot semi trailer affectionately known as "Cookie." Out of this Cadillac kitchen, Hamlin and his staff feed thousands of fans a menu of selections like Rusty's Creole Jambalaya, which draws from the chef's roots growing up in Louisiana, to Pork Tenderloin in Zac's Love Sauce, which features Brown's…uh…love sauce. (Brown actually once owned a successful restaurant himself, and his Love Sauce is a delicious concoction of teriyaki and coconut milk.)
In the same way that Brown loves to collaborate with local musicians as part of his "super set" during the Southern Ground Festival, Hamlin invites local chefs to take a turn in the kitchen wherever the carnival stops. At the first show of the tour in Nashville last month, Brown shared the stage with Nashvillians Sheryl Crow and Jerry Douglas while Hamlin cooked with James Beard winner Bob Waggoner of Watermark and local culinary wunderkind Matthew Lackey of Flyte World Dining and Wine.
Another Beard award winner, RJ Cooper of Rogue 24 in Washington D.C. also assisted in the kitchen in Nashville and will return to cook for fans at the next stop of the Southern Ground tour in Charleston, SC on October 20-21. Last year, Charleston super chefs Mike Lata and Sean Brock cooked at the inaugural edition of the festival. The Charlestonian chefs for 2012 will be Kevin Johnson of REV restaurant group and Michelle Weaver of the Charleston Grille. Joined by pastry chef David Guas from Bayou Bakery outside of D.C., this talented roster of kitchen magicians will prepare four-course meals on both nights for fans who are tasteful enough to purchase tickets in the stage boxes.
These VIPs receive seats which are actually on the stage and may find themselves exchanging a high-five with performers while they enjoy their appetizer. With dedicated table service, private restrooms, complimentary wine, beer and cocktails and access to a backstage VIP hospitality area, these may be the premier seats in touring music today. Brown specifically designed his stage set to include dumbwaiters to run the food through the scaffolding directly to the tables so that diners will have unobstructed views of all the fun and music.
Even fans who don't choose the $325-$499 stage box seats can dig on some good grub while they dig on the tasty tunes. In addition to various levels of access and free food and booze based on your ticket price, even the throngs in the general admission sections have the opportunity to purchase great local food from a fleet of food trucks parked on the festival grounds for the duration of the weekend festival.
The musical lineup in Charleston includes Grace Potter and the Nocturnals, the Avett Brothers, Los Lonely Boys, Greg Allman, the Wailers, Michael Franti & Spearhead and a man who has probably eaten a chicken or two in his lifetime, Charlie Daniels. Despite the fact that he's still supposed to be on complete vocal rest after throat surgery, John Mayer will pitch in some of his scorching guitar work on both nights of the festival.
Great music and amazing eats in a great food town like Charleston? Sounds like a reason to take a road trip to Southern Ground.
For more information check out the Southern Ground Music and Food Festival site.
More Southern fried music on Food Republic: