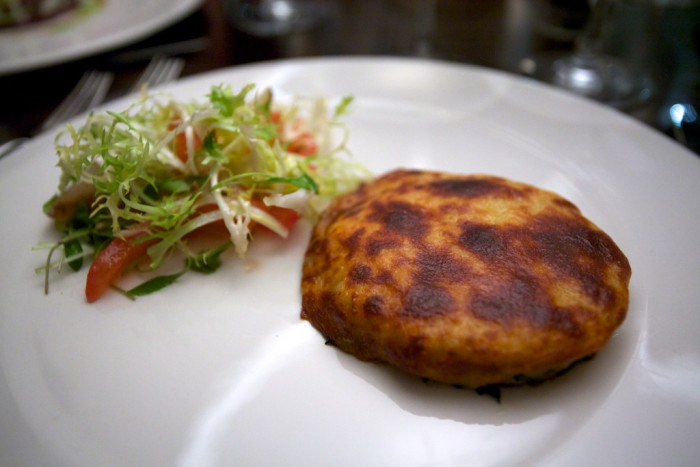 That video we posted earlier this morning has two of my favorite things in it: Welsh rarebit and Gail Simmons. When I was a wee writer and cook, I earned a coffee date with Gail through three weekends of "servitude" with her friend, a recipe tester. No, not like me. A real, actual, trained and super-experienced cookbook author and recipe tester for a well-established culinary magazine. Yes, the paper thing. What could have easily been a favor to a friend written off in 20 minutes turned into a 2-hour motivational conversation, and it was awesome.
Inspired by Gail, networking and just the teeniest tequila/beer chaser hangover, here are some of the ways I like to switch up the classic British pub food. The basic formula is the same, whisk a tablespoon of flour with a tablespoon of butter, add a half a teaspoon each of mustard and Worcestershire (if you like), whisk, add 1/4 cup of beer, whisk, add 2/3 cup of shredded cheese, whisk, cool slightly, pour over bread and broil. But what kind of beer? What kind of cheese? What kind of mustard? And does it have to be bread?
The Full Monte Cristo: honey mustard, raspberry lambic, white cheddar, minced dried cranberries over sourdough bread.
The Deconstructed Reuben: spicy brown deli mustard, pale ale and Swiss or Jarlsberg over dark rye layered with pastrami and sauerkraut.
Welsh Raclette: Dijon mustard, um…some beer the French drink other than Kronenbourg 1664 and raclette, Emmentaler or Gruyére broiled over a baguette halved lengthwise, cut into sections and maybe dipped in more of the rarebit sauce.
Queso Fundido del Welsh Rarebit: habanero mustard, Negra modelo, cheddar over tortilla chips. I'm probably toeing the fusion line there. Full disclosure: nobody famous actually endorses my recipes.
and to fully Americanize something entirely British…
More ways with cheese for lunch on Food Republic: