35 New Ways To Mix An Old Fashioned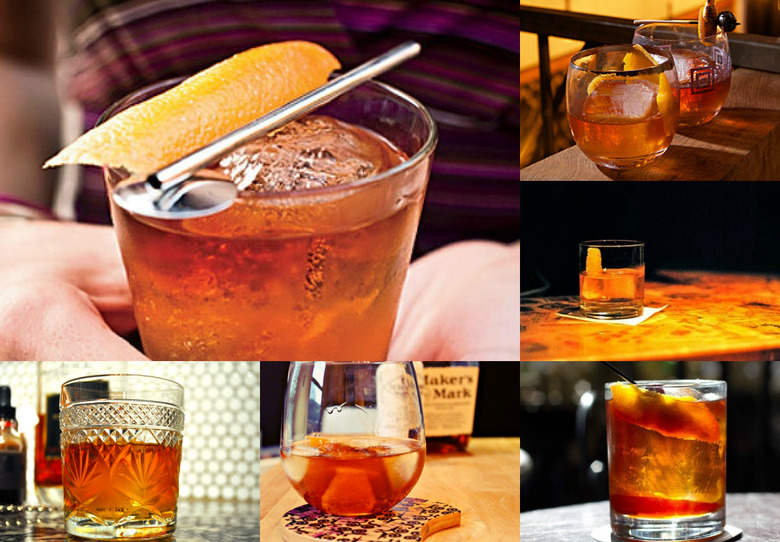 If you take the Birth of the Cocktail walking tour of New York with me, you will learn that cocktail history is a hotly debated topic in this here era of the cocktail's renaissance. It was a history largely undocumented, passed down by word of mouth, bravado and lore. One of the first published mentions of the word "cock tail," you will also learn, has also been debated. But it's mostly agreed upon to be a letter to an editor of an upstate New York newspaper in which the reader asks what exactly a cocktail is. The editor responds with these four ingredients: a mixture of spirit – any spirit – plus water, sugar and bitters.
Nowadays, in craft cocktail lounges, many a bartender makes an Old Fashioned cocktail. But you don't only find your typical bourbon or rye Old Fashioned anymore. You might find a white whiskey Old Fashioned, a bacon-infused Old Fashioned, maybe even a tequila-based version of the drink. Are these bastardizations of a classic? Hells no! These are happy riffs on that original cocktail recipe. (Here's a great Old Fashioned recipe to get you started.) With this in mind, I thought to myself: you could switch out just one of the four ingredients in an Old Fashioned and have a different drink every night. Seriously, try it yourself at home. Or just try one of these 35 incarnations...
1. Rye Old Fashioned: This is the classic, your granddaddy's Old Fashioned. Take a sugar cube and dampen it with a couple dashes of Angostura bitters, then crush it. Toss in a couple big, beautiful ice cubes and top with three fingers of rye. Stir in the glass.
2. Bourbon Old Fashioned: Repeat the above steps, but with bourbon. In fact, we could enter seven or eight entries right here just for different bourbons, each of which will bring a different flavor profile to the drink. Here's a handy guide for buying bourbon.
3. Brandy Old Fashioned: Got the idea yet? Swap out the brown spirit for a smooth, stiff cognac. Go ahead, make a Frenchman cry.
4. Applejack Old Fashioned: This one is similar to a brandy Old Fashioned, but made with all-American applejack.
5. American Trilogy: A few bars around New York City will make you this drink by local bartender Mickey McIlroy. It's an Old Fashioned made with equal parts rye and applejack, and orange bitters. (All American products: get it?)
6. Orange Old Fashioned: Angostura might be the go-to bitters in the formula, but switch up your classic recipe with orange bitters for brighter aromatics.
7. Almost Classic Old Fashioned: Just a dash can make a difference, like say doing half Angostura and half orange bitters in a classic Old Fashioned.
8. Simple Old Fashioned: Now, try any of the above with simple syrup instead of plain sugar. Taste the difference?
9. Demerara Old Fashioned: How about if you make the simple syrup with the bartender favorite demerara sugar?
10. White Whiskey Old Fashioned: You knew this one was coming – make your Old Fashioned with sweet, corny moonshine (unaged whiskey).
11. Dark Rum Old Fashioned: With sweet, dark rum, you can add less sugar to your Old Fashioned. Lest it give you a tooth ache.
12. White Rum Old Fashioned: White rum works, too, especially with orange bitters in the mix.
13. Molasses Rum Old Fashioned: You mightn't need more than a drop of sweet, syrupy molasses to sweeten your aged rum or whiskey Old Fashioned.
14. Maple Old Fashioned: Same goes for super-sweet maple syrup, an ideal sweetener for any dark spirit Old Fashioned.
15. Honey Old Fashioned: Honey syrup is another sweetener you might try, perhaps with a lighter whiskey.
16. Blanco Tequila Old Fashioned: One of my favorites. This one works well with orange bitters or, even better, grapefruit if you can find it.
17. Mole Old-Fashioned: Make your favorite Old Fashioned, but with mole bitters for a chocolatey aroma.
18. Cardamom Old Fashioned: Can we go crazy with the bitters for a second? Scrappy's Cardamom Bitters kicks up the spice in a classic Old Fashioned.
19. Wormwood Old Fashioned: It's almost a Sazerac, made with Cocktail Kingdom Wormwood Bitters.
20. Habanero Old Fashioned: Break out the blanco again for a spicy version of a Tequila Old Fashioned with Bittermens Hellfire Habanero Shrub bitters.
21. Creole Old Fashioned: You can pretty much go through the entire Bitter Truth Traveler's Set of bitters trying different combos (which I did). The Creole bitters adds great spice and some herbaceousness to your favorite Old Fashioned.
22. Clove Old Fashioned: If you're going to start using flavored syrups as the sweetener, the possibilities are pretty much endless. Clove syrup, for one.
23. Cinnamon Pumpkin Old Fashioned: Another flavored syrup... how seasonal!
24. Ginger Vanilla Old Fashioned: Think of it as training wheels for Old Fashioned novices.
25. Pisco Old Fashioned: Think of it as a Brandy Old Fashioned for moonshine lovers.
26. Rhum de Paille Old Fashioned: A rum Old Fashioned made with a lightly aged straw-colored rhum agricole from the French Antilles.
27. Añejo Tequila Old Fashioned: If a blanco works, then you know an aged tequila will work, too.
28. Reposado Old Fashioned: And this, too.
29. Vodka Old Fashioned: Hold up. For reals? Try celery bitters in this one.
30. Gin Old Fashioned: This works, too? Go for Peychaud's bitters here.
31. Scotch Old Fashioned: This is no-brainer.
32. Single Malt Old Fashioned: Use a bit less scotch, then float with a second, much peatier single malt.
33. Mezcal Old Fashioned: Make like the above, only with tequila and a smoky mezcal float.
34. Fizzy Old Fashioned: Some people dilute their Old Fashioneds with a little extra water. Add a dash of seltzer to yours.
35. Hot Old Fashioned: Ice is the traditional water component, but on a cold day, hot water will do.
---
Read more about mastering cocktails on Food Republic: