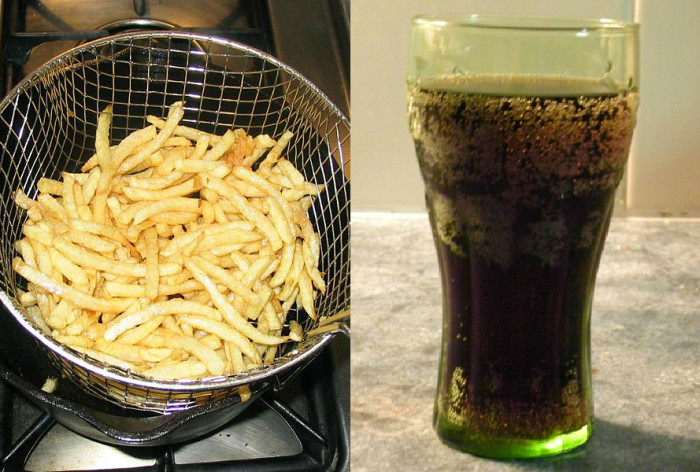 I try to get through as much of my Google Reader as I have time for every day — there's plenty of food news out there. I came across this offering from Huffington Post (where, full disclosure, I was once an intern for the Living section) that had me scratching my head.
The article is called "The Two Worst Foods In The World." With a headline like that I'm surprised it's not blown up in 70-point font on the Huffpost homepage. At last! The scientists who have been hitting up drive-thrus for decades have officially determined that it's not pizza and butter-saturated garlic bread, burgers and milkshakes or buffalo wings and blue cheese dressing that'll kill you, but the can of soda and order of fries.
From what I've observed in my career in food media, and especially from friends on diets, the only effective way to incite change in a positive way is through positive reinforcement. We've demonized processed food enough — the defensive attitude of Big Food has never been more apparent. Little kids are now aware that sugary and deep-fried foods aren't healthy for you and vegetables are (in case they weren't before). Big Food has sunk tens of millions of dollars into anti-GMO labeling campaigns against California's Proposition 37 and corn syrup loses another consumer every minute. That's a rough estimate, don't quote me on that.
Rather than re-inform the public that soda and fries are bad for you, might I request more optimistic and proactive articles along the lines of "How The Quinoa You Eat Transforms Your Health," "The Secret Technique That Makes Everyone Like Brown Rice," and "The 10 Nicest Things Ever Tweeted About Pomegranates?"
More open-ended conversations on Food Republic: