What We Learned, And Drank, At This Year's Great American Beer Festival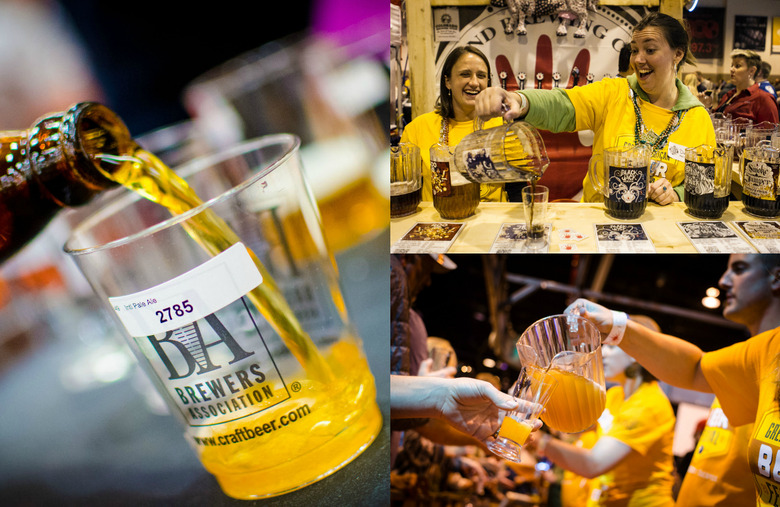 My liver has finally cried uncle. The culprit, as it is every fall, is the Great American Beer Festival. I liken the annual Denver celebration to the Super Bowl of Beer. It brings together nearly 600 breweries from across the country, who come to the Mile High City toting more than 2,700 IPAs, sour ales, barrel-aged imperial stouts and other delicious oddities. Can I interest you in Burnside Brewing's Sweet Heat, a wheat ale flavored with apricot purée and incendiary Scotch bonnet peppers? Or perhaps you'd like RedRock Brewing's Paardebloem, which is made with dandelion greens and wild Brettanomyces bacteria? And the Kudzu Porter from Back Forty Beer Company might interest you as well.
Brewers brought out their most wonderful beers this year, and I made it my point to drink as many as possible. You may call this drunkenness. I call it research. As I sipped my way through hundreds of beers — a beer drinker should swallow, not spit—a few trends began to take shape.
Sours and Wild Ales Are Going Gangbusters
For the last few years, sour and wild ales have been craft beer's rising stars, as drinkers have learned that there's pleasure in that pucker. At the GABF this year, the festivals longest lines were reserved for brewers like Maine's Allagash, California's Russian River and San Antonio's Freetail that dabble in souring Lactobacillus bacteria and wild, unruly Brettanomyces yeast that, like stinky cheese, can create flavors as challenging as they are charming. Also big: versions of Germany's sour, salty gose and tart and quenching Berliner weisse.
The Class Is in Session
Hoppy IPAs show no sign of slowing down, as drinkers are still craving bitter, floral palate-wreckers. And while there was no shortage of double or even triple IPAs on display (Knee Deep's Simtra and Bear Republic's Café Racer 15, were devastatingly drinkable), I liked the turn toward hoppy, low-alcohol beers that boast plenty of bitterness without the alcohol that'll make your head spin. A few great examples to seek out are the 21st Amendment Bitter American, Founders All Day IPA and, though it was not at the fest, the Lagunitas Daytime. You can drink the not-so-boozy beauties from afternoon until last call.
Fresh Is Best
This year at the GABF, the newest competition category was fresh-hop ales. A quick primer: When hops are harvested in the late summer, they are typically dried ASAP. Like cut grass, they rapidly lose their aromatics and rot. But if the hops are used right away, typically within 24 hours after plucking, they deliver a fresh, delicate, green aroma and flavor. Fresh-hop ales are fall's fleeting delicacy, and boy, were they on display in 2012. In particular, the Tommyknocker Colorado IPA Nouveau, Yazoo Fresh Hop and 10 Barrel Fresh Hop were knockouts. At your beer shop, be on the lookout for Great Divide Fresh Hop Pale and Chasin' Freshies and Hop Trip, both from Deschutes.
Five Breweries to Keep an Eye On
Each year, a few breweries generate plenty of buzz — and that's before you even take a sip of their beer. Here are five to keep an eye on in 2013 and beyond.
1. Destihl
If you're ever driving through central Illinois, stop in Normal or Champaign to visit Destihl, which is quietly making some of America's most interesting wild and sour ales. Its rotating, evolving Saint Dekkera Reserve Sour Ale series of barrel-aged, spontaneously fermented beers is brilliant. At the GABF, I dug the Sour Hawaii Ale, Gose and Sour Strawberry Ale.
2. Funkwerks
In just a few short years, this Fort Collins, Colorado, brewery has earned an outsize reputation for its excellent Belgian-inspired ales. In particular, the Saison is a masterpiece of citrus and black pepper, and the lemony Deceit is just about the best Belgian strong ale you'll sip all year. Funkwerks was also named the Small Brewing Company of the Year.
3. Crooked Stave
Wild and sour ales were the undisputed star of the GABF, and few breweries burned through their beer faster than Denver's Crooked Stave. Founder Chad Yakobson made the wild yeast Brettanomyces the subject of his Masters dissertation, and his expertise was on display in standouts such as the blueberry-spiked Wild Wild Brett Indigo and sour Surette saison.
4. Thai Me Up Brewery
Each year at the GABF, a few breweries come out of left field to knock the judges' socks off. This year's award goes to Thai Me Up, a brewpub based in Jackson, Wyoming. It won three medals, including a gold for its strong, citrusy Melvin IPA and its 2x4 imperial IPA. I'll bet hop heads will soon make a pilgrimage to Wyoming. Also of note in Jackson: the Paintbrush Pilsner and Zonker Stout from the first-rate Snake River Brewing.
5. Devils Backbone Brewing Company
As if being named the Small Brewpub of the Year were not enough, the Virginia outfit also took home eight medals for beers including the sour Berliner Metro Weiss, dark and strong Danzig Baltic Porter, and pitch-perfect Vienna Lager. Simply put, Devils Backbone is making some of the best classic beers in America.
---
Read more about craft beer on Food Republic: