How To Build A Middle Eastern Mezze Platter For The Completely Indecisive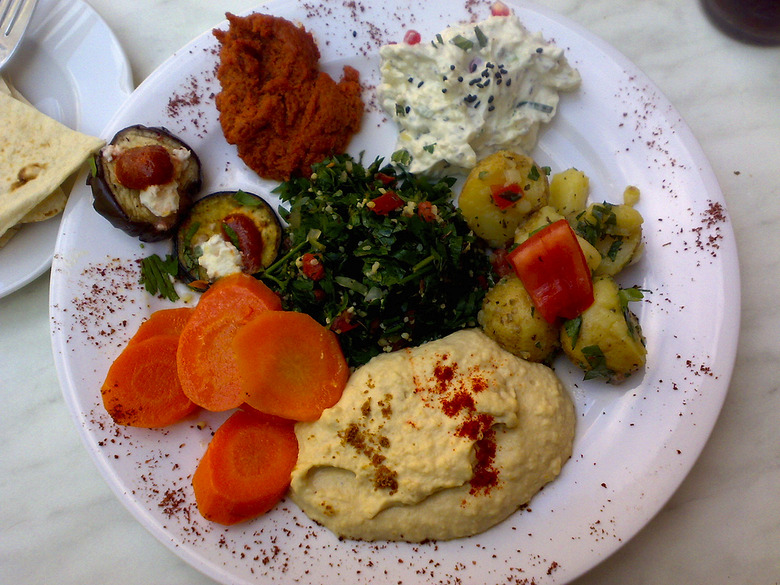 There's an amazing Arab gourmet shop in Brooklyn's Cobble Hill neighborhood called Sahadi's. They're almost like the Zabar's of the Northeastern BoCoCa region of Brooklyn Heights-on-Downtown (to be specific). I was there recently to pick up some staples — stuffed grape leaves, fresh hummus, maybe a jar of those crazy little Israeli pickles or some velvety dried apricots — and realized the perfect lunch was staring me right in the face: all of it, a mezze platter.
The mezze platter is an absolute must as far as appetizers at a Middle Eastern restaurant go. You'll get a little taste of what's to come, or get in a serving of veggies before a massive hunk of lamb takes over the whole table.
But for lunch, it's the perfect spread. Not too heavy or too light, frequently vegetarian for those of you observing a certain "good behavior" day of the week, full of varied, bright flavors and often packing something you've never tried before. Here are a few items you will find:

Tabouli — salad of crushed bulgur wheat, parsley, chopped tomato and cucumber, lemon juice and za'atar, an amazing herbal-citrusy Middle Eastern spice blend with sesame seeds.

Baba ghanoush — a dip or spread made from mashed roasted eggplant, sesame paste and garlic.

Kibbe — a football-shaped fried ground lamb patty. Also occasionally served raw, and for great reason.

Hummus — a smooth blend of chickpeas, sesame paste and...wait you know what hummus is. Here's how to make it.

Stuffed grape leaves — brined vine leaves rolled around rice seasoned with lemon, mint and sometimes ground meat, and cooked with plenty of olive oil.
Olives and/or tapenade
Feta or goat cheese

Brined roasted peppers — self-explanatory, make them yourself.

Tzatziki — a dip made with Greek yogurt, crushed garlic and chopped cucumber, sometimes spiked with fresh dill.
More of a visual learner? We've got a stunner of an illustration for that.
---
More Middle Eastern food for lunch on Food Republic: