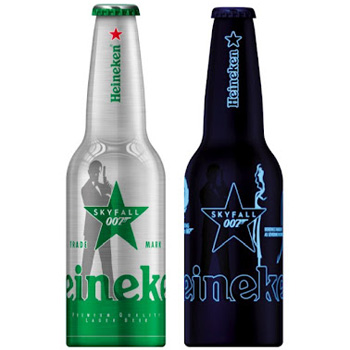 I can't help but wonder what the James Bond of the book series would think if he knew his gun-wielding likeness was staking out on the side of a German beer bottle. Octopussy, people!
That bit of politics aside, hey, Heineken is the newest endorser of Skyfall, the 23rd Bond film! To honor the stylish secret agent, the brewing giant has altered the look of their famous squat green bottles for the first time in 66 years. The updated look, called the "Star Bottle," is taller and slimmer with a thumb groove for those of you who occasionally drop your weapon without being prompted or warm it up too quickly with your Krav Maga death grip (the bottle pictured to your right is just the Bond-edition design, we're working on getting photos of the revolutionary new design, out everywhere in March).
As one might expect, Bond purists and others who know precisely how many martinis the hero has drunk throughout his run are up in arms over the unmitigated change in drinking behavior. What does Bond himself (also known as Daniel Craig) have to say about the jump from twist-adorned martini glass to babe-adorned black bottle?
"…it's not what the movie's about. I promise you. We haven't sold out completely."
More beer news on Food Republic: