Big Weekend: New York City Wine And Food Festival 2012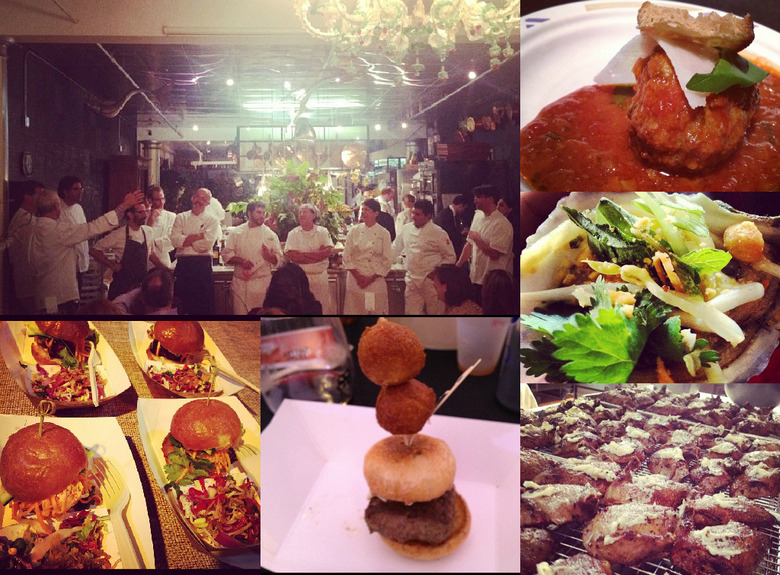 Since Thursday evening we've been running around New York City covering the New York City Wine And Food Festival. You may have noticed our Instagram was charting at 15,000 calories/hour. Here are dispatches from the FR editors.
Meatball Madness Hosted By Giada De Laurentiis
DJ Mick Boogie spun A Tribe Called Quest. Michael Chernow served up kisses for a buck to the ladies; judge Geoffrey Zakarian also had his share of admirers. Pat LaFrieda cut through the crowd. Giada DiLaurentiis attracted a crowd. Thursday's Meatball Madness had a lot going on, even without the guest of honor at this sauce-soaked affair, the mighty meatball. Truth be told, I had my doubts: How could such a one-trick-pony food event succeed? How much can you really do with meatballs? LaFrieda, breathing a sigh, whispered to me that each of the 36 booths had procured 200 to 300 lbs of pork, veal and/or beef from him. Mick Boogie hopped down to advise, "Carmine's has the best meatball — try it now!" (He was right by the way; this old-school Italian joint served up a fluffy, oblong-shaped meatball drenched in sweet red sauce). As for the "winner," besides the crowds of well-rewarded hungry eaters who navigated the challenges of eating sauce-covered balls while standing, well, the people's choice went to Donatella while the judges went for a traditional meatball in red sauce from soon-to-open L'Apicio. Meatballs themselves may have been the real winner though, because they were the star of one of the best events of the fest. — Richard Martin
David Bouley Alumni Dinner
A mobile phone rings, interrupting David Bouley's opening remarks for the megawatt Bouley Alumni dinner, a family reunion held Thursday at the Bouley Test Kitchen that brought together some of New York's most accomplished culinary talents (Dan Barber, Anita Lo, Galen Zamarra, Kerry Heffernan, to name a few). "It was my kitchen calling," says Bouley after placing his own phone on mute. It was a reminder that David Bouley still operates — and is very much involved in — one of New York's best, the eponymous restaurant located a few blocks from where we were gathering. "This is just like the old days," says Lo later while helping prep Saul Bolton's duck consommé with a bobbing slice of Hudson Valley foie gras with pineapple quince and freshly rolled prune tortellini. She had come to Bouley in 1988, America's first celebrity chef– steered restaurant, first to make canapés before graduation to garde manger.
Each of the nine chefs that participated had a story, told to the crowd of Bouley regulars and VIPs well past midnight after Blue Hill pastry chef Alexander Grunert had served his warm huckleberry crepe with Austrian topfen ice cream. Barber told a story about a pair of unruly French guests. Dan Silverman about Bouley's inability (or maybe unwillingness) to learn the names of staff. Zamarra about a tasting event he helped cater on the west coast where he had to fill his hotel bathroom with sugar snap peas. Bouley closed the evening with a Champagne toast, looking fresh and fit and ready to take a phone call from his kitchen that would undoubtedly arrive at any time. — Matt Rodbard
Blue Moon Burger Bash Hosted By Rachael Ray
I'm a veteran of (too) many Burger Bashes in Miami and New York City, and I've come up with a new tagline for this beef-fueled throwdown: "The only food event that guarantees you'll need to take a shower after it's done." While scarfing down winning burgers like Michael White's Ai Fiore White Label burger (judge's choice) and Josh Capon's Bash Burger — which put a caramelized onion and bacon to good use, along with secret sauce to win the people's choice — you don't really mind the pervasive smell of burger smoke. But once you leave the 3,000 fellow burger fans and the cover tunes and Blue Moon beer behind, you really need to cuddle up with a bar of soap. I finally figured this out this year, and after a quick scrub and shampoo, I went to bed dreaming of tater tots and sesame seed buns. — R.M.
Brooklyn Backyard Hosted By Adam Richman
"Do you have a favorite Brooklyn restaurant from tonight?" I'm talking to Brooklyn Borough President Marty Markowitz and expect the answer of a politician. I did not receive one. "It's a tie between Junior's and Brennan & Carr," he says, citing two of the more old-school participants in Adam Richman's Brooklyn Backyard 25 restaurant showcase taking place at cavernous Skylight One Hanson event space in downtown Brooklyn. (True to Marty's response, the line for Brennan & Carr roast beef was the night's longest). Some of my favorites? The crawfish maque choux from Simon Glenn's pop-up going Hollywood Tchoup Shop. Dale Talde was on hand to serve a lettuce wrap of lemongrass larb with a grilled Concorde grape — which burst with cutting acidity. Ft. Defiance, located in Red Hook, did a smoky pork loin choucroute-style while a trio of fried pizza wontons from Prospect Heights' Pete Zaaz were way fun. "I walked here tonight and I will be walking home," said Richman after requesting on a microphone, quite audibly, that the residents of Brooklyn identify where they were standing in the crowd. After a loud applause everybody went back to enjoying Brooklyn's finest. — M.R.
Oyster Bash
The great thing about being at a food festival event called Oyster Bash is knowing that the people within the confines of the venue are kindred spirits. It's heaven for homesick Southerners or New Englanders used to eating oysters by the several dozen in an entirely unfussy manner, "going in for the kill" third dates and anyone else truly serious about knocking back not one, not two, but three or more dozen oysters. Last year's leisurely slurping has evolved into a full-on frenzy. New to the event this year was a learn-to-shuck table, strong emphasis on vodka and champagne consumption, and a live band, but more importantly, hot lady servers on super-tall roller skates whisking away your shells (and with surprising agility considering the density of the crowd.)
I deemed Tribeca and Upper West Side shellfish haven Mermaid Inn one of my favorites last year owing to chef Michael Cressotti's Greek spinach, feta and cherry tomato oyster and have to hand it to them again. This year's Japanese shooter on the half shell with golden tobiko, jalapeno, cilantro and soy sauce was supreme. David Burke and Ed Cotton's offering from Fishtail — Mystics with curried tapioca pearls and a Thai slaw of bean sprouts, cilantro, basil and crushed peanuts — was also a standout. I generally go by the rule "don't top oysters unless you really know what you're doing." This event doesn't disappoint. — Jess Kapadia
Avion Presents Tacos & Tequila Hosted By Bobby Flay
Tacos and tequila are a potent one-two punch (don't worry, Corona was available as well). Luckily, I entered closer to the former than the latter, and my first bite into a pork taco from The Lion — a John DeLucie better known for power-broker dinners over Dover sole than for this humble street food — was transporting. Soon, I was pairing tacos by Empellon, My Ceviche (Miami) and Escuela (LA) with tequila-sodas, and I was psyched. Then I tried a few other tacos from non-Mexican restaurants, and the results were mixed. As a guy who attended the Big Three (meatball, burger, taco) events, I'm gonna offer some constructive criticism to Uncle Lee Schrager and his hard-working crew at the NYCWFF, which is to nevertheless be wholly commended for all the good work the fest does on behalf of the Food Bank for New York City and Share Our Strength's No Kid Hungry: Next year, get some real taco masters to go head-t0-head. Tacos aren't for dabblers. The tequila, like almost everything else at this food and drink bonanza of a weekend, was perfect. — R.M.
Sandwich Showdown Hosted By Jeff Mauro
Oh man, I couldn't kick that Fred Penner song "Sandwiches" while walking around the Highline Stages on yesterday (Sunday) afternoon. And, boy, were some of these sandwiches beautiful. The team from Egg in Williamsburg served country style ham on a salty biscuit with Grafton Cheddar and fig jam. Everybody seemed to be loving Num Pang's pork belly on an airy brioche bun, nicely accented with an Asian pear salad. Cesare Casella was on hand to serve a grilled porchetta and provolone on flat Tuscan bread (we're calling it Double C Does Double P). My favorite, outside of the Kutsher's slam dunk pastrami, was the entry from Lower East Side storefront Little Muenster. Their vegetarian offering combined gooey taleggio and mushrooms on peasant bread, topped with a crown of maple glaze. And the winner, as voted by the crowd? Marble Lane's truffle patty melt. Isn't that more a burger? That contest was a couple nights ago. Oh well. — M.R.