We Asked A Rum Expert To Tell Us Everything We Need To Know About Rum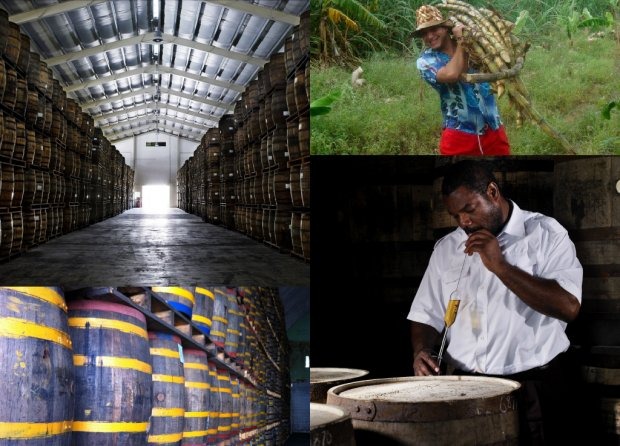 We may receive a commission on purchases made from links.
A good friend of mine left a career in engineering, bought a boat and sailed the Caribbean doing nothing but visiting distilleries and drinking their rums. He had found his passion, and soon became an authority on the spirit. Born and raised in Florida, Ed Hamilton was already familiar with drinking rum. However, it was the day he discovered Cruzan rum for $1.49 a bottle that he started shipping it around the islands and selling it at a profit to pay for his travels.
During his years bootlegging rum, Hamilton learned all there was to know and now runs a great website called The Ministry of Rum. He is the author of the book A Complete Guide to Rum: A Guide to Rums of the World and is currently working on assembling a collection of rare rums to bring to the U.S.
I was going to recommend some great rums in this week's column, but was lucky enough to bump into Ed at the Boston Cocktail Summit last week. We went for a rum punch and I asked him to tell me about the rums that he thinks everyone should sip on, as well as some cocktails and his favorite rum bars in the U.S.
His only guideline was that I (and you) would have to be able to buy the rums ourselves. As not to recommend a 200-year-old rum found on an old sunken galleon that had once belonged to Blackbeard.
Also read: 10 Things You Really Need To Know About Rum
Recommended rums from the rum minister

Neisson Blanc is a freshly pressed sugar cane juice that is fermented and distilled to make one of the most sought after Rhum Agricoles. All the cane comes from a family owned estate on the Northwest coast of Martinique. You can taste the cane, as well as grassy notes with floral back up flavors, and it is bottled at 100-proof. Ed describes it as an eau de vie of sugar cane.
Lemon Hart 151 is a Demerara rum from Guyana that tastes like liquid molasses. The winter spices and dried fruit flavors back up the sugar and the spirit goes perfectly with ginger beer. It has been around for over 200 years and is the best 151 on the market. Don't use as a base spirit too often; 151's should be used as floats.
Flor de Caña 4 Year Old is a good everyday rum. Hailing from one of the greenest distilleries in the world, Nicaragua's leading rum is on the lighter side and good for mixing in cocktails.
Santa Teresa Gran Reserva from Venezuela is a blend of aged rums with a flavor profile of cinnamon, nutmeg and caramelized fruit. It is a great all-rounder and works well in punches, as well as a sipper.
Eldorado 5 Year Old is a Guyanese rum made from demerara sugar that has been aged in used whiskey and bourbon barrels. Tropical fruit and classic caramel and coconut flavors from the aging make it a great sipping rum at an affordable price.
Visit a rum distillery
Of course, the best rum is the one that comes fresh out of the barrel. I asked Ed to list a couple of his favorite distilleries to visit if anyone needs an excuse to pop down to the Caribbean.
River Antoine in Grenada is a 200-year-old working museum of rum.
La Favorite in Martinique is run by an old steam engine cane press and is the last distillery to use a water wheel for crushing the cane.
Go for a grog: Ed's favorite bars for drinking rum in the United States
Owner Martin Cate of Smuggler's Cove in San Francisco is a modern day Tiki god and his establishment is one of rare few that are doing Tiki cocktails correctly. He used to be at Trader Vic's, but moved on to open this shrine to rum. 650 Gough Street, 415-869-1900, smugglerscovesf.com
Whistler in Chicago is a down-to-earth cocktail bar that just so happens to have a rum-loving crew of bartenders, a fact that is evident from looking at the venue's back bar. 2421 North Milwaukee Avenue, 773-227-3530, whistlerchicago.com
Evelyn Drinkery is a new bar in New York's Alphabet City that serves punches of various flavors, created from their impressive selection of rums. 171 Avenue C, 212-254-7772, evelynnyc.com
Caracas Arepa Bar in Brooklyn not only serves the best arepas in town, but also has a rum bar with bartenders who know a thing or two about their back bar. 291 Grand Street, 718-218-6050, caracasarepabar.com
Ed's favorite rum cocktails
West Indian Rum Punch
"The classic rum drink that goes with food"
Remember the classic punch formula the way they do in the Caribbean: "One of sour, two of sweet, three of strong, four of weak," then add some spice and make it nice.
1 part lemon juice
2 parts sugar cane syrup
3 parts Santa Teresa Gran Reserva
4 parts seasonal juice of choice
Freshly grated nutmeg
Rum Old Fashioned
"Good old rum drink is usually the final drink of the evening"
1 1/2 parts La Favorite Vieux
1 barspoon demerara syrup
2 dashes Angostura bitters
2 dashes orange bitters
Stir with ice and strain over fresh ice in a rocks glass. Garnish with an orange peel.
More Drink Ford Tough columns on Food Republic: