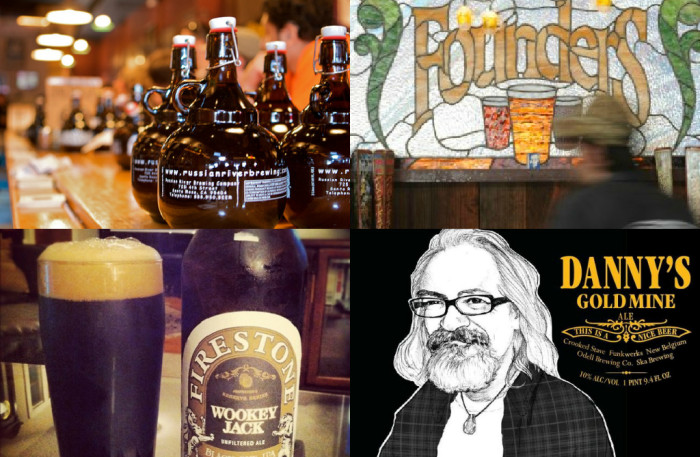 Thirty years ago, the concept of a craft-beer power ranking system was inconceivable. Back then, there were only a handful of breweries pumping out suds that deviated from the watery-lager norm.
Fast-forward to 2012 and there are more than 2,100 breweries in the country — with another 1,000 or so on the way. The scope of innovative beers is nothing short of stunning, with sour ales, bitter IPAs, barrel-aged stouts now the norm. Who's leading the sudsy charge? Here's our list of the most influential craft breweries today, as determined through a combination of new product releases, critical reviews and general buzz within the industry right now.
10. Founders Brewing Company Some of the buzziest beers in America are made at this brewery in Grand Rapids, Michigan. Beer geeks' most-wanted lists regularly count KBS, an imperial stout cave-aged in bourbon barrels for a year, and its sibling, the Canadian Breakfast Stout, which slumbers in bourbon barrels that last contained maple syrup. Rabid release parties greeted the recent debut of the coffee-infused Breakfast Stout. Next up: Backwoods Bastard on November 1.
9. Lagunitas Brewing Company The SoCal brewery knocked our socks off with its newest release, the hoppy, golden Daytime — a 4.6 percent ABV beauty perfect for sipping all afternoon. Also of note: Lagunitas is in the process of opening a Chicago brewery, which should help ensure the company's countrywide domination.
8. The Alchemist Brewery Last year, Vermont's acclaimed brewpub the Alchemist was flooded during Hurricane Irene. Brewer John Kimmich and wife Jennifer opened a production brewery, focusing on the cultishly acclaimed double IPA Heady Topper. It's hop bliss by the 16-ounce can. Equally game-changing: The recent bottled debut of Celia Saison, a gluten-free beer that you'd happily glug. Plans are afoot to double production of Heady Topper this fall.
7. Stone Brewing Co. Despite celebrating its 16th anniversary, the Southern California brewery's uncompromisingly bitter, unabashedly palate-pummeling ales continue to taste fresh and current. We adore the Ruination IPA, Arrogant Bastard and Old Guardian Barley Wine, but we're loving the new series of Enjoy By double IPAs and the company's commitment to fresh beer. If you spot expired beer (check this handy guide) report it to Stone.
6. Jester King Craft Brewery Located on a farm outside Austin, Texas, Jester King's beers are no joke. Among the rustic, flavorful creations you'll find the ludicrously low-alcohol Le Petit Prince; the Whiskey Barrel Rodeo imperial oatmeal stout flavored with chipotle peppers and coffee beans; and their newest release, the Buddha's Brew Kombucha. A sour wheat ale was fermented in oak barrels, then blended with locally made kombucha. Expanded, limited distribution to Chicago, New York, Pennsylvania and Europe will only help the brewery's star rise.
5. Hill Farmstead Vermont is quickly emerging as one of craft beer's newest brewing epicenters thanks to the Alchemist (see No. 8), Lawson's Finest Liquids and Hill Farmstead. Shaun Hill's cultish Vermont brewery has whipped beer geeks into a frenzy with his generously hopped, unfiltered ales named after his ancestors. Count yourself lucky if you find a pint of his standout imperial IPAs like the piney, citrusy Abner or the dank, sticky Ephraim, as well as his collection of standout saisons, porters and barrel-aged sour ales. Hill's a liquid magician.
4. Crooked Stave Artisan Beer Project Brettanomyces is the muse for Denver's Chad Yakobson, was so enamored of the yeast that he made it the subject of his Masters dissertation. The fruits of his research are some of America's most fascinating wild ales, such as the Wild Wild Brett Series that replicates the colors of the rainbow. The recently opened Barrel Cellar and the accompanying taproom will be a must-stop during this year's Great American Beer Festival, which starts today.
3. Russian River Brewing Co. Vinnie Cilurzo can do no wrong. The California brewmaster crafts some of the country's finest sour brews, deploying bacteria and wild yeasts as deftly as a scientist. He's even more appreciated for his IPAs, including the cultishly loved Pliny the Elder. Keep your eyes peeled for his new Hop Grower's Series, which highlights select breeds. First up is Row 2, Hill 56, which is exclusively made with piney, citrusy Simcoe hops. Also, bottles of the Framboise for a Cure (the proceeds go to breast-cancer research) rapidly sold out at the brewpub, though there's still a bit of draft beer left. For now.
2. Deschutes Brewery: Since 1988, the Bend, Oregon, brewery has been a leading light in the Pacific Northwest brewing scene, cranking out hop-forward ales and delightfully roasty dark beers like the Black Butte Porter and the barrel-aged Abyss. Instead of toeing the line, Deschutes continues to innovate with new styles such as the Hop in the Dark black IPA and Chainbreaker — the offspring of a cloudy, spiced witbier and a fragrant IPA. This year's version of the warming, spicy Jubelale is a standout, but keep your eyes peeled for the newly released Dissident, a sour brown ale, and the Chasin' Freshies Fresh Hop IPA.
1. Firestone Walker Brewing Co. We've never had a bad Firestone Walker beer, whether it's the pungent Union Jack IPA or hoppy Pivo Pils. Further setting the Santa Barbara brewery apart is the fact its rich, pleasantly hoppy DBA (Double Barrel Ale), floral Pale 31 and Walker's Reserve, a robust porter, spend six days in a Burton Union, an oak-barrel fermenting system. Even more exciting is the news that Firestone will soon be opening a facility specializing in sour beers. As for upcoming releases, the Velvet Merlin Oatmeal Stout is back in circulation, and the highly anticipated XVI Anniversary Ale is set to drop in early November.
---
Read more about good beer on Food Republic: