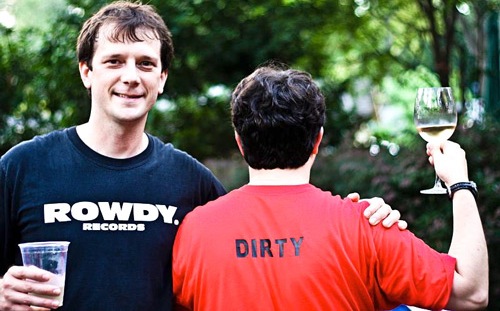 There was once a food blogger who went by the handle "Rowdy." One day, he met a wine blogger who went by the name "Dirty." The two became friends, then best friends and, eventually, business partners in a venture that has certain wine folk chattering. Dirty & Rowdy Family Winery makes unusual, exciting wines. How, you ask? Well, with nothing added and nothing taken away, which is far less common than most people know. We talked with the Dirty half of the pair, Hardy Wallace.
How did you go from wine blogging to wine making?
I was working for winemaker Kevin Kelley at his Salinia winery, learning as much as I could about what goes on inside the winery. In 2010, Matt [Richardson] and I got our hands on just one ton of grapes and we made our first batch of wine at Salinia. When it came to naming our winery, our pseudonyms were just the perfect fit. It really describes the kinds of wines we're interested in: Dirty and Rowdy. We aren't into sterile wines. I'll take a dirty and rowdy wine over a sterile and perfect one any day.
You make just two reds and they're both Mourvèdres. Did you always have a thing for that grape?
We were not planning to make Mourvèdre. It was just that 2010 was a bad year and the only grapes we could find that were decent was this super high-altitude Mourvèdre. So, we went with it. The problem with Mourvèdre is that it's so dark and intense. I mean, they're beautiful wines, but it takes 20-30 years for them to be ready. The '93s are just starting to open up – not even at their peak, but just drinkable. So, I looked at Gamay and Cru Beaujolais, which are the reds I like to drink and, without knowing if it could be done, we tried to make a lighter-style Mourvèdre like that.
There isn't much natural wine in California. Is it lonely?
It's tough. I still think that a lot of California, both on the consumption and the winemaking sides, doesn't have a full comprehension of what natural wine is. I think awareness comes from experience and consumption. People say, "We farm biodynamically, so we're natural." But they're still adding yeast, enzymes, a bunch of stuff. California is still trying to figure out what is or isn't natural wine. But the great thing is that there are about five times more wineries doing it now than maybe 10 years ago.
How do you explain what you do to people who don't know about natural wine?
The best way to explain it is in [natural wine writer] Alice Feiring's words, which is: "nothing added, nothing removed." Most people think that's what wine is in the first place. I'm not a dogmatic type, where it has to be natural or it sucks. But people should know that what is on the shelf in most wine stores is not just fermented grape juice. Most of it is industrial plonk. It's like what's going on in the food movement: people are asking how their food is grown. That's started to happen in wine, but it's slower.
We love wine made in concrete. Why did you go for the "egg?"
The concrete egg is fantastic. I love to have some sort of oxygen contact in winemaking. I'm a big believer in wood barrels, preferably without any flavor. But sometimes a barrel can be too oxidative and a stainless steel tank is just too impenetrable. Concrete falls in between. For me, it's this beautiful material that allows some but not too much air to circulate. On top of that, you have the shape of an egg. Fermentation is so different in this thing: there's constant movement, like a rolling action. You taste juice fermenting in an egg versus a barrel and it has an electricity to it. I wish I could tell everybody: try this!
What winemakers or wineries inspire you?
One of the ones who really got me thinking is the late Beaujolais winemaker Marcel Lapierre. There was a raw purity to his wines, an energy and freshness that I'd never seen. For whites, I've always been into riesling. Now, I'm becoming far more inspired by California. Kevin Kelley of Salania, Arnot-Roberts, Angela Osborne, Ryan and Megan Glabb of Ryme Cellars… I went from drinking no domestic wines whatsoever to being so inspired by these people. They're not making commercial wines; they're making what they want to drink. When you approach it like that, the market finds you.
What's your favorite wine bar scene?
We're pretty isolated in Calistoga. We're in heart of wine country, but it's a hard place to find the wines that I want to drink. So, we go to San Francisco. There you have Terroir, which has been a huge supporter of ours and provided such an education to me. In East Bay, there is a fantastic place called the Punchdown wine bar. Up in Healdsburg, there's a new spot called Bergamot Alley. At all three spots, you can not only have a great glass, but at same time it be so educational.
More winery stories on Food Republic: