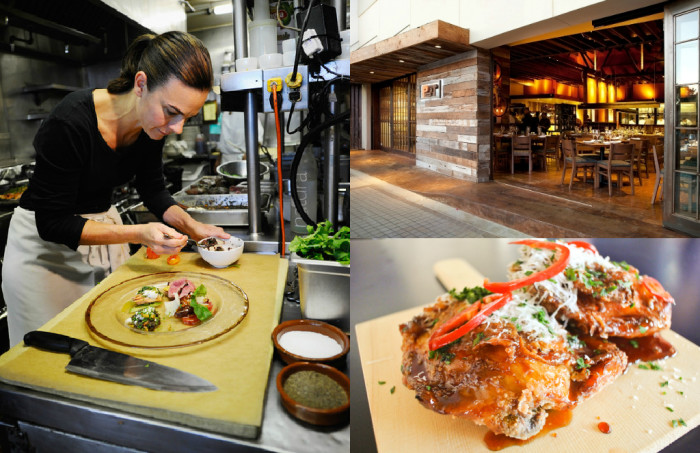 It's that time of year for the little red books to drop their survey results, with today bringing the best of Los Angeles from Zagat. Los Angeles is a city we have covered extensively over the past year, and also a city with a less-than-stellar reputation with the neighbors to the north (SF) and far east (NYC). But a city that nonetheless deserves a much closer look. Maybe start with the downtown and then hit some Italian restaurants or coffee shops.
Out of 2,082 restaurants surveyed, by 18,450 diners, these are the top-rated by cuisine:
American (New) – Melisse, Santa Monica
American (Traditional) – Farmshop, Santa Monica
Asian/Fusion – Chinois on Main, Santa Monica
Barbecue – Bludso's BBQ, Compton
Burgers – Golden State, Fairfax
Californian – Lucques, West Hollywood
Caribbean – Porto's Bakery, Mult. loc.
Chinese – Newport Seafood, Mult. loc.
Continental – Brandywine, Woodland Hills
Delis – Brent's Deli, Mult. loc.
Dim Sum – Sea Harbour, Rosemead
Diners – Original Pancake House, Redondo Bch.
Eclectic – Saam/The Bazaar, Beverly Hills
French – Melisse, Santa Monica
Greek – Petros, Manhattan Beach
Indian – Addi's Tandoor, Redondo Beach
Italian – Michael's on Naples, Long Beach
Japanese – Urasawa, Beverly Hills
Korean – Park's Barbeque, Koreatown
Mediterranean – Lucques, West Hollywood
Mexican – Babita Mexicuisine, San Gabriel
Middle Eastern – Raffi's Place, Glendale
Pizza – Michael's Pizzeria, Long Beach
Seafood – Providence, Hollywood
Small Plates – M.B. Post, Manhattan Beach
Soul Food/Southern – Johnny Rebs', Mult. loc.
South American – Mario's Peruvian, Hollywood
Steakhouses – Cut, Beverly Hills
Thai – Jitlada, East Hollywood
Vegetarian – Native Foods, Mult. loc.
Vietnamese – Pho So 1, Gardena, Mult. loc.
Also of note, the "hottest neighborhoods" include: West Hollywood (A1 Cucina, The Churchill, PaliKitchen), Beverly Hills (BierBeisl, Bouchon Bakery, Caulfield's, Larder at Maple Drive, Livello) and Santa Monica (The Charleston, Mercado, Milo & Olive, Tar & Roses, Ushuaia).
For further Los Angeles reading, check out some of our recent stories: