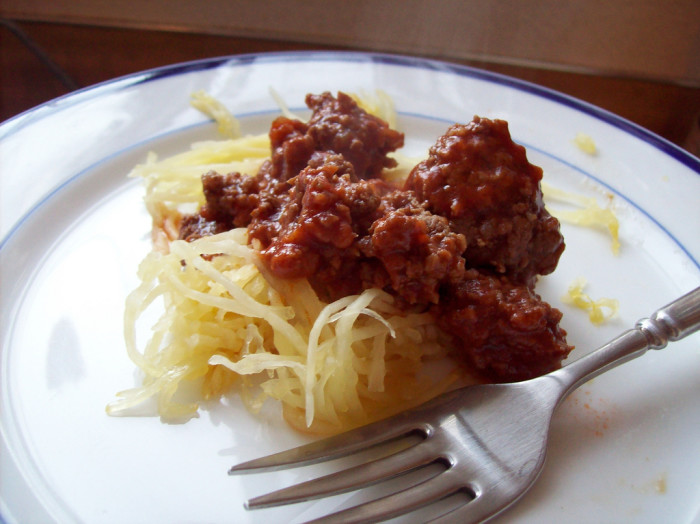 Happy test kitchen day! I ducked out of prep to talk about what I'll be eating for lunch and dinner for at least a week or until I get sick of it, but I don't see that happening. I've been replacing pasta with spaghetti squash for the following reasons:
It takes roughly the same amount of effort as cooking and draining pasta to roast spaghetti squash. It takes a little more time, but you don't have to hover over a steaming pot fishing a noodle out every 30 seconds after five minutes because you didn't set a timer.
Gluten-free and vegetarian (unless you add one of the deliciously meaty selections below).
Super-packed with healthy vitamins and fiber.
Cut the squash in half lengthwise, scoop out the seeds, rub with olive oil, sprinkle with salt and pepper and put in a 400-degree oven for 45 minutes to an hour. Let cool slightly, then firmly rake over the surface with a fork until "spaghetti" forms. I like to add a little unsalted butter at this stage. THEN…
As I was unpacking our massive grocery delivery this morning I was thinking, what's better than roasting a practice turkey or two in October to ensure that my turkey in November doesn't dry out and float away? Absolutely nothing. Between that and the squash power, I am invincible.
More vegetarian food for lunch on Food Republic: