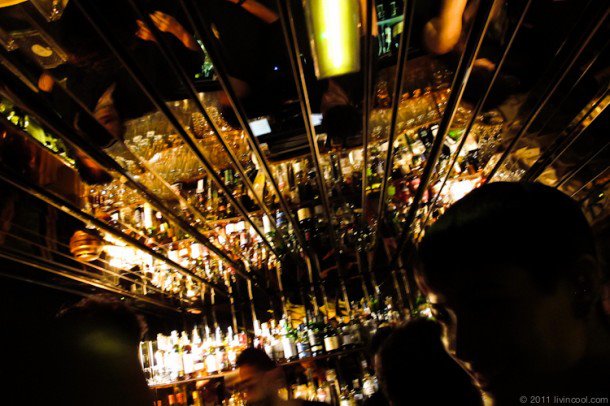 Every bon vivant enjoys great food, wine and, of course, a night on the town. From where to eat in which city to what to wear for every occasion, Food Republic's got you covered when it comes to food culture. That's why we've decided to launch The Spot, a weekly nightlife column where our nightlife insider will traverse sea and land (and velvet ropes) to bring you what's new and noteworthy in the world of nightlife from New York City to Tokyo.
The Location
Silencio
142 Rue Montmartre 75002 Paris, France
http://silencio-club.com/en
The Scene
Just when we were starting to catch up on some much needed sleep after New York Fashion Week's debauchery, Paris Fashion Week rolled around, and with that the partying continues. We've already given you the scoop on one of our favorite Paris spots, Le Montana, but currently, Silencio holds the number one position as our favorite club in Paris, and that means a lot since Paris is a city we know well and frequent often.
Silencio is designed by David Lynch and inspired by Club Silencio from the 2001 film Mulholland Drive by Lynch. Everything from the food and drinks to the black-on-black toilets was decided on by Lynch himself. He also custom made all the retro furniture, including chairs that are designed to "induce and sustain a specific state of alertness and openness to the unknown." As you may know, anything that Lynch touches is gold. Since opening its doors last year, Silencio has become the hottest club in Paris, attracting the city's coolest cats.
The Music
Silencio frequently hosts up-and-coming bands, screens films and invites some of the hottest DJs from around Europe. The music is a mix of old and new school, with some exciting surprises thrown in when you're least expecting.
The Drinks
The bar has a large selection of cocktails mixed by some of Paris' best mixologists. From our experience, they make the best Old-Fashioned in town.
The Food
Silencio offers a variety of delicious finger foods and bar snacks on a rotating menu. On some nights a tasting menu is offered at dinnertime before the party starts.
The Door
Tough door. The club is technically members only, but if you look good enough and the bouncer happens to be having a pleasant evening, you may be allowed in. Becoming a member will cost you around €780 ($1,000), while premium membership is €1,500 ($1,920). If you happen to be under 30, a non-French citizen, and can provide proof of your artistic credentials then you can become a member for a discounted €420 ($540). The point, according to co-founder Arnaud Frisch is to "attract a core global membership of 2,000 people in the arts, including fashion and interior designers, artists, writers, musicians, actors and chefs." Others need not apply.
More Spots from Food Republic: