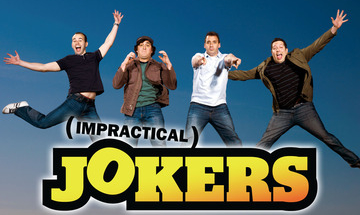 The arrival of autumn brings with it the long-awaited returns of several of our favorite television shows. Fans of The League are on edge wondering how replacement referees will undoubtedly ruin the show's fictional games, while Boardwalk Empire enthusiasts now have their very own cocktail drinking guide.
Over at Food Republic, we are particularly excited about watching Impractical Jokers, which has just kicked off its second season. In this reality show, a group of four lifelong friends seek to embarrass each other in outrageous ways via "challenges." In honor of its return, we present you with the show's top five hilarious food-related moments to date. Watch as the friends steal food off diners' plates at a buffet, work the counter at White Castle and shop at a grocery store…out of other people's carts.
Impractical Jokers airs on truTV at 10 pm on Thursdays.
Buffet Plate Theft
Chomp And Run At A Restaurant
Grocery Cart Pickings
White Castle Shenanigans
'Touch And Go' Racing At Grocery Store