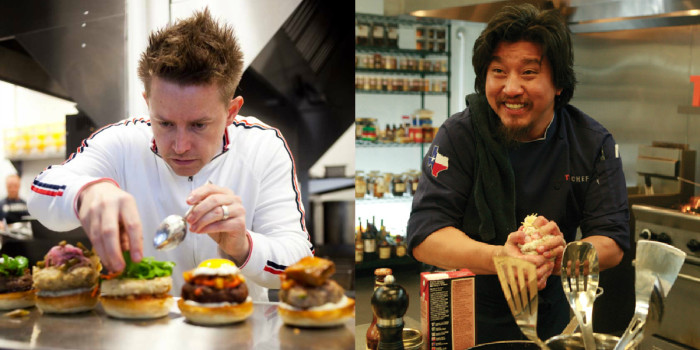 Yesterday the brass at Bravo announced that beginning Oct. 16, a restaurant christened Top Chef Kitchen will operate at the former Centrico space in Tribeca in New York City. The nightly service will feature dishes from two Top Chef alumni and costs $125 for four courses with wine pairings. Tax and service is not included. A $250 chefs table experience is available for ultimate baller status.
Two chefs will rotate in each week, with a total of eight chefs appearing. Those include: Ed Lee and Mike Isabella (Oct. 16-21), Tiffany Derry and Paul Qui (Oct. 23-28), Tiffani Faison and Jennifer Carroll (Oct. 30-Nov. 4), Richard Blais and Grayson Schmitz (Nov. 6 -11) and Antonia Lofaso and Fabio Viviani (Nov. 13-18).
And while we're always a little skeptical about shelling out big bucks for temporary pop-ups — 125 beans can buy you a really nice meal in an established space with far less craziness in the kitchen — there is no denying the popularity of a cast of former Top Cheffers playing out Restaurant Wars in front of your eyes. In fact, the whole thing sold out, well, in a day. So you're out of luck if you want to sample Ed Lee's tamarind pork breast with collards and kimchi or Richard Blais' dry-aged NYC pigeon (indeed, it's right here on the menu). Or, well, you could go to their very good restaurants in Louisville and Atlanta, respectively. They will gladly serve you.
Top Chef The Restaurant™ continues a trend of media crossing over into brick-and-mortar dining experiences. In June, Food & Wine launched their own restaurant, Chef's Club, at the St. Regis in Aspen, Colorado. There, former Best New Chef winners prepare a menu (and work service in the kitchen around once a month). Food Republic is planning a small soba shop in a vestibule at the Church Avenue F/G subway stop in Brooklyn. Stay tuned.
But back to the Top Chef restaurant. Is this a test run for more permanent spaces? God knows some of those contestants could be thrown a bone once the season has sailed. And who was snubbed from the lineup? We know Harold Dieterle and Leah Cohen are busy opening restaurants in New York City. But what about Steph Izard, Spike Mendelsohn or poor Dave Martin?
Who do you want to see cook at Top Chef Quick Fire Grill™? Let us know in the comments.