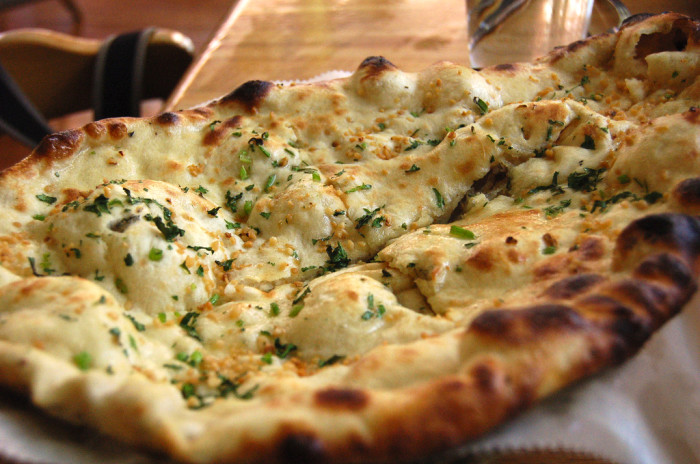 I just can't stop saying that. I have enough colors of Le Creuset cookware, said nobody ever. Okay, I'm done.
In my never-ending quest to discourage people from eating wrap sandwiches, I've come up with another substitution. It's one of those rare occasions, like yesterday's gussied-up canned crescent dough, where a pre-made shortcut is totally okay. In this case, frozen naan. Or homemade naan, we have an awesome recipe.
This standup sandwich bread has a Neapolitan pizza crust-like smoky flavor and crisp, chewy texture, with all the springiness and stretch you love about a sourdough baguette. Naan is exceptionally bready-tasting and usually brushed with a little clarified butter, making it a delicious and slightly shiny canvas for a never-ending new world of wrap sandwiches. They don't have to be Indian, but they can be. Just please don't make them ham and cheese if you went through the trouble of sourcing and defrosting or especially handcrafting naan. Try this mix of exotic and better-than-ordinary:
In summation, wraps are gross. They don't have to be. They can be chewy and fluffy with little charred bits and happy filling inside. Doesn't that sound better than a modified tortilla with those brittle ends that crack and leak mustard-ham juice on your pants?
---
More wrap updates on Food Republic: