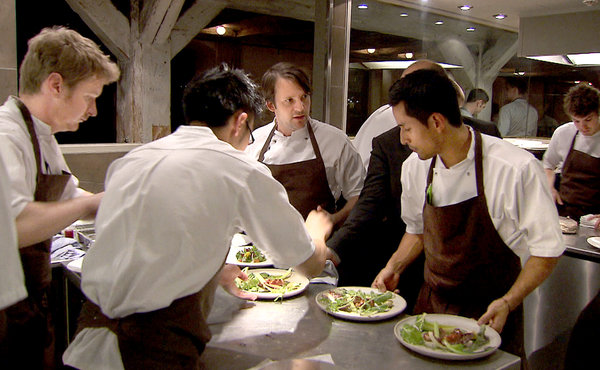 The Michelin guide's star system of grading restaurants is a rather quaint and antiquated thing in today's food culture — where hot restaurants are calculated by likes, the longest line on a street corner, the fastest thumbs and Instagram pics. But the recently released documentary, Three Stars, makes the solemn case that the little red book, first published in 1900, and the restaurant milieu it caters to, is indeed still relevant.
And, in fact, you may just have them to thank the Guide for that watercress oil in your fridge that you love so much. Sure, you may not care to ever eat a reduced liver sauce, but you might still want to see what drives the best chefs in Europe, and how they manage to keep it up.
Three Stars focuses on ten such chefs who have achieved the highest ranking determined by Michelin, only one of whom is a household name here in the United States, Jean-Georges Vongerichten. There's also René Redzepi, Chef of Noma in Copenhagen, Denmark; Nadia Santini, Chef of Dal Pescatore in Runate, Italy; Olivier Roellinger, Chef of Les Maisons de Bricourt in Cancale, France; Sven Elverfeld, Chef of Aqua in Wolfsburg, Germany; Juan Mari and Elena Arzak, Chefs of Arzak in San Sebastian, Spain; and, Hideki Ishikawa, Chef of Ishikawa in Tokyo.
At the time the film was made (which was completed in 2010), there were only 71 restaurants that had achieved the three star ranking. What it takes to get such a mark is the thrust of the film.
Without pursuing any particular narrative thread, director Lutz Hachmeister instead dives in and out of the kitchens of these culinary masters, interspersing those moments with talking head interviews and shots of the chefs foraging for fennel, or picking out fish. At first, it all feels familiar, but as the film weaves back and forth amongst these passionate chefs in the unlikeliest reaches of Europe, we begin to get a greater a sense of what stock these guys (and nine out of ten featured here are men) are made of.
What's striking is that these true masters aren't fuddy-duddies; many of them would look just as good (albeit with subtitles) on The Food Network, but, instead, they toil away in the shadows of Mont St. Michel or a Volkswagen factory. How cool is that?
The 15-hour days and the stresses of the job come at great cost, as seen in the suicide of one three-star-restaurant chef, Bernard Loiseau, who shot himself in 2003. There's also an embarrassingly honest browbeating delivered by one chef to his staff that doesn't play as typical reality show fodder; the tension is real, and you may want to look away, but you'll do so knowing that this is what it takes to be the best.
By the end of the film, the earnest narration becomes less reverent, veering almost toward critical; all the more to Hachmeister's credit, as he honors the highest form of the craft without layering it in puffery.