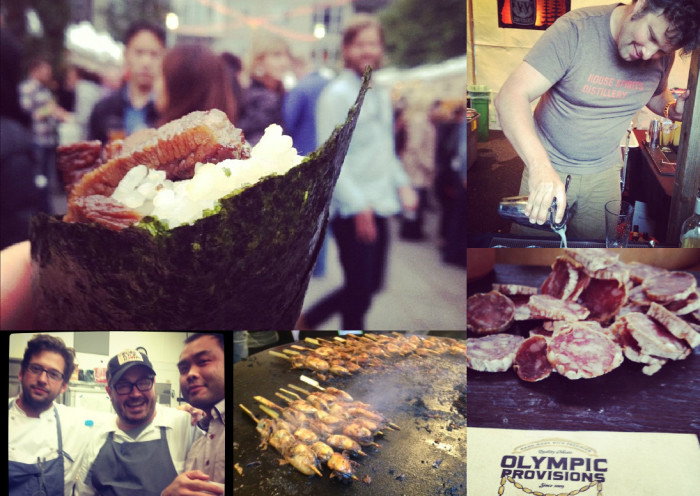 I just returned from a 48-hour visit to one of my favorite eating and drinking towns in America — Portland, Oregon. The occasion was the debut of Feast Portland, an ambitious three-day food and wine festival that brought together chefs from around the world, including Inaki Aizpitarte, Anita Lo, David Thompson, Fergus Henderson, Paul Qui, Paul Kahan and dozens of others. But the big story was the hundreds of local winemakers, craft distillers, brewers and chefs reinforcing the city's top-shelf reputation.
Asian Night Market
As I've noted in the past, there is no denying America's exploding interest in Asian cuisine. While longtime ambassadors like Ming Tsai and Susur Lee continue to popularize their cooking with the PBS-set, it's through strong drinks and casual-coolness at restaurants like Pok Pok (New York/Portland), Mission Chinese (San Francisco/NYC) and Night + Market (Los Angeles) that once-foreign concepts like sizzling tofu to char siu bao have found their way to the Pinterest pages of a younger, food-obsessed generation. So programming an Asia-inspired night market is all but certain in today's food festival reality — I've seen fine examples of this in New York (Luckyrice) and L.A. (Los Angeles Wine & Food), but nothing like Friday's event at the indoor-outdoor Ecotrust Building in downtown's revitalized Pearl District.
There was major talent in the house, from far and near the Northwest. Eddie Huang did textbook cold sesame noodles, while Paul Qui served a nori handroll (the rice was just perfect, a remarkable feat for a large-scale tasting) with a thick slice of tender "beef tongue sushi" wedged atop. He said the dish was inspired by post-shift snacks at his Austin restaurant Uchiko. "We'd take the scraps from the night and eat it this way," he said. David Thompson flew in from Thailand for the event and served a skewer of barbecue mussels that I would fly to Thailand to try again. And then there were the smaller-known Portland restaurants bringing some serious game. Japanese izakaya Biwa served an impressive knuckle bone broth with bowls of DIY condiments like cabbage kimchi, lye-soaked eggs and pork-beef balls. I had two bowls of Nong Poonsukwattana's (Nong's Khao Man Gai food cart and takeout) legendary chicken and rice. Nong, while kindly scooping me a steaming encore, asked me if I liked her Thai home-style cooking. This I confirmed, while pointing to the line of 30 people patiently waiting behind me. I was not alone.
Oregon Bounty Grand Tasting
All Feast co-founder Carrie Welch wanted to do was show off her town a little at the locavore-as-fuck Oregon Bounty tasting, held Friday and Saturday at Pioneer Courthouse Square. OK, she wanted to show it off a lot. There was locally raised, expertly crafted chorizo and saucisson from Olympic Provisions, each with a story that owner Michelle Cairo was on hand to tell. There were three types of golden oil from the Oregon Olive Mill and tastings available from Willamette Valley hotshots like Anne Amie, Penner-Ash and Adelsheim — two dozen in total. Stumptown coffee (not only found in Portland) and Salt and Straw ice cream (on the verge of not only being found in Portland) were handing out samples.
On Friday, Chris Cosentino was there to teach the crowd about washing mushrooms (he uses water and a small salad spinner) and pay respect to foie gras. April Bloomfield and Naomi Pomeroy were also on hand to present, with Bon Appétit EIC Adam Rapoport serving as MC.
Much credit is owed to the Feast organizers for staying true to their mission here (Oregon-only), which is difficult to pull off with mobile phone and coconut vodka sponsorship dollars dangling there for the taking.
Sean Brock x Matt Lightener
When I ran into South Carolina chef Sean Brock in the terminal at LaGuardia Airport early Friday morning he had basically just come from cooking a dinner for the Le Fooding festival in Brooklyn. It was 6:20 a.m. and our hero had not slept a wink but had fully switched gears for the next task — cooking a collaborative seven-course meal 3,000 miles away in Portland with Matt Lightener (a PDX son who had recently moved to NYC to open the well-reviewed Atera). Once Brock landed, the pair had planned a morning of foraging and, likely, some bourbon drinking. The menu was far from written.
Fast forward to Saturday night and I'm sitting in the dining room of Le Cordon Bleu in downtown Portland. Bottles from the superior Willamette Valley producer Anne Amie are circulating the room — a dry Riesling here, a pristine Pinot Noir Blanc there (for me, Oregon means dry and white). Jeffrey Steingarten turned up at our table. We were in for a show, which certainly did not disappoint.
A course of Dungeness crab and frothy hazelnut curd was followed by an asymmetrical plating of wonderfully gamey lamb tartar. Earthy matsutake mushrooms (pulled from a nearby forest, no doubt) and sous-vide Kobe beef marinated in soy with black truffles followed. Things got fuzzy around then, credit to Anne Amie. There was a dessert of wildflower sherbert and tomato fruit leather in rhubarb juice with raw milk ice cream. There were shots of bourbon right before this photo was taken and then some parties to wrap up my 48 hours at Feast Portland. I'm so there next year. And I'll make sure to save more room for ham.
---
Read more about Portland, Oregon on Food Republic: