68 Sicilian Eggplant Recipes. Yes, Really.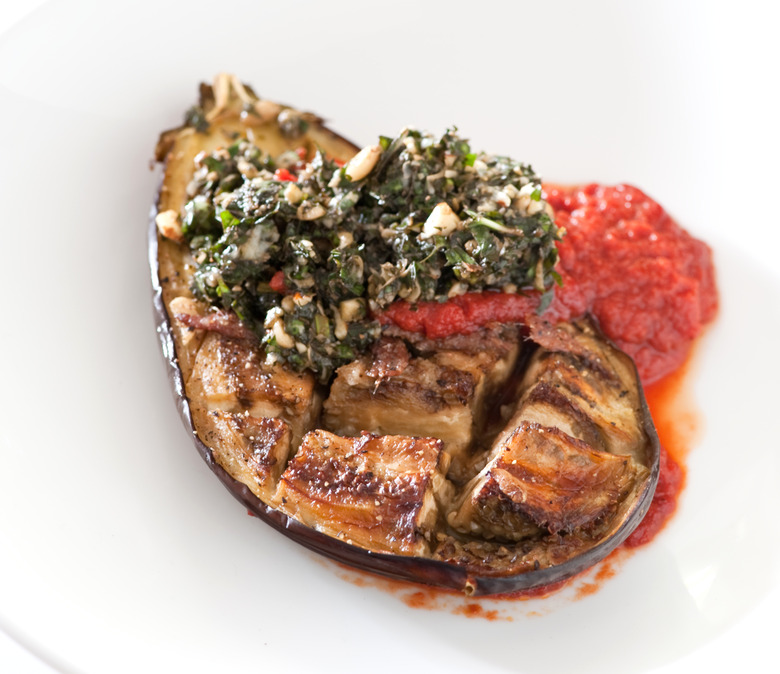 Sicilians call eggplant the "meat of the earth." The white-fleshed purple-skinned fruit can indeed be prepared like most cutlets. You can fry it, grill it, bake it. You can also stuff it, roast it, puree it, stew it, even pickle it. Depending on where your eggplant hails from, it might be long and skinny or squat and fat. It might not even be purple at all.
Chef Melissa Muller Daka, who owns the restaurant Eolo in New York, did not always love eggplant. But she sure does now. So much so, in fact, that she has 101 eggplant recipes under her belt, all inspired by her early childhood years in Sicily. We thought of featuring recipes for one or two or 10... and eventually settled on 68. These abbreviated recipes may require a good deal of imagination or further research, but we hope they'll get you started on your road to eggplant ecstasy.
1. Pasta alla Siracusana: toss with tomato sauce, stewed peeled eggplants, roasted peppers, onion, garlic & herbs.
2. Eggplants "a schibecci": like a ceviche with mint, vinegar, sweet tomato sauce and caciocavallo cheese.
3. Smoked eggplant salad: toss with pine nuts, currants, tomato & fresh herbs.
4. Eggplant "tonnato:" prepare classic preserved tuna sauce and serve with chunky grilled eggplant pulp and grilled sardines.
5. Pickle baby eggplants, then stuff 'em with spicy peppers.
6. Fry eggplants and zucchini with agrodolce, garlic and fresh oregano.
7. Add strained eggplant pulp to strained yogurt & almonds "dei Turchi."
8. Grill eggplant and toss with artichokes, ccco nano beans and grilled squid.
9. Stuff small eggplants with pecorino and salame and bake.
10. Serve your eggplant with savory tomato marmalade.
11. Toss pasta with pesto, ricotta and fried baby eggplants.
12. Slice eggplant and stuff with cheese and ham. Bread and fry.
13. Slice eggplants with skins on in half lengthwise and stuff with meat, cheese and breadcrumbs. Bake.
14. Take a round eggplant, peeled and whole. Cut a slit in it, then stuff with ground meat and bake.
15. Make a typical caponata, add currants and pine nuts.
16. Add eggplant to the batter for Modica chocolate cookies.
17. Make a typical lasagna, except use grilled eggplants, pesto and bechamel instead of tomato sauce.
18. Peel eggplant, cut into slivers, preserve in olive oil.
19. Peel eggplant, cut into slivers, preserve in vinegar.
20. Marinate eggplants in olive oil, garlic and Sicilian oregano, then grill.
21. Eggplant parmigiana: cover eggplant slices in Parmesan, tomato sauce & top with breadcrumbs.
22. Eggplant "millefoglie:" make a typical millefeuille pastry, layered with thin skin-on eggplant, buffalo mozzarella, sun-dried tomato slices and arugula pesto.
23. Cook, then puree eggplant with basil.
24. Puree smoked eggplant and serve with bread.
25. Stuff saffron arancini (rice balls) with pecorino primo sale and finely chopped grilled eggplant, zucchini and tomato.
26. Grilled eggplant salad: toss with pomegranate and mint.
27. Eggplant polpette: make 'em like mini meatballs, only with roasted eggplant pulp.
28. Puree eggplant & sesame seeds with mint and garlic, for dipping and spreading.
29. Eggplant involtini: like a braciola, stuffed with breadcrumbs, cheese, pine nuts and raisins.
30. Toss pasta with eggplant pesto.
31. Fresh "caponata:" like the original (eggplant, celery, capers), only not stewed.
32. Toss pasta with eggplant and mozzarella.
33. Toss pasta with eggplant and mascarpone.
34. Toss pasta with eggplant, zucchini and peppers.
35. Toss pasta with tomato sauce, topped with fried eggplant pulp & smoked ricotta.
36. Toss pasta with tomato sauce, basil and stewed eggplant.
37. Bake a timbale of pasta, eggplant, baby meatballs and ricotta.
38. Marinate a whole eggplant in vinegar, then roast.
39. Make a typical souffle, only with pureed eggplant.
40. Make a typical mousse, only with pureed eggplant. Serve with crudite.
41. Pasta salad: toss with pesto, eggplant & sun-dried cherry tomatoes.
42. Squid ink pasta: toss with octopus and eggplant.
43. Toss pasta with fried baby eggplants, olive oil, fresh tomato and spicy peppers.
44. Bruschetta: topped with olive-caper paste and chopped grilled eggplant.
45. Bruschetta: topped with eggplant & ricotta puree, then sprinkled with chopped fried eggplant.
46. Core baby eggplant & stuff with rice, ground meat and spices.
47. Stuff fried eggplant with preserved tuna and serve cold.
48. Stuff eggplant with breadcrumbs, garlic and olives. Serve cold.
49. Ricotta gnocchi: make with eggplant "caviar" (roasted eggplant pulp with garlic, blended with lemon, salt and pepper, plus ricotta and parsley).
50. Eggplant cutlets: bread and bake.
51. Eggplant gratinee: slice, top with cheese and bake.
52. Ravioli stuffed with eggplant, ricotta and basil: toss with fresh yellow and red cherry tomatoes and pesto.
53. Cut eggplant into sticks, bread and fry.
54. Chickpea fritters, served with sweet and sour eggplant salsa.
55. Build a panino with grilled eggplant, pecorino primo sale, roasted tomato segments and fresh basil on semolina bread.
56. Square pizza: top with skin-on fried eggplant cubes, Sicilian oregano, mushrooms and sliced onions.
57. Sweet eggplant Parmigiana: top with chocolate, candied orange and nuts.
58. Bulgar wheat cold salad: toss with fried eggplant, cherry tomatoes and chopped basil.
59. Puree eggplant with lemon and thyme, serve with crusty bread.
60. Chicken cutlets: scalloped and cooked with white wine and lemon and topped with fried eggplant cubes.
61. Tagliatelle: serve with lamb and eggplant ragu.
62. Make a typical risotto with ground lamb, hen of the woods mushrooms and fried eggplant slivers.
63. Focaccia: top with oven-dried tomatoes, eggplant pulp, goat cheese and thyme.
64. Couscous: toss with eggplant, zucchini, carrots and potato.
65. Eggplants, potatoes and tomatoes gratinee: top with thyme, garlic, sheep's milk cheese and breadcrumbs.
66. Bruschetta: top with marinated grilled eggplant, oven-dried tomatoes and buffalo mozzarella.
67. Top eggplant with basil and pecorino primo sale. Bread and fry.
68. Make meatballs (large than polpette) with ground lamb and finely diced eggplant.