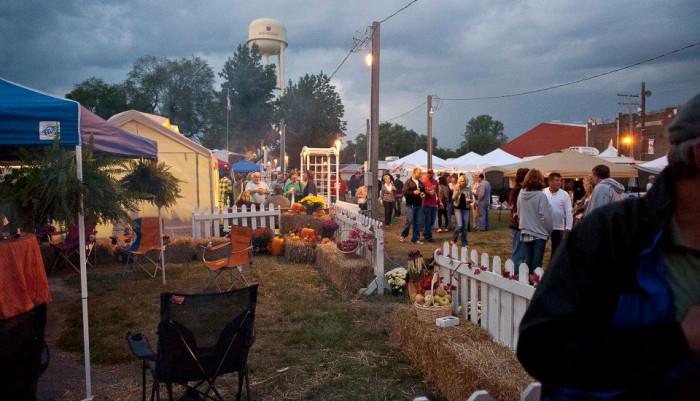 People don't usually throw nicknames like "The Legend" around lightly, but Mike "The Legend" Mills goes by his moniker honestly within the world of barbecue. Mills is a four-time Champion and three-time World Champion at the acclaimed Memphis in May BBQ Competition and also won the Jack Daniel's World Invitational Barbecue Championship in 1992.
A partner and co-founder of Blue Smoke in Manhattan, Mills also runs seven wildly successful barbecue joints in Illinois and Las Vegas. He has also garnered wild acclaim from numerous food publications and media outlets for his revered barbecue. Outside of the food press, Mills has also been featured in Playboy and four times in Vogue magazine, which we unaware even covered the smoked meat circuit.
Perhaps what Mills and his daughter Amy Mills Tunnicliffe are most proud of is their Praise the Lard Barbecue Festival and Cook-Off Competition that will celebrate its 25th anniversary this weekend, September 20-22. Mills originally started the festival to draw some notice and bring some commerce to his small hometown of Murphysboro, IL. Known as "The Apple City," Murphysboro is known for its hospitality, and that has become the hallmark of Praise the Lard which draws competitors from all over the country to compete for trophies like hand-blown glass apples and statues of pigs carved with a chainsaw by local artisans. The $17,000 first prize probably doesn't hurt either…
"In 25 years, these things ebb and flow," shares Tunnicliffe, "but this year's competition seems stronger than ever. Mills retired personally from competitive cooking in 1994, but 78 teams will be vying for the top prize this year in both KCBS (Kansas City Barbecue Society) and MBN (Memphis Barbecue Network) divisions. In addition to the prizes they will take home from Murphysboro, division winners earn coveted invitations to Memphis in May, The Jack Daniel's Championship and the upcoming World Food Championships in Las Vegas in November.
Most of the town turns out to work at and support the festival starting with a giant fish fry on Thursday night. The festival ground covers almost four city blocks and takes over the warehouse that Mills uses as the headquarters and catering operation of 17th Street Bar & Grill. Friday brings the Grand Champions Buffet where almost 1,500 people will line up to sample food cooked by the masters of the craft. Unlike many competitions, attendees at Praise the Lard actually get to eat the food instead of just watching the judges lap it all up.
The big day is Saturday which kicks off with a 9:22 blessing and toast of Gentleman Jack. Why 9:22? Because in a day with so many different competitions and separate divisions of ribs, brisket, chicken etc. being constantly cooked, turned in and judged, competitors are frantic all day. But the originator of the tradition reasoned that nobody really has anywhere they have to be at 9:22 in the morning, right? So why not have a shot of Jack? The logic is unassailable.
Eight different main categories will be contested during the day with a few other ancillary competitions thrown in for good measure in case anyone is still hungry. The day culminates with an awards ceremony at 6:00 pm and an afterparty, which stretches late into the night.
This year's 25th annual Praise the Lard plans to raise money for Operation BBQ Relief, an organization started last year by three guys out of Kansas City. They initially banded together to help out when a tornado leveled much of Joplin, MO, a town just up Tornado Alley from Murphysboro. More recently, Operation BBQ Relief provided over 34000 meals in Louisiana and Mississippi after Hurricane Isaac tore through the region.
Great barbecue for a good cause? That's why Mike Mills is The Legend.
Read more about barbecue on Food Republic: