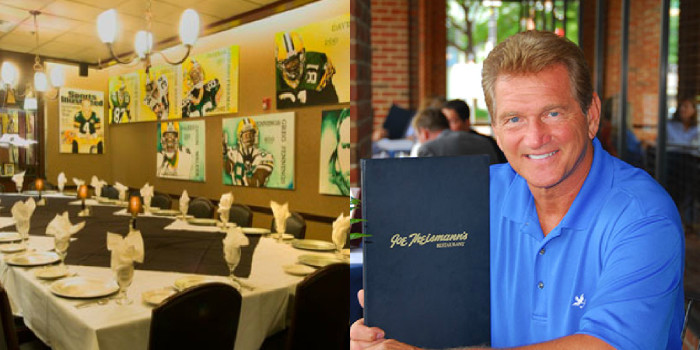 In yesterday's Kessler Report we joked about the 12 failed restaurants named after NFL players. Today we cover the best of the best, from Billy Simms to Tony "Goose" Siragusa.
You can't play football forever. Even Brett Favre realized that (though he made a return to the gridiron coaching high school football). So what does an NFL player do after he hangs up his cleats? Well, open a restaurant of course! Some of the greatest NFL players have went on to become very successful restaurateurs where they are still scoring big with their customers serving great food. Though, what's the deal with steak and barbecue?
10. Elway's
Like his game-winning drives, John Elway cannot be stopped during his post-football career. In addition to overseeing football operations for the Broncos, Elway owns car dealerships, has a stake in Nude vodka, has his own line of furniture, a fantasy football website and a steakhouse. Elway's, with three Colorado locations, is a carnivore's Utopia, serving 13 different steaks, including a buffalo ribeye, as well as lamb chop fondue. And all of the steaks at Elways "can surf" with a lobster tail or crab cake. The "surf" entrée options are a pescetarian's paradise too, including Alaskan crab legs and John's own salmon, topped with shrimp and lump crab. Multiple locations, elways.com
9. Vince Young Steakhouse
The downtrodden quarterback is still hookin' 'em in Austin. After winning a national championship at Texas, Young has had a tumultuous pro football career. Located in downtown Austin, Vince Young Steakhouse serves up food not found in UT's cafeterias. This chic steakhouse specializes in all things beef – wagyu brisket burger, something called The Perfect Ten 50 (Texas Akaushi beef) and something with crispy pork belly, veal sweetbreads and roasted bone marrow. Feel like adding some surf to your turf? How about a side of jumbo lump crabmeat or scallops? Vince Young Steakhouse even lets you add fois gras to any dish. That's classy. It appears Vince Young is better at running a restaurant than running the Titans, Eagles or the Bills offense. 301 San Jacinto Boulevard, Austin, TX, 512-457-8325, vinceyoungsteakhouse.com
8. Shorts Burger and Shine
When comparing the names on this list, you may not consider Nate Kaeding to be part of the greats, but his stats don't lie. He's one of the most accurate field goal kickers of all-time. The San Diego Charger decided to invest in his hometown in Iowa when he bought into the one-time shoeshine outpost from the 1920s. Everything at Shorts is local – the beef comes from a farm only a marathon's distance away, buns are baked daily, produce is from greenmarkets, French fries are hand-cut everyday and all 10 beers are from the Hawkeye State. For only $9, you can order any of the 20 different burgers, 12 different chicken sandwiches and even five types of vegetarian burgers. If the saying about the closer you are to Ireland, the better a Guinness tastes, then the same should be true about beef in Iowa. So indulge in a Popejoy (burger layered with capicola and smothered with melted provolone cheese and muffuletta sauce) or get egg-cited for the Dundee (topped with bacon, sautéed mushrooms, homemade garlic aioli, American cheese and a fried egg). Shorts Burger and Shine is up, and it's good! 18 South Clinton Street, Iowa City, IA, 319-337-4678, shortsburgerandshine.com
7. Billy Sims Barbecue
The former Oklahoma Sooner running back and Heisman Trophy winner continues to be a star in the Sooner state with his chain of barbecue restaurants. On gameday, order one of Billy's three Super Packs for your tailgate (Game Day, Rib Zone or Tailgater). They all come with pounds of meat and sides. You can pull apart the meat like Billy tore apart defenses. Chris Rock would love this place as you can actually buy just one rib. Billy even makes his own barbecue sauce, and is mindful of those 'cue lovers watching their sugar intake as one sauce is made without it. Multiple locations, billysimsbbq.com
6. Billy & Ike's
In addition to his barbecue restaurants, Billy Simms has become a hot dog aficionado, opening up Billy & Ike's, a gourmet hot dog and chili restaurant in Tulsa, with fourth generation Ike's Chili family member Chris "Ike" Trail. Go classic with the #20 hot dog – sauerkraut and mustard – or hark back to your elementary school days with the Bradford – hot dog topped with peanut butter, jelly and bacon. 5209 South Sheridan Road, Tulsa, OK, 918-236-4816, billyandikes.com
5. Joe Theismann's
Opened in 1975 in Alexandria, Virginia when Joe was just a third string quarterback, his namesake restaurant has thrived and evolved over the past 37 years, serving high-end, inexpensive comfort food all made with seasonal ingredients. Theismann's goes heavy on the seafood with mahi mahi with lobster risotto and barbecue shrimp to ahi tuna and grilled rockfish. Theismann's also thrives on its service, which has as much snap as Joe's leg did back on the fateful Monday night in 1985. 1800 Diagonal Road, Alexandria, VA, 703-739-0777, joetheismanns.com
4. Brett Favre's Steakhouse
Located just two blocks from Favre's old frozen tundra of a stomping ground, historic Lambeau Field, his steakhouse is plastered with memorabilia and trophies from a career that boasted over 70,000 passing yards, more than 500 touchdown passes and numerous retirements. Good ol' #4 created a menu that combines local favorites with his Mississippi upbringing – Favre's family recipe jambalaya, bayou pasta, a Wisconsin salad – as well as eight different cuts of steak. On gameday, Favre's hosts a three-hour tailgate offering unlimited food (authentic "Sheboygan" brats, burgers, jambalaya, salads, cookies) and beverages (beer, soda, bloody marys) and music, including Packer songs. You get all this for only $25. After a meal at Brett Favre's Steakhouse, you'll need to unzip your pants. Just don't text a photo of it. 1004 Brett Favre Pass, Green Bay, WI, 920-499-6874, brettfavresteakhouse.com
3. Tiffany's Restaurant
When New Jersey native Tony "Goose" Siragusa sacked his last quarterback, the former Colt and Raven brought his NFL-sized appetite back to the Garden State and became a partner in the institution that's Tiffany's. Opened by Michael Romanelli more than 30 years ago, Tiffany's has become one of the top sports bars in New Jersey, boasting more than 20 flat screen televisions in all five of their locations and making this the place to be on Sunday to watch every football game.
With that many screens you can watch the Jets try to score a touchdown from every corner of the restaurant. Tiffany's, which is known for their award-winning ribs and grandma's meatballs, also has a New York strip for only $15 on Sunday. Now that the NFL is expanding their Thursday games, head to Tiffany's for their all-you-can-eat fish fry for $11. And when the frost is on the pumpkin this fall, watch the NFL from their heated outdoor patio. 23 State Route 23, Pequannock, NJ, 973-686-6040, tiffanysrestaurant.com
2. Anthony's Coal Fired Pizza
After his steakhouse located in the Hooter's Casino in Las Vegas and in Miami shut down, Hall of Fame quarterback Dan Marino continued his quest to follow in his former coach, Don Shula's footsteps to become a successful restaurateur. With locations all along the east coast, and in Marino's hometown of Pittsburgh, Anthony's Coal Fired Pizza's 34 locations have become well-known for their well-done pies, cooked at 800-degrees, as well as their coal oven-roasted chicken wings. If the pizza is too hot to grab with your bare hands, perhaps you should put on a pair of Isotoner gloves. If you'd like to find out how Dan tastes, order the eggplant Marino, part of the restaurant's "Italian Soul Food" offerings, served family style. The eggplant Marino is also available as a pizza. Multiple locations, anthonyscoalfiredpizza.com
1. Andy Nelson Southern Pit Barbecue
Perhaps better known for his barbecue than his play on the field, 79-year-old Andy Nelson has become synonymous with barbecue in the Baltimore, Maryland area — continuously voted best in the city. The former Colt and Giant has created a Memphis-style barbecue restaurant that's filled with football memorabilia. You know someone genuinely wants you to enjoy their meat when they offer a platter called Granpa Guy's Trifecta – a half-slab of Memphis-style ribs with two side orders of more meat: brisket, pulled pork, pit beef, pulled turkey, yardbird or sliders. Wash it down with a gallon of Andy's homemade sweet tea. All of his meat is available to buy in bulk and as a "sa'M'wich." From playing in the greatest game ever played to owning perhaps greatest barbecue restaurant in Maryland, Andy Nelson has scored again! 11007 York Road, Cockeysville, MD, 410-527-1226, andynelsonsbbq.com