We Asked Greek Chef Jim Botsacos About Why He Loves Greek Yogurt So Much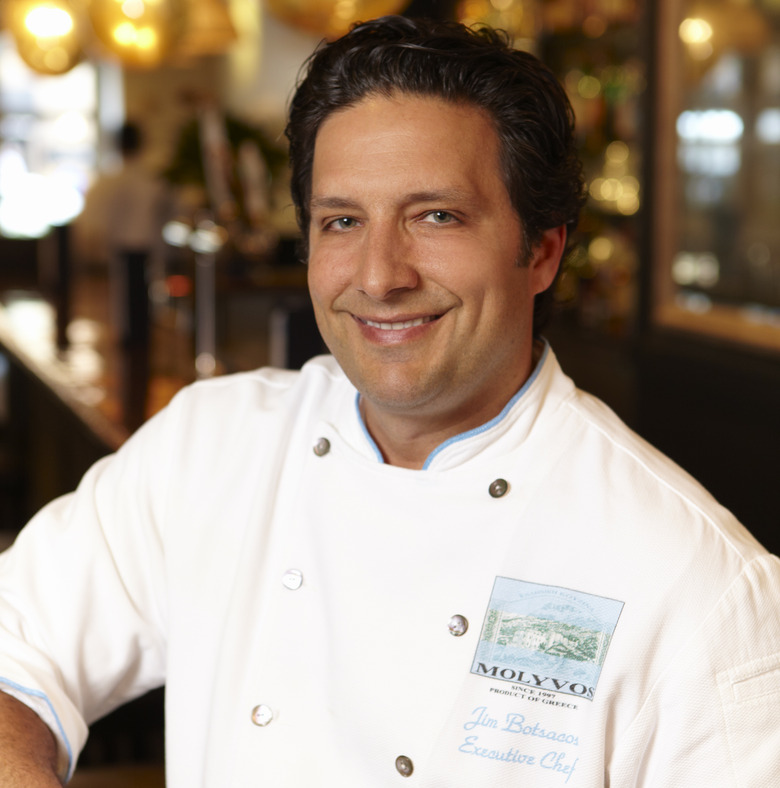 As executive chef and partner of the beloved restaurant Molyvos in New York, Jim Botsacos knows a thing or two about Greek cuisine. The chef with both a Greek and Italian background authored The New Greek Cuisine cookbook in 2006 and has worked at some of the city's most renowned restaurants, including The 21 Club and Blue Water Grill. With this being Greek Yogurt Week, we caught up with Botsacos to discuss his personal experiences with the latest food craze, as well as his use of it in several recipes.
Can you describe why Greek yogurt is that much better than other types of yogurt...
What makes Greek yogurt appealing is the rich, thick texture and its tanginess. Even when you have a low-fat or zero-fat Greek yogurt, it still has a nice, full flavor whereas other low-fat yogurts make you feel like you're missing out on something.
How often do you eat Greek yogurt?
I eat Greek yogurt almost every day, in one form or another. I'll have it with berries to start the day or with honey as a delicious mid-day snack.
Why do you think Greek yogurt has become so popular in the United States over the past couple years?
For Greeks, yogurt has always been a staple of the well-balanced Mediterranean diet. We traditionally eat it to start the day. This way of eating has become increasingly popular in the United States and much more mainstream than it once was, due to its perceived health values. Now, many well-known brands are seeking to jump on board as well, only adding to the popularity.
What are your favorite over-the-counter brands? Where do you buy your Greek yogurt?
When it comes to Greek yogurt, Fage is my favorite. Back when Molyvos first opened in 1997, Greek yogurt brands were not well-known. I would have to travel to small Mediterranean food shops in Astoria to buy the stuff. Now, it can be found in supermarkets everywhere!
Describe how you incorporate Greek yogurt into your cooking at the restaurant.
Greek yogurt is very versatile, and I use Greek yogurt in both sweet and savory preparations at Molyvos. When a recipe calls for sour cream or mayo, I use Greek yogurt instead to cut back on fats, such as in my lemon-yogurt pound cake. I also incorporate it in sauces: one example is my slow roasted leg of lamb wrap with sumac marinated onions, tomatoes, and romaine, which has a yogurt garlic sauce.
What is the most unique dish you have incorporated Greek yogurt into?
The way I incorporate Greek yogurt into my moussaka resonates the most with the Greek community. Most Greeks are used to moussaka with a béchamel sauce that is thick and laden with eggs. At Molyvos, I cool the béchamel and finish it with yogurt, for a lighter, healthy dish. It gives it a lovely tangy texture.
---
Read more about Greek Yogurt Week on Food Republic: