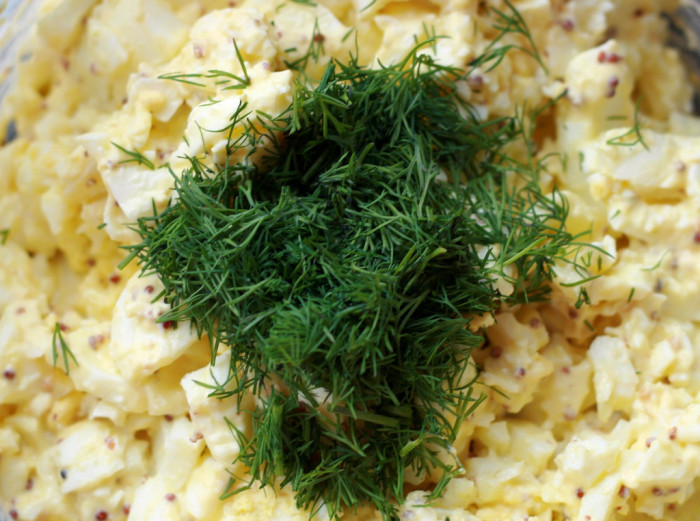 Egg salad has the single worst reputation of all the mayonnaise-based lunch salads. Egg salad sandwiches are for kids whose moms are getting back at them for something, and are a texturally boring, relatively bland way for an adult to express they have run out of cold cuts. That's is unless you're me and treat egg salad as a vehicle for more awesome stuff. I mean, you're only spending 50 cents on the eggs, might as well gussy it up, right? Get back in the fridge, dill. This is no time to be predictable.
Make yourself an egg salad sandwich you can look forward to, rather than dread, and then hate everyone else for having awesome cheesesteaks and burritos while you sit there all miserable. Grab a few slices of challah, pumpernickel or rosemary olive bread and try a schmancy new recipe. Here are a few I've had success with:
Truffle oil, lots of freshly ground pepper, finely grated parmesan and chives
Whole grain mustard and chopped swiss chard
Smoked salmon and American caviar with a little softened cream cheese mixed in
Caramelized onion and lemon zest (50/50 mix of mayonnaise and ricotta, this is an awesome sandwich)
Bacon and tomato egg salad with lettuce on top. Switching up the order of operations results in a very thorough BLT experience.
So like French toasting bread for savory sandwiches, anything that goes with eggs in theory goes in egg salad. Indian egg curry? Awesome egg salad sandwich. French croque madame? Awesome egg salad sandwich. And so forth.
More eggs for lunch on Food Republic: