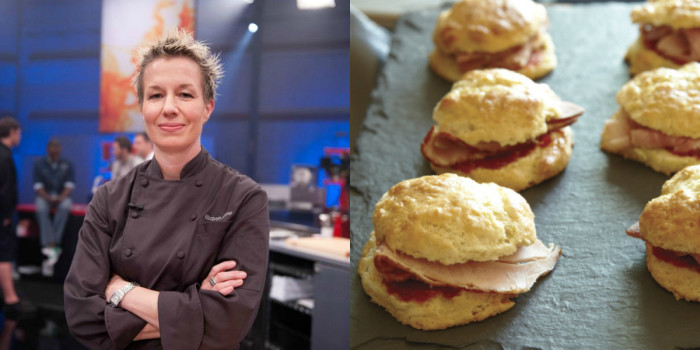 Elizabeth Falkner has a sweet story. She grew up in L.A., went to film school in San Francisco and started working in a restaurant to pay the rent. Quickly falling for food, she decided to make pastry her main gig. Eventually, she opened the cinematically-named Citizen Cake in San Francisco.
The Next Iron Chef and Top Chef Masters contestant and Top Chef, Just Desserts judge has since left the west coast to make a go of it in New York. Her new restaurant, Krescendo, in Brooklyn, makes use of her dough skills, but for a different breed of pie. It's a pizzeria, expected to open next month. We spoke with her.
You're a Californian opening a pizzeria in Brooklyn. That's ballsy.
I had Citizen Cake for 15 years and had to move it three times because of real estate issues. Orson [her other San Francisco restaurant] was a problem because of the year it opened: 2008. When I met Nancy Puglisi (of Tony's Pizza Napoletana, in San Francisco), who is from Brooklyn, she said she wanted to open a restaurant there one day. I said I would help, but soon realized you can't really "help" open a restaurant in New York from the west coast. So, I decided to do this for real. I've always wanted to live here.
Have you always been a pizza lover?
I got certified as a pizzaiolo. I've always made pizza in my restaurant…and the dough thing made sense. I've had my hands in it for years. Also, I'm in love with pasta. I went to Rome a couple of years ago with my mom and one restaurant we went to made me look at pasta in a whole new way. Like, wow, I don't even know what other people are making because this is the real deal. That's what's so cool about Italian food. It's simple and great. Three or four things put together in a really thoughtful way.
You just came out with a new cookbook. Is there much crossover with the restaurant?
My first cookbook was all about dessert. For this one, that wasn't really where I was at. I've got the gnocchi with walnut-basil pesto and spaghetti and meatballs. And grilled pizza, because that's the only way to make pizza at home, really. You need that char.
What are you loving most about being on the east coast?
The pulse of everything. Also, the history. And I love that there's so much Italian food, actually. I went to I Trulli the other day. I love Del Posto. In Brooklyn, I love Franny's and Roberta's. I'm also really lucky because my friend, William Yosses, who is the pastry chef at the White House, took me to Eleven Madison Park. It was so magical. One of my all-time favorites is Prune. I'm just eating lots of cool stuff everywhere here.
What are three items you always keep in the fridge or pantry?
There are more than three. Olive oil, flour and eggs for starters. But right now I also have anchovies, capers and a big jar of squid ink. I'm going to the little Greenmarket in my neighborhood a lot. I'm getting purslane, basil, beautiful mint and chard. The thing is that I don't know the farmers here yet like I do on the west coast.
You do quite a bit of TV. What do you like about shows like Iron Chef and Top Chef?
I'm on The Next Iron Chef: Redemption this upcoming season. It starts November 4. I like these competitions, this genre. I played competitive soccer for 20 years so I like the adrenaline of it. And I studied film in college so I love the whole process, the characters. I also think it's interesting for how it gets people talking about food. People are seeing ingredients they might not see. I hear controversial comments about how the shows aren't like restaurants. Well, they're not. But they are part of our food world.
Anything you miss from San Francisco?
I don't miss anything yet. I grew up in suburban Los Angeles and lived in San Francisco for 25 years. I love the west coast, the beaches and that stuff. But I'm excited about discovering new things here. I'm always looking for an adventure. I'm not homesick yet.
---
More chef interviews on Food Republic: