This Man Sells 85,000 Tons Of Greek Yogurt A Year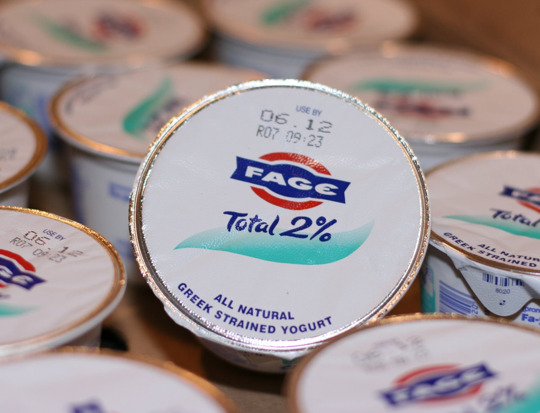 This week Food Republic is paying tribute to all things Greek yogurt, which might just be the most important foodstuff in the world right now. OK, we're a little into it for sure. First up is an interview with a guy from New York company Fage.
Fage's director of United States marketing Russell B. Evans admits that he has a bit of an obsession with his company's products. We connect on the phone at 11:30 a.m., and I ask him if he has already consumed a Fage yogurt that morning. "Oh shoot, you got me... I've already had two," he says, a prideful tone rising above his sheepish admission.
Why do you think Greek yogurt has exploded onto the scene?
Americans were moving towards eating healthier – that shift was already happening. Fage arrived and provided consumers with what they were looking for: a low-fat, low-carbohydrate, low-calorie indulgent treat, which by the way, is also good for you and tastes amazing.
When did Fage start making a move into the U.S. market?
We started exporting yogurt to the United States in 1998. We literally started flying it in to New York City from Greece. As you know, the New York consumer is very discerning, and they met Fage with great enthusiasm.
How long did it take to catch on?
It was very quick. They started introducing it to their friends, and being that New York is such a great place to start, it began to spread across the United States.
How has the production of Fage changed over the years in the U.S?
In 1998, we were importing 2,000 tons of yogurt. Very quickly, we saw that we had a tremendous opportunity, and here we are in 2012 with the capacity to produce up to 85,000 tons per year. For the last 10 years, we have been growing at 50% per year on average.
Why was Johnstown, New York picked as the base of Fage?
Johnstown is relatively close to New York City and it's near a very large supply of milk. That whole upstate region is a milk-producing region.
How many different varieties of Fage are available today?
Today we have 29 varieties.
Did you enjoy Fage before you started working at the company?
I resisted trying it at first, but once I had it for the first time, man, that was it. It's great to have a job where you love the product and also work to communicate that love to other people.
Which flavors do you usually eat?
Today, I had the cherry pomegranate 0% and the raspberry 0%. The latter is the newer and absolutely fantastic. We find that our consumers are incredibly creative, and the variety of flavors allows them to create their own indulgences that are also healthy for them.
What are some of the weird things you have heard of people adding to the yogurt?
We cherish and respect all our consumers [laughing], so I can't say that anything they choose to add to the yogurt is "weird!" I can tell you that in the recipe section of our website is the "Angelic Lemon Cheesecake," which is definitely one of our most popular recipes.
What would you say makes Fage different from other Greek yogurts?
Fage Total is a family recipe that goes back more than 85 years. It takes four pounds of milk to make just one pound of Fage Total. Our motto is that we would not serve anything that we would not serve to our own children. Fage has a very unique taste and texture. It's a yogurt like no other and it stands alone. We put tremendous care into crafting it.
Can you tell us about any products that have come out recently?

Fage Tzatziki! You'll be the first for me to talk to about this product. It has just started to come out now in New York City.
How did the idea for tzatziki come about?
Fage has tremendous institutional knowledge and products that we can draw from in Greece and from around the world. We are always looking for new products and looking to lead and innovate in the category.
So I'm sure you have heard about these Greek yogurt bars opening up in New York City. Are there any plans for Fage to open one up anytime soon?
We have some things in the works... but that is all I can tell you at this point!
---
Read more about Greek yogurt on Food Republic: