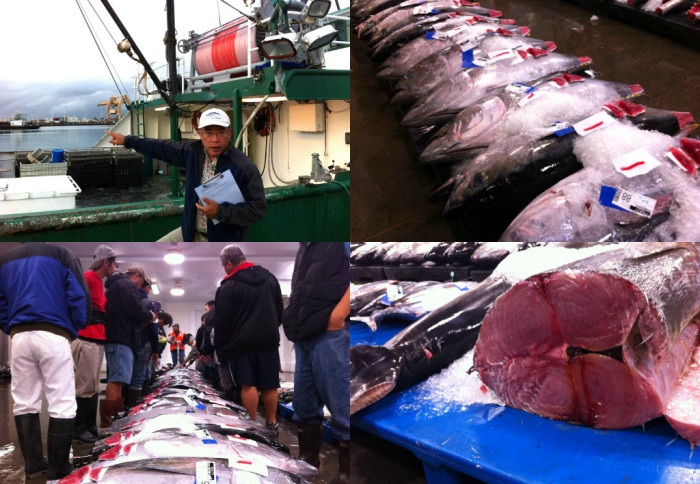 You've probably heard of Tokyo's Tjukiji Fish Market where a single bluefin tuna was sold for a record high $736,000 last year. But did you know that Hawaii has its very own version of the tuna auction? It's called the Honolulu Fish Auction and on average 50,000 lbs. of fish are auctioned off every day. That's a lot of sashimi.
The auction floor itself isn't much to look at. Just bare walls, a bunch of Hawaiian dudes in waders, and pallet upon pallet filled with fish. Outside, refrigerator trucks are waiting to rush the day's haul to nearby restaurants, fish markets and airplanes that will airlift the fishy prize to the mainland. An answer to your unasked question is yes — it definitely smells like fish. Want to bid? No worries, brah. As John Kaneko, program manager of the Hawaii Seafood Council, says, "If you've got cash, you can buy." Just sign up at the start of the auction and follow the auctioneer around from fish to fish. Make sure to wake up early, though, because the bidding starts at 5:30 a.m. You can also expect to pay a premium for your foray into fishmongering. The regular fish buyers aren't exactly the most welcoming bunch to visitors trying to horn in on their business.
The majority of the fish for sale is tuna. You'll find enormous bigeye, yellowfin, albacore and skipjack, as well as broadbill swordfish and more obscure Hawaiian fish like super flat opah and monchong. If you've never seen monchong before, just look for the fish that resembles a cartoon version of a sour old man. Buyers choose what to bid on using thick display slices cut out of each fish. They're looking for color, texture and, most of all, fat content. The fattier the fish, the better it's going to taste.
Prices for the fish start at 10 cents a pound and go all the way up to this year's record of $24.50 for #1 ahi, a.k.a. the good stuff. The auction setting actually benefits both the seller and the buyer because the market determines fair value for every fish. "It's like playing poker," Kaneko says. "If you only play when you have a good hand, you'll never win." It may help to think of this as Storage Wars with tuna.
One of the best things about the Honolulu Fish Auction is that all the fish are sustainably wild-caught using longline fishing. Only 164 boats have permits to fish for the auction and right now, only 125 of those with permits are actually fishing. In fact, the fishery was the first in the U.S. to limit entry for open ocean fishing and mandatory vessel monitoring. That means that unlike the Chinese and Japanese boats that fish next to the Hawaiian fleet, the American boats end up reeling in just 1% of their longline capacity because they won't stoop to trawling, a despicable method that involves dragging a wide net behind the boat to scoop up as many fish as possible. The boats are also limited based on how much ice they can carry. There are no freezer ships allowed in the fleet.
The next time you belly up to the sushi bar and order some ahi, take a moment to appreciate that you're at the end of a food chain process that most likely started two days earlier in the deep ocean waters more than 50 miles off the coast of Honolulu. Savor every bite because there's a lot that went into it.
---
Read more about Hawaii on Food Republic: