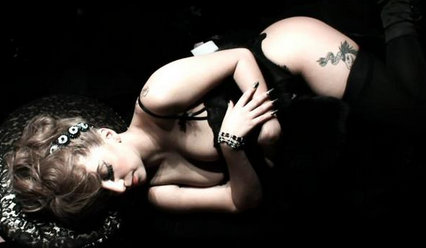 A couple of days ago, I updated you on what went down at the hottest NY Fashion Week after-parties and promised you that there would be more where that came from. Since I'm not one to break a promise (or miss out on a party), here is part two of the NYFW after-party report. The madness finally concluded yesterday, and both the 81-year-old model and I are happy to finally be catching up on some much needed zzzs.
Wednesday, September 12
The Last Magazine Party & Proenza Schouler After-Party
The Last Magazine celebrated their ninth issue at the newly renovated Pink Elephant on Wednesday night. We are not exactly sure how we feel about that venue, even after the renovation, but the guys over at Last managed to make it cool, if only for a night. After drinking away any sign of fatigue, I headed over to Proenza Schouler's after-party at Irving Plaza. Quite frankly, I can't recall much of that, other than that Belvedere was on tap. Oh, and there were a bunch of celebrities all over the place.
Thursday, September 13
Lady Gaga's Fame Launch At The Guggenheim
Lady Gaga celebrated her new fragrance, Fame, at a black-tie masquerade/performance at the Guggenheim. She mentioned that her goal was to make the perfume smell like "like an expensive hooker," and that blood and semen are "in the perfume, but it doesn't smell like it." Not shocking at all, as nothing she ever does will top that raw meat dress.
In typical Gaga fashion, the entire ordeal was over the top — from the thousands of screaming fans lining the streets, to Gaga's get-up — except the actual "performance" element, which was pretty discreet. Gaga slept. That was it. Party-goers (Alexander Wang, Yoko Ono, yours truly) watched as Lady Gaga slept inside an egg-looking crib. At that point, I got extremely jealous that she was catching up on some sleep, so I headed home and did the same, finally.
Apparently afterwards, the crowd watched as Gaga got a tattoo on her head. Too bad I missed that. Not. So long Fashion Week, till we meet again next February.