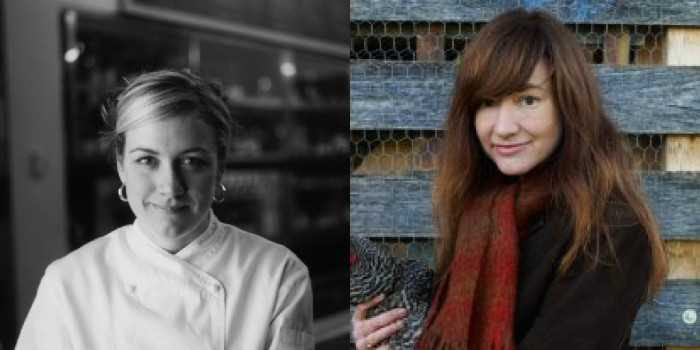 Aside from the Triangle's bustling food truck scene, the area comprising Raleigh, Durham and Chapel Hill in North Carolina boasts several impressive established and up-and-coming restaurants, many of which are quickly garnering attention throughout the Southeast.
No part of North Carolina's dining scene shines brighter than Andrea Reusing's Lantern in Chapel Hill and Ashley Christensen's Poole's Diner in Raleigh. Reusing beat out four male counterparts to win the 2011 James Beard Award for Best Chef in the Southeast, while Christensen was a semifinalist for the same honor. In addition to Poole's, a Raleigh fixture since the mid-20th century, Christensen recently launched three new ventures on a single block – a fried chicken venue, a burger joint and a basement cocktail bar. Talk about ambition. Both female-run establishments focus on incorporating locally grown produce, but the similarities pretty much end there.
Lantern
Reusing opened Lantern in 2002 with her brother Brendan. During its decade-long existence, the restaurant has racked up several impressive accolades, with inclusions in Gourmet's "America's Top 50 Restaurants" and "best farm-to-table restaurants," as well as Food & Wine's "America's 50 Most Amazing Wine Experiences." The News & Observer also named Lantern its "Restaurant of the Year" in 2009. The award givers were not joking.
Located on a peaceful block right off some of the city's busiest streets, Lantern is ideal for an elegant yet casual dinner. The restaurant has around 20 tables, all occupied on my Monday night visit and consisting of mostly middle-aged and older couples chatting quietly amongst their dimly lit surroundings.
The menu features a uniquely brilliant combination of Asian flavors and North Carolina ingredients, largely from local farms and fisheries. Any preconceived notions about the blandness of vegetarian food or ordinariness of chicken are immediately discarded as myth. The traditionally Indian chaat (crispy chickpeas and potatoes with tomatoes, pickled red onions and mint chutney) explodes with a strong, yet not overwhelming, tanginess spurred on by the fusion of various flavors. The tea and spice smoked chicken with fried rice and local beans is perfectly moist and seasoned, and is dowsed in a savory housemade XO sauce. The quality of dessert (hot chocolate cake with milk chocolate-cumin ice cream and candied crispy rice) is on par with the entrées, and while the restaurant's wine list is highly acclaimed, the handcrafted cocktails are equally as impressive. 423 West Franklin Street, Chapel Hill, 919-969-8846, lanternrestaurant.com
Poole's Diner
Opened as a pie shop in 1945 by John Poole, the historic spot has undergone a number of transformations, becoming a luncheonette in the 1950s before its latest incarnation under Christensen's current ownership. The result is the marriage of a clean aesthetic with retro-chic charm while several aspects of the original restaurant have been restored, including the double horseshoe bar and red leather banquettes.
The setting of Poole's is laidback – the packed bar in the front gives way to scattered metal tables and the aforementioned booths on the sides. I immediately ask for a non-existent handout menu, effectively making me stick out like a sore (Yankee) thumb. Diners mill about to view their food and beverage options, which are scribed on large chalkboards behind the bar and in the back of the restaurant, and change on a weekly basis. Waits for a table exceed half-an-hour on Saturday night (they do not accept reservations) and loud noise emits from the dark yet lively eatery, filled with casually clad young patrons.
During my visit the chalkboards listed a number of salads and small bites, fish and meat entrées and traditional Southern sides. Items of note include a fresh watermelon salad with local goat cheese and avocado, and North Carolina tuna, served rare on a bed of stewed local tomatoes and topped with olives. Smartly trusting the online raves, I accompany the meal with the enormously popular macaroni au gratin, which can best be described as gooey godliness. A comprehensive cocktail list includes an expertly made Old Fashioned that substitutes rum for whisky and a Milan Mule, a complex vodka drink highlighted by a distinct burst of fresh ginger. 426 South McDowell Street, Raleigh, 919-832-4477, poolesdowntowndiner.com
More North Carolina stories on Food Republic: