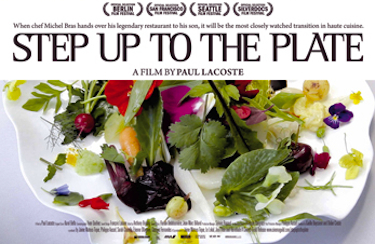 French chef Michel Bras is handing over 3-Michelin-starred Restaurant Bras to his son and protégé Sébastien after 15 years of close collaboration in the picturesque Aubrac region of south France. Get ready for Step Up To The Plate (Entre Les Bras), a fall food film that combines stop-motion plating, accordion-fueled drinking songs, vegetable marrow and pensive, existential stares at the sun setting on the horizon. The film follows the Bras family over the course of a year as executive chef responsibilities transition from father to son.
Ten years ago, filmmaker Paul Lacoste shot Inventing Cuisine, a film about Michel Bras, who had already been cooking Michelin-starred cuisine with his son for over a decade. "Maybe that's how I got the urge to make this second one on Sébastien," he says. "I sensed in him a 'vibe' which I had to do justice to, one day."
We were lucky enough to snag this exclusive clip before the film's release today in New York City. Click here to see where it's playing near you, and check out Sébastien Bras demoing a few new "culinary pathways" at Palais Royale in Paris. Francophobes and picky eaters may want to avert their eyes.
More movies and food on Food Republic: