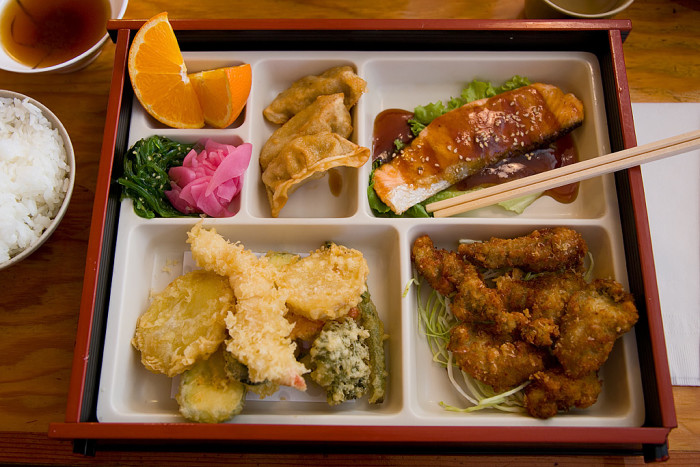 Like Philadelphia has cheesesteaks and L.A. has burritos, Portland, Oregon is famous for a delicious and convenient lunch. I didn't know until Editorial Director Richard Martin told me, having lived in Portland for a number of years himself, that bento boxes are as ubiquitous in PDX as hot dogs in New York. Or halal in New York. Or pizza in New York.
There are over 1,000 Japanese restaurants in the greater Portland area serving bento boxes, many of which feature the word "bento" in their names. Yelpers are particularly active in the bento review community, submitting detailed analyses of compartment contents and insider tips much like New Yorkers might scrutinize pizza crust blisters or praise bagel chewiness.
"The creamy teriyaki is very good, but take the chicken off the skewer and start mixing from the bottom up otherwise the sauce slides right off the grilled chicken rather than soaking in," writes one Yelper.
Another continues with great passion. "As a person who has spent time in Japan, I have finally found a Japanese food vendor that sells yakisoba prepared the way you get it in Japan! To think, living in Southern Oregon, I have to travel 280 miles to get it, but it is well worth the expenditure."
After reading plenty more of these and studying up on Portland's deep-set bento culture, I wanted to order one for lunch, but realized that for the number of pizza, bagels and Chinese spots we have, the bento is not a food experience New York has placed much emphasis on developing. I picture soggy tempura or bland chicken teriyaki, a half-order of California rolls, microwaved shumai and an awkward orange slice. But I should be picturing mixing the chicken with sauce from the bottom up so it sinks in and charmingly modest bento celebrities.
What's more, the bento trend has thrived in Portland since before food trucks. But maybe after pickling. This is no passing fad. I'm booking a ticket.
Places to try bento in Portland:
Chef Naoko's Bento Cafe
1237 SW Jefferson St., Portland
Dosirak
SW 4th Ave. and SW College St., Portland
Samurai Bento
950 SW Alder St., Portland
---
More Japanese food for lunch on Food Republic: