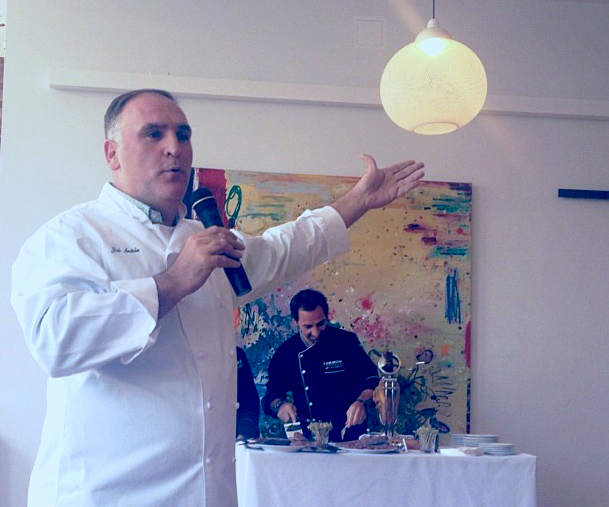 I went to an outstanding lunch at the International Culinary Center yesterday to celebrate the announcement of a new Spanish Culinary Arts curriculum debuting in February. The dean is José Andrés, that great Spanish culinary ambassador running restaurants in Miami, Las Vegas and Washington D.C. Dean is quite the title to add to Adrià alumnus, James Beard Award winner (x 2), Harvard culinary physics professor, Lady Gaga tour chef and GQ Man of the Year. So like, don't cut his class.
Along with Saveur magazine co-founder Colman Andrews, one of the country's foremost experts on Spanish food (largely responsible for popularizing Catalan cuisine in the States) and ICC founder and CEO Dorothy Cann Hamilton, Andrés has developed the 11-week program. It follows the ICC's "total immersion" method — an all-encompassing curriculum including history, language, terroir and a weeklong trip abroad with Andrés to discover "his Spain."
"My dream was to bring Iberico [ham] to America. All due respect to prosciutto, I cannot be a chef if I don't use the ingredients from my country," said Andrés of the emphasis placed on authenticity of materials and techniques the program will cover.
"I want to teach 600 dishes but we only have room for about 120," he added, highlighting the vast potential of a classical Spanish culinary education.
Want to hear all about it from Andrés himself? Check out this video from the ICC website. If you've always wanted to break into the world of avant-garde cooking world under the guidance of a world-celebrated chef, it probably doesn't get better than this. Now, about that $25,000+ for tuition.
---
More about José Andrés on Food Republic: