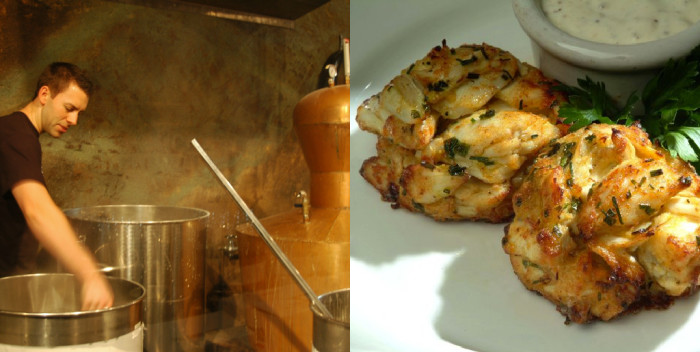 The word "quaint" is often overused as a descriptor, but for a place like Greenville, South Carolina — a town where the sidewalks of Main Street are scattered with tiny bronze mice from the book Good Night Moon for children to find and the meter maids drive Smart Cars — the term is accurate.
However, Greenville is developing a knockout culinary scene. This is actually not surprising considering Greenville's proximity to other Southern food Meccas like Charleston, Asheville and Atlanta. And the fact that the town is the US headquarters for Michelin, the folks who hand out those coveted chefs' stars in addition to cranking out tires.
The town found itself in a bit of malaise 20 years ago with the collapse of the domestic textile industry, which had formed the backbone of the economy for almost a century. Fortunately, a forward-looking group of civic planners saw the potential and sought to reinvigorate the city, and establishing a vibrant food scene was an important part of their plan.
Today, a pedestrian-friendly avenue through downtown features 99 independent restaurants in a 10-block stretch. These establishments represent multiple genres of food and price points, but at the highest end of the spectrum you can probably expect to see a few Beard nominations coming down the pike in future years.
Thanks to some cheap Southwest Airlines fares into the Greenville/Spartanburg Airport including roundtrip tickets for less than $300 from Chicago and New York, culinary tourists are starting to beat a path to the area to experience this up and coming community. Here are some suggestions on where to eat and drink:
1. Appetizers at Soby's
Soby's is the flagship restaurant of the Table 301 Group, a chain of six different establishments owned by Carl Sobocinski, a restaurateur who was one of the initial visionaries that saw the potential in downtown Greenville. The group is named after a specific table number at Soby's which looks down from the balcony directly into the kitchen and reminds employees that customers are always watching and need to be the focus of their efforts. At Soby's diners can nosh on inventive takes on Southern classics including small plates like Boiled Peanut Hummus and their signature She Crab Soup. 207 S Main Street 864-232-7007 sobys.com
2. Dinner at Devereaux's
Devereaux's is probably the finest dining in town and is also a member of the Table 301 group. Located in a century-old old cigar factory, Deveraux's contemporary menu features French, Asian and Southern-influenced dishes interpreted in a decidedly American fashion. While there are plenty of à la carte options, go ahead and splurge on the 5– or 10-course chef's tasting menu if you want to put yourself in the hands of the capable kitchen staff. Specialties of the house include scallop dumplings with tomato vinaigrette and tomato dust and a seared quail breast with marscapone risotto, shittakes and a port reduction. Matched with an extensive wine list, the Chef's Ultimate Tasting is a culinary adventure. 25 E Court Street 864-241-3030 deverauxsdining.com
3. Old-school steaks at Rick Erwin's
In the growing-hipper-by-the-minute West End section of town, Rick Erwin's is the place to go for a great steak served in the style of some of your favorite metropolitan steakhouses, but at a decided cost of living discount. The knowledgeable servers would be at home at Peter Luger's, suggesting this cut or that sauce along with the massive à la carte side dishes that characterize a great chop house. But at Rick Erwin's you might detect a bit of a Southern drawl in that server, and you might also be surprised that there is still a little cash left in your wallet after enjoying one of their excellent steaks. 648 S Main Street 864-232-8999 rickerwins.com
4. Moonshine at Dark Corner Distillery
Right on Main Street across from the remodeled Hyatt is Dark Corner Distillery, and it's a place that might fool you. Thanks to antiquated Southern liquor laws, the front section of distillery must be physically separated from the area where they make their liquor and the part of the store where they actually sell the hooch. If you don't make your way to the back of the building, you'd think dark Corner looks like the gift shop in a Cracker Barrel lobby. But then you'd miss out on the chance to sample, learn about and purchase some really interesting products, including the first hand-mashed bourbon made in the Carolinas since Prohibition. In addition to the expected fruity flavored moonshines, they also offer some really inventive spirits like a honeysuckle-infused corn whiskey and two different gins. Dark Corner's distillers are also working on some experimental single malts that should really put them on the craft distilling map. 241-B N Main Street 864-356-2736 darkcornerdistillery.com
5. Go Take a Hike!
Midway through your food orgy, you'll probably want to walk off some of those calories from all the great food. Lucky for you, Greenville has a great series of walking trails that connect various parks and greenways in town. The good folks at Michelin even donated recycled tire rubber to create miles of cushioned walking/running paths which have been named The Swamp Rabbit Trail. Greenville was also named one of the top 5 best bicycling cities in the country, so take the free hotel shuttle from the airport and don't bother with a rental car on this trip. greenvillesc.gov/ParksRec/Trails
6. Drinks at Breakwater
This West End bistro serves some creative versions of Lowcountry and contemporary Southern cuisine with Beth Shaw and Gary Lang marshaling the forces in a very busy kitchen. But don't skip the attractive bar area on your way to the table or you'll miss out on one of the most extensive wine-by-the-glass listings in town and some darned fine cocktails including the best Sazerac in Greenville. 802 S Main Street 864-271-0046 breakwatersc.com
7. Tapas at Lazy Goat
In 2009, Vicky Moore, the chef at The Lazy Goat, was named as one of Esquire's "Chef's to Watch." This import from Anniston, Alabama brought her Southern sensibilities with her to Greenville, but her cuisine is decidedly Mediterranean. In fact, she plans her menu around any country that touches the Mare Nostrum. Meals are designed to be shared, with a dizzying array of charcuterie and cheeses, creative pizzas and pastas, and a section of the menu titled "Graze & Nibble." A particular highlight of that section is the Fried Goat Cheese balls topped with pistachio dust and honey drizzle. The main courses are labeled "To Share or Not to Share." It's fine to be greedy. 170 River Place 864-679-5299 thelazygoat.typepad.com
8. Lunch at the Green Room
What at first appears to be a typical Southern tea room actually becomes very different when you notice the long bar running the length of the restaurant at the Green Room. "Why yes, I would like a chicken salad sandwich with the crusts cut off. And a pint of Franziskaner Hefe." The biggest draw at the Green Room is their iconic meat loaf, glazed with a sweet chipotle sauce and served with decadent three cheese jalapeño macaroni and creamed green peas. You might need another beer with that one. 116 N Main Street 864-335-8222 thegreenroomupstate.com
9. Dramatic Dining at High Cotton
Surprisingly, very few Greenville restaurants fall prey to attempting to be Charleston's little brother. One restaurant does pay serious homage to the cuisine of Chucktown, but it comes by it honestly. High Cotton is an outpost of the original Charleston location that also features the fresh locally sourced ingredients and Lowcountry and coastal cuisine of the mothership. Situated in a beautiful three-story space overlooking the falls of the Reedy River, High Cotton offers striking views and dramatic food. Dishes range from pan-seared duck breast with butternut squash custard to an Eden Farms Pork Chop served with 
jalapeño sharp cheddar grits, buttermilk fried okra and bourbon bacon sauce. I'll give you a moment to reread that last ingredient… bourbon bacon sauce! High Cotton's prix fixe $10 lunch is also one of the best deals in town, offering a small salad, half a sandwich, cup of soup and crème brûlée for dessert. 550 S Main Street 864-335-4200 highcottongreenville.com
10. Culinary Walking Tour
For an excellent overview of the history and culinary scene of Greenville, consider taking tour guide John Nolan's At the Chef's Table Culinary Tour. This three-hour walking tour of downtown brings visitors to five restaurants where they will not only eat their fill of excellent food with tastings and drinks at each stop, but they will also get to meet with and learn about the chefs at each location, and even see a full cooking demonstration of one dish during the tour. This is not your typical cattle drive food tour, and for only $39 you will definitely get your money's worth of food. Greenville History Tours 864-567-3940 greenvillehistorytours.com
If you need just one reason to visit Greenville, the annual Euphoria festival is justification enough. A full weekend of food, wine and music spearheaded by local restaurateurs and Greenville favorite son, singer Edwin McCain*, this event highlights the best of the town in one convenient location. Euphoria is highlighted by tasting tents, concerts and special dinners featuring local heroes and visiting celebrity chefs. With affordable special access VIP packages available to get you even closer to the action, September 20-23 is definitely the time to visit Greenville this year. Listen for the Southwest Airlines bell to go DING!
*Hey, it's not his fault that every American Idol contestant for a decade covered his songs until you were sick of them. Dude's still a rock star in his hometown.