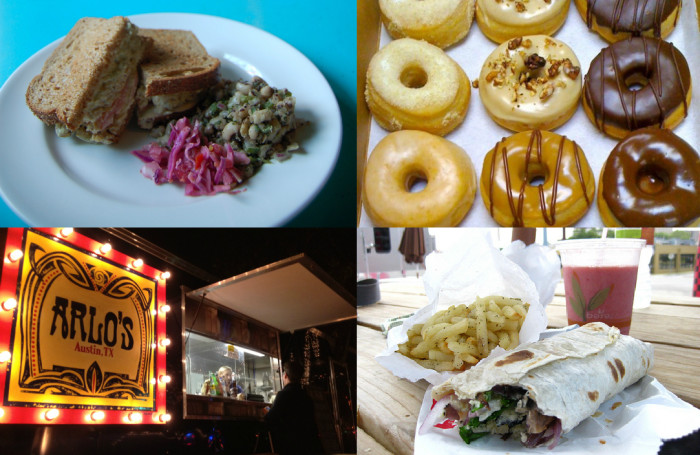 From vegan breakfast tacos and veggie bacon cheeseburgers to a worker-owned cooperative bakery that sells only vegan donuts, the veg scene is Austin is hardly a plate of heirloom veggies. (But you can get that too.)
Austin, Texas, is known as a fit town, with trails crisscrossing the city and more than a healthy dose of vegetarians and vegans. But when these Texans go out to eat, they want to tear into more than just a few shreds of lettuce. Thankfully, the capital's plant-based restaurants know how to serve up hearty comfort food. And they may even sneak a few veggies in there for Mom. Here are 16 of the most delicious spots.
FOR FAKE MEAT LOVERS
1. Veggie Heaven
Any veg visitor in good hands will be rushed to this unassuming Asian dive near University of Texas campus and quickly delivered the Protein 2000. Think textured soy protein, reminiscent of chicken nuggets, in a sweet brown sauce with steamed broccoli and green onions and rice on the side. 1914 Guadalupe, 512-457-1013, veggieheavenaustin.com
2. Vegan Yacht
Home of the infamous vegan "Freeto" pie and grilled "Freeto" burrito with tempeh chili, this food truck epitomizes the quirky Austin sensibility. With its trailer art of a mustachioed octopus riding a bike next to the words "cruelty free cuisine," the indie destination boasts sandwiches like the Mock Chick'n, smoothies made with vegan  PB&J, and a flowing tap of local kombucha.  1110 E. 12th, 512-619-7989, facebook.com/theveganyacht
3. Arlo's
Jonesing for a bacon cheeseburger? Don't drive to the nearest P. Terry's. Hit up Arlo's food truck, the sister restaurant of Nature's Express in Berkeley, and feel much better about yourself. The veggie patty is house-made and topped with house seitan bac'n, Daiya cheeze, vegan mayo and all the fixins. 1500 E. 6th, 512-628-0608, arlostruck.com
FOR FANS OF WRAPPING IT UP
4. Vegan Nom
Punk rock meets Mexican at this trailer in the hip North Loop area. And in Austin, hip can only mean one thing: breakfast tacos. Also visit for tempeh bacon, tofu scramble, alfalfa sprouts and plenty of creamy, house-made roasted chipotle sauce.  120 E. North Loop-B, 512-217-7257 facebook.com/TheVeganNom
5. Conscious Cravings
When you've had your fill of bean-and-cheese tacos, this campus trailer comes in handy. The grilled wraps are packed with hearty meat substitutes like spicy chickpeas, grilled seitan and portabella mushrooms. The quinoa salad, while minus a few greens, can serve as a whole meal. 1901 Rio Grande, 512-782-0546; 1311 S. First, 512-582-9182, consciouscravingsaustin.com
FOR FANS OF OLD-SCHOOL AUSTIN
6. Mother's Café and Garden
The best lasagna and chocolate cake in town is still trumped by the deliciousness of this Austin staple's homemade cashew-tamari dressing: Prepare to lick your plate. Also, be sure to sit in the garden by the koi pond. 4215 Duval, 512-451-3994, motherscafeaustin.com
7. Mr. Natural
This casual Tex-Mex restaurant and bakery is one of the oldest vegetarian haunts in town. Try one of their many smoothies or aguas frescas and grab a few gluten-free brownies, empanadas and cupcakes while you're at it. 1901 E. Cesar Chavez, 512-477-5228; 2414-A South Lamar, 512-916-9223, mrnatural-austin.com
8. Casa de Luz
So, we may have lied about the whole no-vegetable thing. This peaceful macrobiotic restaurant offers veggie-packed plates. There's no menu, just one lunch item and one for dinner. Think organic kale and kabocha squash slathered with tahini-based sauces and quinoa and beans on the side. 1701 Toomey Rd., 512- 476-2535, casadeluz.org
FOR FANS OF VEGETARIAN INDIAN
9. Swad
Indians and fifth-generation Texans agree: This North Austin strip-mall locale serves the best authentic Gujarati cuisine (dosas, chole bhature) at very affordable prices. The atmosphere is a far cry from comfortable, but the complex flavors and Indian grocery next door make up for it. Hint: Everything is better when eaten with your hands. 9515 N. Lamar Blvd #156; 512-997-7923
10. Bombay Express
Indian street food finds a home in North Austin here: Think kachori (fried dumplings with a spicy green pea filling and chutney on top), pani puri (bite-size shells filled with sweet-and-spicy potato and chickpeas) and, of course, samosas. The thalis are also solid. 13000 N I-35, 512-491-5055, bombayexpressaustin.com
11. Nomad Dosa
Don't think you have to hike up to North Lamar to find South Indian cuisine in the city. This newish truck at the ever-popular South Congress food trailer park wraps up gluten-free dosas for the mostly uninitiated, making them more like burritos than the traditionally expansive crepes. Be sure to get the crispy dosa. 1603 S. Congress Ave.
FOR FANS OF ROLLING RAW
12. Counter Culture
We dare you to order the Philly seitan sandwich or the Meltdown (garbanzo "tuna" and cashew cheeze on grilled wheat bread) at this 95% raw restaurant. Same goes for the Pac Man salad, with kale massaged in a creamy garlic dressing. We dare you to not finish it. 2337 E. Cesar Chavez, 512-524-1540, countercultureaustin.com
13. Beets Cafe
"Sprouted" is the word here. Check out the Just-A-Good Burger, a house-made patty of beets, carrots, sprouted sunflower seeds and magic, served on romaine with homemade veggie chips. Or try the sprouted lentil salad with tomatoes, onion, raw apple cider vinegar and crystal salt. Your skin will glow for days. 1611 W. 5th #165; 512-477-2338, beetscafe.com
14. Juiceland
With three locations, these organic smoothie-to-go shops are as close as Austin gets to a chain. The menu will overwhelm even the most seasoned superfood drinker, with 34 smoothies and 26 juices, plus juice cocktails, shots and food. The Double Rainbow Quinoa Salad will round out your sugar buzz. 1625 Barton Springs Rd., 512-480-9501; 2307 Lake Austin Blvd., 512-628-0782; 7329 Burnet Rd., 512-524-1129; juicelandaustin.com
FOR FANS OF SOMETHING SWEET
15. Red Rabbit Cooperative Bakery
Only in Austin will you find a worker-owned cooperative bakery that sells only vegan donuts. They don't have a storefront yet, so you'll have to hunt for these at the local farmers' markets, grocery stores and coffee shops around town. But the fluffy treats (no hydrogenated fats or high-fructose corn syrup!) are well worth it. For custom orders: 512-537-8546, redrabbitbakery.com
16. Sweet Ritual
Tucked inside the Daily Juice Café, this old-timey ice cream parlor with a vegan twist dishes out soft serve in sundae, shake, or just plain form. Try the Glitterbeast, a sundae with salted caramel sauce, strawberry sauce, and sprinkles. 4500 Duval, 512-666-8346, sweetritual.com