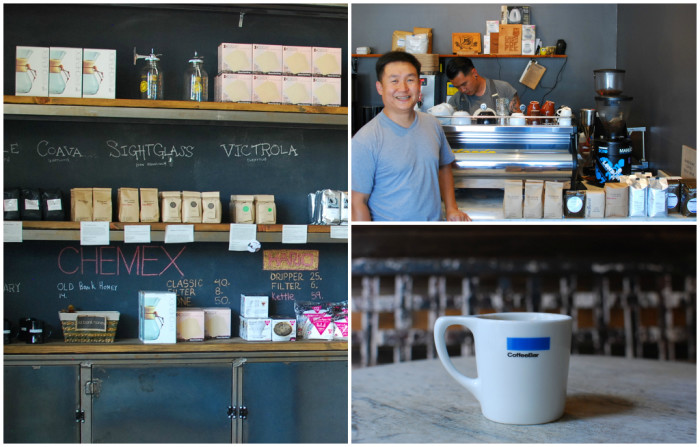 Now that more coffee roasters are opening around the United States, and their beans are easy to ship, cafes that don't roast their own are casting nets across the country to find their perfect blend. With all these beans available, cafes face certain challenges in terms of the selection process and maintaining the utmost quality.
However, when it clicks, consumers can benefit greatly from increased variety, flavor profiles and educational opportunities. Restaurants don't source wine from one vineyard, and bars don't pour beer from one brewery, so why should cafes source coffee from one roaster? In Los Angeles, 9 establishments are leading the multi-roaster charge.
Café Dulce
Café Dulce Operations Manager Frank La presides over the Little Tokyo original and a South Park pop-up. At the Japanese Village Plaza location, they rotate Stumptown and Verve beans on a regular basis, pairing espresso drinks and pourover with pastries like bacon donuts and spirulina churros. La appreciates Stumptown's deep-rooted producer relationships and Verve's specialized micro-lots. At the pop-up, he supports nearby Handsome Coffee Roasters. Finding the freshness sweet spot can be tricky given all the deliveries, but as La says, "Having a cold brew program gives us some leeway to use coffees past their prime." 134 Japanese Village Plaza, Little Tokyo, 213-346-9910, cafedulce.co
CoffeeBar
Downtown hospitality impresarios Michael Leko and Will Shamlian opened this multi-roaster café in 2011 in the Old Bank District, featuring a covered patio with marble tables, and an indoor bar with a high ceiling, reclaimed wood and blue tile walls. The crew makes collaborative decisions after cupping seasonal coffee samples from four primary roasters: Handsome, Sightglass, Four Barrel and Verve. They pull 'spro on a two-group Synesso, batch brew in vac pots and keep metal containers of cold brew by the register. They also offer the Peanut, Belly & Jelly: a peanut butter, pork belly and house-made blackberry jam sandwich. 600 S. Spring St., Downtown, coffeebarla.com
Cognoscenti Coffee
Roving coffee architect Yeekai Lim found a home behind Proof Bakery's marble countertop after testing two prior venues. He prepares espresso on a two-group La Marzocco Strada, presides over Hario V60 pourover cones, and sources beans from four different West Coast roasters: Heart, Coava, Four Barrel and Handsome — keeping in mind marked improvement and varied roast profiles. Lim trusts his roasters to send one single-origin sample per shipment. Any more could impede baristas' ability to "talk about the flavors in the cup in more detail." However, he's always got Heart's Stereo espresso and Handsome's seasonal espresso (currently Scout's Honor) on blast. 3156 Glendale Blvd., Atwater Village, 323-664-8633, popupcoffee.com
Commissary
This industrial shop at the base of a mixed-use development sticks to West Coast roasters as well, brewing Coava, Temple, Sightglass and Victrola. Tyler King and coffee lead Tav Byerhoff decide on coffees based on samples from roasters, and never exceed two seasonal coffees from any single source. A shiny three-group La Marzocco Strada espresso machine and a row of four Hario V60 cones frame the curved, copper-accented counter. They also have two grades of cold brew, a multi-roast blend and a "premium" cold brew (Victrola Kenya) that barista Aaron Stein-Chester compared to "banana bread." 801 N. Fairfax Ave., West Hollywood, 323-782-1465, coffeecommissary.com
Demitasse
Brash Demitasse owner Bobak "Bobby" Roshan has a sign outside his triangular Little Tokyo establishment that reads: "Friends don't let friends drink Starbucks." Instead, he's a proponent of rotating roasters like Handsome, Bird Rock and Augie's, plus Equator espresso, which courses through the La Marzocco GB/5. Each month, Roshan and his team double-blind-cup samples from companies as far north as Santa Barbara, and as far south as San Diego. Each person chooses their top four beans, and then Demitasse carries top vote getters the following month. They've figured out the timing, but as Roshan says, "One thing we've noticed with some customers is that they have a favorite coffee and are always a little sad when we switch it all up." 135 S. San Pedro St., Little Tokyo, 213.613.9300, cafedemitasse.com
Paper Or Plastik
This multi-faceted establishment from Yasha Michelson and wife Anya resembles an airplane hanger, with a dance studio on one side of a wall, a two-story café on the other, and handcrafted metal and wood flourishes throughout. Senior barista Andrea Galvez sources beans from Intelligentsia and Handsome for pourover and espresso. Coava fuels a custom Hario V60 pourover station that loosely resembles the Olympic rings, and Ecco micro-lots become cold-brew. They recently added a signature line of Paper or Plastik coffee, contract-roasting single-origin beans and an Ethiopia-Brazil espresso blend. 5772 W. Pico Blvd., Los Angeles, 323-935-0268, paperorplastikcafe.com
Scoops Westside
Ice cream focused proprietor Matthew Kang played around with a loaner espresso machine and Aeropress affogatos, but ultimately decided to keep matters simple, preparing precise pourover using a Hario V60 set-up and digital scales. He appreciates the light Scandinavian style roast profile of Portland's Heart and continues to have a soft spot for Intelligentsia, which roasts across town. He keeps cold brew in old liquor bottles and tops them with speed spouts. 3400 Overland Ave., Palms, 323-405-7055, scoopswestside.com
Spring For Coffee
Ken Yoshitake presides over two multi-roaster cafes downtown, including a tiny hole in the wall near the Old Bank District, and the back bar of Broadway's ambitious Umamicatessen. The original houses a La Marzocco GB/5 espresso machine and utilizes Hario pourover for Stumptown, Ritual, Sightglass and Intelligentsia coffees, two seasonal selections apiece. At Umami, his crew pulls shots of Sightglass Owl's Howl and Stumptown Hairbender espresso on a La Marzocco Strada and preps Handsome brew via Chemex and French press. Yoshitake appreciates each roast profile and seasonal differences, but won't go beyond four sources, saying: "If we bring in five or six, it will bring more chaos." 548 S. Spring St. & 852 S. Broadway, Downtown, springforcoffee.com
Tiago Coffee Bar & Kitchen
Santiago Garfunkel presides over this Hollywood café with a spacious patio and paintings of Hollywood legends lime Alfred Hitchcock and Woody Allen on the walls, fitting since the stars on the walk of fame are right outside on the sidewalk. Inside, his well-equipped coffee bar has a Nuova Simonelli two-group espresso machine, a four-cone Hario V60 pourover station, and coffee from Coava, Handsome and Intelligentsia. Barista Alex Morales prefers the challenge of dialing in so many different coffees, the unique roast profiles, and the variety. He said customers point to the grinders and ask, "What's on tap?" 7080 Hollywood Blvd., Hollywood, 323-466-5600, cyberjava.com
Joshua Lurie is the L.A. based founder of Food GPS.
---
Read more about coffee on Food Republic: