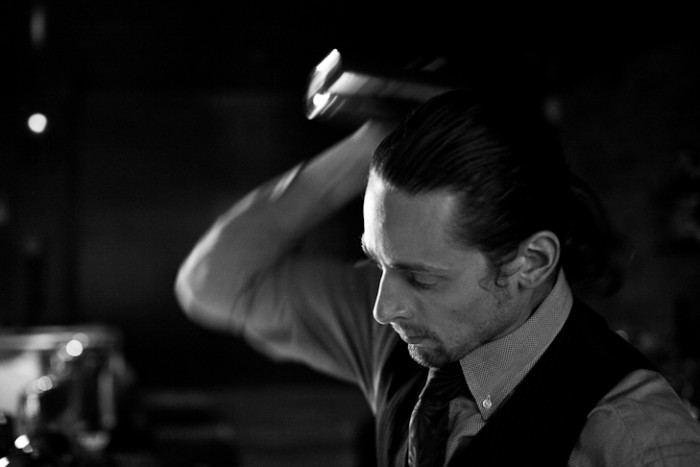 With New York Fashion Week upon us, we have style on the brain and decided to reach out to some of our favorite, and best-dressed, chef friends — to hear about their favorite designers and why it's never OK to wear chili pepper pants in the kitchen. Next up, Eric Alperin of Los Angeles bar The Varnish.
Who are your style icons?
Steve McQueen; Penelope Cruz; Sammy Ross, a bartender and friend from [New York City bar] Milk & Honey. McQueen just exuded cool and made leather motorcycle jackets an indispensable part of the male wardrobe. Cruz: Sex. Anyone remember the overhead shot in Almodovar's Volver? When she is washing the dishes in that tawdry apron. Sammy Ross? Well no one makes a drink and rocks a mullet quite like this Aussie.
Favorite brands and designers?
Diesel jeans, White Hanes T's, Converse, tailored suits from abroad. I love my herringbone three piece from India. Oh and for my lady friends…
Favorite eyewear designers?
Warby Parker. Buy a pair and they give a pair to those in need. Also Gentleman's Breakfast in Echo Park: All vintage/original frames. I have a pair of 1950's prison frames. Being a vampire and working in low light can take a toll on the eyes, so I have acquired a new prescription as of late. Glasses have been a part of my life since I was a kid. I was a 10-year-old nerd that also wore a night brace. I had to wear it to school and people would hang pens on my face. I guess that made me conscious about wearing nice specs.
Item of clothing item you would never wear?
I used to wear neon colors in middle school. We're talking late '80s/early '90s. A CB windbreaker in pink and lime neon in particular. Never again.
Your last big splurge item?
A T100 Triumph Bonneville. I had to buy $200 motorcycle boots by BED/STU to match!
What do you wear during service?
Steam punk 1920's. I'll wear vests and big collared shirts with a double windsor tie and then a studded punk rock belt.
Do you wear a fragrance?
Eau de gin. You get sprayed by cocktails no matter how clean and efficiently you work.
Do you collect anything fashion-related?
I guess I'm on a sunglasses kick: Ray Bans, Warby Parkers, Penguins, Spectacles For Humans. You absolutely need good sunglasses out here in LA. Especially around 6 p.m. when the sun is setting and you're driving west. My girl and I call it the "baby killing hour." The sun is so bright that you can barely see in front of your car while driving and if the kiddies are running around it could get dangerous. Good polarized specs keep it all kosher.
Ever traded booze for clothes?
Yes. I have played strip poker while imbibing if that's what you're asking.
Earlier: