Some Call It Apéritif, Others Aperitivo. But What The Hell Does It All Mean?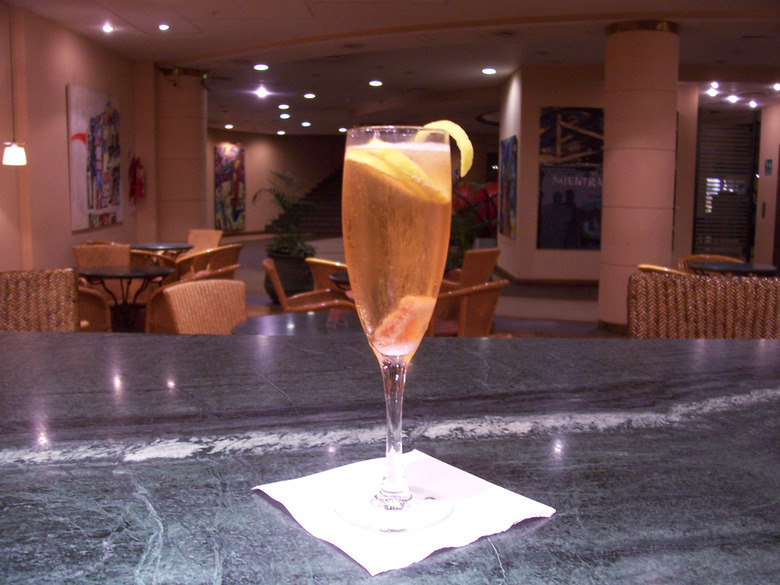 The French call it apéritif and the Italians, aperitivo. Roughly translated, the term means "to open" or "opener" and refers to an alcoholic beverage that is meant as an appetizer. This tradition is one that I am particularly fond of, as it sets the scene perfectly for dinner. Apéritifs prepare diners for the delights that lie ahead and act as the perfect transition from the day's stress to the evening's meal – in the U.S. I think you call this period of time Happy Hour.
Whatever you may call it, there are purposes to the pre-dinner drink. Plenty of different alcohols have become associated with this ritual for various reasons throughout the ages. The primary reason to enjoy apéritifs is to stimulate the appetite, and anything dry or bitter qualifies in this category. Amaros and bitters, vermouths and dry fortified wines, Fino sherries and aromatized wines such as Lillet are all very good for this purpose and can be served chilled, with a splash of soda or mixed into a good pre-dinner cocktail.
Another explanation for the custom is to stimulate the palate with a dry drink in anticipation of eating something refreshing. Champagne is a particularly good apéritif as it is dry, crisp and relatively low in alcohol, so it does not kill the palate.
I first fell in love with aperitivos while in Turin, where coffee shops by day would transform into places to sip on amaros and eat pasties before heading to dinner. This routine became a pre-dinner social occasion for me that would both set the mood and get the gastric juices flowing for the hearty Italian meal that awaited. The tradition of imbibing before the evening's meal is said to have been born with the introduction of the very first vermouth, Campano, in Italy in 1786. In France, one could argue that absinthe and its fellow anise-flavored spirits such as pastis served a similar purpose until the introduction of French vermouth and the bitter apéritif Dubonnet in 1846.
Here are some recommendations of good fortified wines, amaros and cocktails that I would encourage as good introductions to the world of the apéritif/aperitivo/pre-dinner cocktail:
Champagne cocktail
The champagne cocktail is a simple drink that consists of one sugar cube covered in angostura bitters that is placed into a flute and topped with chilled champagne. The sugar cube slowly dissolves the angostura into the champagne, combining dry and refreshing with the appetite-whetting bitters.
Another worthy champagne cocktail is the French 75. It combines gin with fresh lemon and champagne, making a great palate cleanser.
French 75
2 oz gin
1 oz freshly squeezed lemon juice
1/2 oz simple syrup
4 oz chilled champagne
Shake the gin, lemon and simple syrup with ice and strain into a flute, then top with the chilled champagne and garnish with a lemon zest.
Two of the best known and most popular aperitivo cocktails are the Negroni and The Americano. Both drinks combine vermouth and Campari, creating the perfect storm of bitterness. Another drink that accomplishes this flavor in a raw way is the Milano-Torino.
Milano-Torino
2 oz Campari
2 oz Italian vermouth
Splash of soda
Build ingredients over fresh ice into a rocks glass. Garnish with a lemon slice.
Some bitter recommendations:
Amaro Nonino is a grape-based product that uses alpine ingredients such as cinchona, gentian root, rhubarb, tamarind, multiple kinds of orange peel, quassia wood, galenga, liquorice and saffron.
Aperol is made of 16 botanicals including gentian, orange essence, rhubarb and cinchona, and has been in production since 1919.
Dubonnet Rouge is a fortified wine flavored with herbs and spices including quinine, and has been made in France dating all the way back to 1846.
La Gitana Manzanilla Sherry by Bodegas Hidalgo is a perfect dry sherry to start. Serve it chilled in a small wine flute.
Lillet Blanc and Rose are blends of fortified Bordeaux wines with citrus liqueurs. The rose also adds a mixture of some red wines and berry fruits. Serve chilled.
If you are still skeptical, a good dry martini or Manhattan always works too. Then again, when do these classics not work? Be sure to look out for my column next week about digestifs. A meal is bound to end at some point, but why should the drinking?
---
More Drink Ford Tough columns on Food Republic: