NFL Kickoff: Pittsburgh Steelers RB Baron Batch Makes A Mean Salsa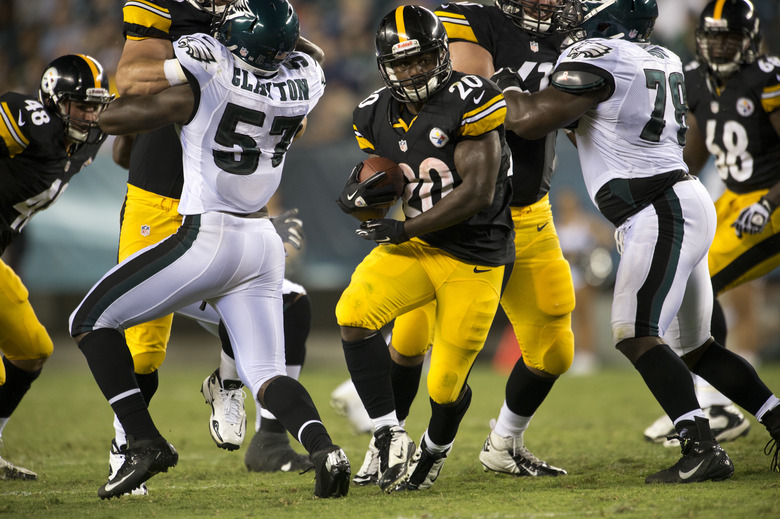 Pittsburgh Steelers running back Baron Batch is coming off a rookie year that was cut short after he suffered a torn ACL and missed the season. The Texas native and former Texas Tech back is looking to make an impact with the AFC North favorites, who start the season against the Denver Broncos and Peyton Manning Sunday night.
In a pre-season chat, Batch talked to us about his homemade salsa, his quest to find good Mexican food in the Steel City and swapping recipes with his aunt. After reading, check out his budding lifestyle site, Baron Batch: My Life & Its Happenings.
How have your eating habits changed from your rookie season to now?
In college, you eat whatever you can get your hands on and what's convenient. Now, being that it's my job to keep my body in the best shape possible, I really watch what I put in my body. I cook a lot more of my own food. And that's been the main thing. I cooked a lot in college. It's a lot more healthy stuff. A ton more vegetables. I wasn't a vegetable guy until this last year.
How did you get into cooking?
When I was younger, I'm the middle child of five kids, so you take the designated duties, and one of those for me was cooking. So I learned at a young age. When I went off to college I learned quickly it's a lot cheaper to cook your own food than eat out.
Do you remember the first dish you ever cooked?
I was always making breakfast food as a child — bacon and eggs and stuff like that for like every meal. Even now, I'll want breakfast for dinner.
When you were in college, what were you cooking?
My aunt, she's a great cook, so I took a lot of her recipes; we share recipes. For one of my Christmas presents, she gave me this huge recipe book she put together. A lot of her recipes are casseroles, salads. I started making my own dressing. And I love grilling. Anything on the grill or a smoker. I like barbecue.
That seems to be a theme among NFL players.
Barbecue is awesome. It stays for a while so you can cook a ton of it and you'll have it all week. When I was in college, I had a smoker. I'd cook whatever on it for the whole week and do that on Sundays after we were done with practice for a few hours. That was my food for the rest of the week.
What would you put in the smoker?
15-20 chicken breasts. Some sausage. Tried to keep it pretty lean. Every now and then I'd grill stuff that wasn't completely healthy like jalapeño poppers or something bacon-wrapped. You got to try this jalapeño popper. Take the jalapeño, cut the jalapeño, stuff it with cream cheese and wrap it in bacon and throw it on the grill. They're the best. That's a Texas thing.
Now that you're in camp and on a more regimented diet, are there any foods you crave?
I've always been pretty disciplined. Growing up, I didn't get into eating fast food or candy, so I don't really have a sweet tooth. If it's not candy, I'll have a piece of pie, but depending on what piece of pie you get, you can get one that's healthy. I stay away from fried stuff and every now and then, I'll create some French fries, but that's not hard to stay away from because you have to leave training camp and go to a place like Chick-fil-A to get some fries.
You ever leave camp to get food?
I don't. It's kind of pointless. First of all it's free and if it's free it's for me.
What's a typical meal for you during camp?
It's hard for me to eat a large breakfast early. When I wake up I'll get some fruit or a shake or a bar. Nothing too heavy. Lunch is my medium meal. I'll do a chicken breast and a salad. For dinner, it's after practice and I'm starving. If it looks good I'll grab it.
How is the food at camp?
It's pretty good (laughs). They have their days. The first day they had steak and lobster, the next day they had fish sticks. Oh man, that's a drop off right there! They suckered us in! It was lobster tails and steak. The next day fish sticks.
Do you have a pre-game ritual meal?
Not so much. Typically they'll have the same stuff. A pasta, a chicken. You have to get your carbs in. I'm not too picky before games. I just won't eat fried stuff before a game.
What about post-game? Does the team do anything special for you guys?
It's kind of weird. After games, I'm usually not that hungry. I'm just so thirsty. I don't get hungry until a few hours after the game's over. All I want to do is just drink water and maybe a few hours later I get hungry. Maybe there's something that goes on in your body that when you have that much adrenaline going and you're not thinking about getting hungry until after, you get off that adrenaline rush and it goes away. Or when you smell good food. That's happened a few times. In college you'd walk out and smell people tailgating and I'm like, Oh my gosh I'm so hungry. A few times, I went to go eat at one of the tailgates.
Do you have a favorite dish?
If I were going to have a last meal, it would consist of a filet mignon. I'd have it medium-rare with a loaded baked potato with Caesar salad, jalapeño poppers. My veggies would be some asparagus. For dessert I'd probably have sopapilla cheesecake. That's kind of like another Texas thing. Sopapilla is kind of like a funnel cake with sugar on top, but it has cheese inside of it and you eat it with vanilla ice cream on top.
Tell us about making your own salsa.
I've always been to making my own stuff. I make my own dressings and I love chips and salsa. That's another Texas thing. You judge Mexican restaurants off how good their chips and salsas are. That's how important it is in Texas. I always knew how to make my own, and there's no Mexican food places up north that are any good, especially from being from so close to the border. I started making my own salsa, so I have it at the house. One day I brought some up for the equipment staff and word spread to some of the players and they tried it and asked if I can make them a jar. I'd make a jar here and there for some of the guys, and now I have a clientele of guys who periodically would say I need a jar of salsa. I'm not just going to make it for you guys. You have to make it worth my while, so I started charging them. They complained, but [it's] supply and demand.
How much do you charge for them?
For a while I'd give a guy a jar on the house and they'd pay me whatever. A guy would throw me 20 or 30 bucks. It all varies. I started labeling and branding my own jars. It's my own side salsa business. The funny thing about it is, it's gotten play on Twitter and people will ask where to get some. It's like people want what they can't get. There's no specific way to getting some. Every now and then I'll just mail some to a random fan and they'll talk about how good it is and others will ask where do I buy it. You can't buy it. It has to find you.
Have you thought about forming a business and selling it in stores?
Ha ha! I don't know. Right now football is my job and it takes up enough time. I don't make it to make money. I just like people enjoying it. The other day, a girl in Pittsburgh asked if there's any way I could get some salsa. You should just bring it by the house. So I asked for her address and took it to her. When I pulled up, the whole neighborhood was out there waiting for me. It was really cool because her dad makes his own wine and limoncello, so we traded. I got a homemade bottle of wine and limoncello. I haven't tasted it yet but I'm excited. After camp I told him I'd have a celebratory drink of his wine.
What goes into the salsa?
I can't give you all the ingredients. Pretty much it's tomato-based with some green chilies. I use limes and for the peppers, I use habaneros and jalapeños. The other stuff is top secret – a lot of love and care. It's spicy. It has a kick to it. People don't understand spicy up north is different than spicy from down south.
Since you were growing up in Texas, are there any meals you miss?
Mexican food and barbecue. There aren't too many barbecue places that I found that are great. Pittsburgh has its food and up north is a sandwich king. You have those delis on point. Now I'm getting accustomed to eating at these different delis and holes in the wall and pizza joints. I wasn't into that in Texas. When I go back to Texas I gorge on Mexican food and barbecue.
What is Pittsburgh known for?
Well, they have their pierogies, which I tried a couple of times, but I haven't had any homemade ones. You need to get someone's grandma to make them legit. They're alright. I like 'em.
Do you have a favorite restaurant in Pittsburgh?
There are a few. Where I live in Pittsburgh, there are a ton of hole in the wall places. That's one of the cool things about Pittsburgh. There are so many little local places that make it really cool. There's a pizza place near where I live called Michael's Pizza Bar. It's really awesome pizza. Another place I go to is Café Du Jour. It's a Mediterranean-type restaurant that has a very cool atmosphere. I try to try a new place every week.
Are there any cities you love eating in?
Houston's always good. It's like the New York of the south. It has all the Texas food, but all the food is really good.
Do you watch cooking and food shows?
My favorite show is Chopped.
Who's your favorite TV chef?
Ah, I'd say Anthony Bourdain, but I like his stuff because of his show No Reservations. It's one of my favorite shows because I love to travel. Whenever I travel, I travel a lot for the food.
Where have you traveled recently?
I like road tripping, so this past off-season I was watching some food show, maybe it was Diners, Drive-ins and Dives. There's a place in Winston-Salem, North Carolina that has some good barbecue, so I drove down there for the day for lunch and drove back to Pittsburgh.
Do you like Guy Fieri?
I'm not too crazy about that guy, but the show is good.
Do you have a must-have cooking tool?
I'd probably say at this point my food processor, to make my salsa. That's the one right now.
You may want to send some salsa to Victor Cruz for his dances.
Ok. I may have to swing something.
---
More Food and Football: