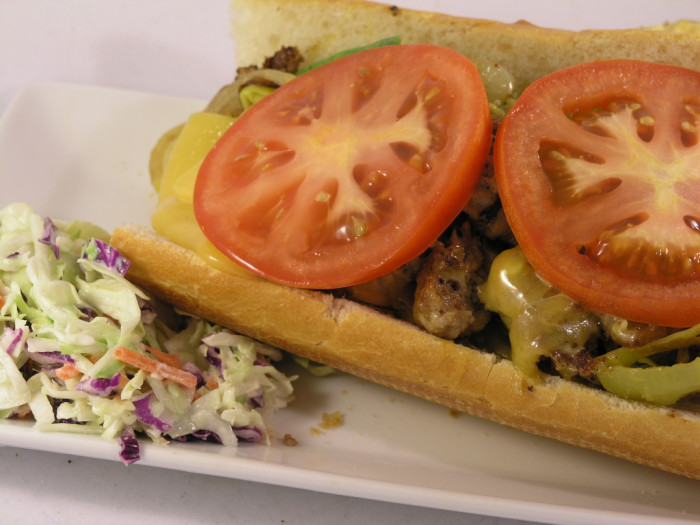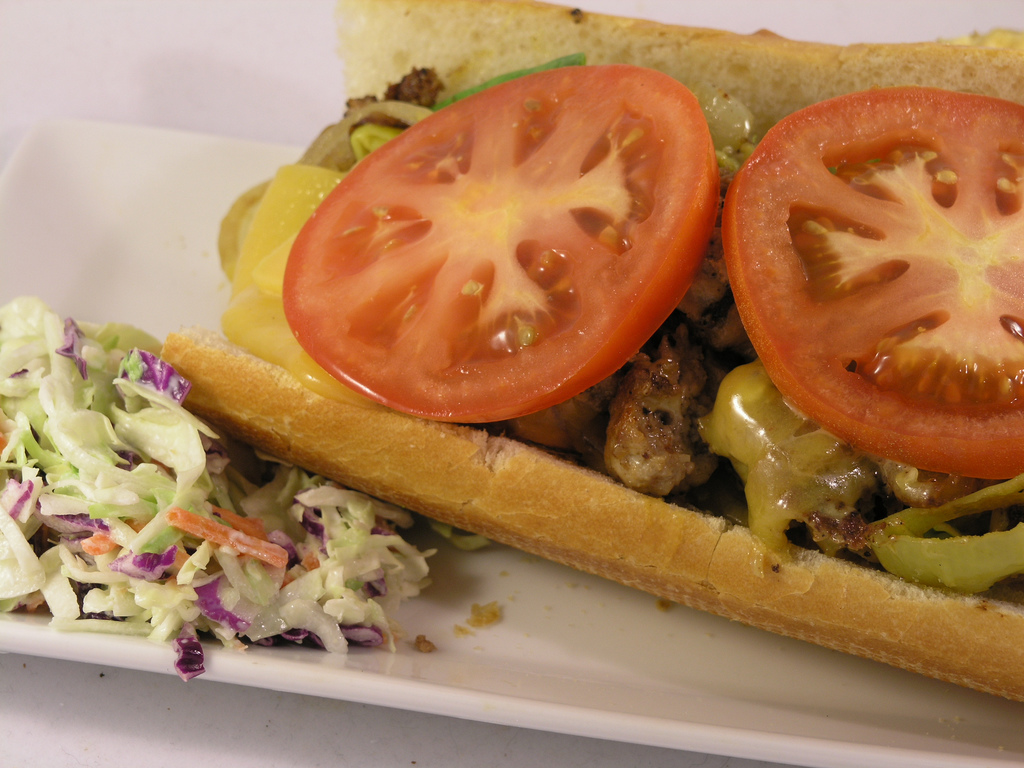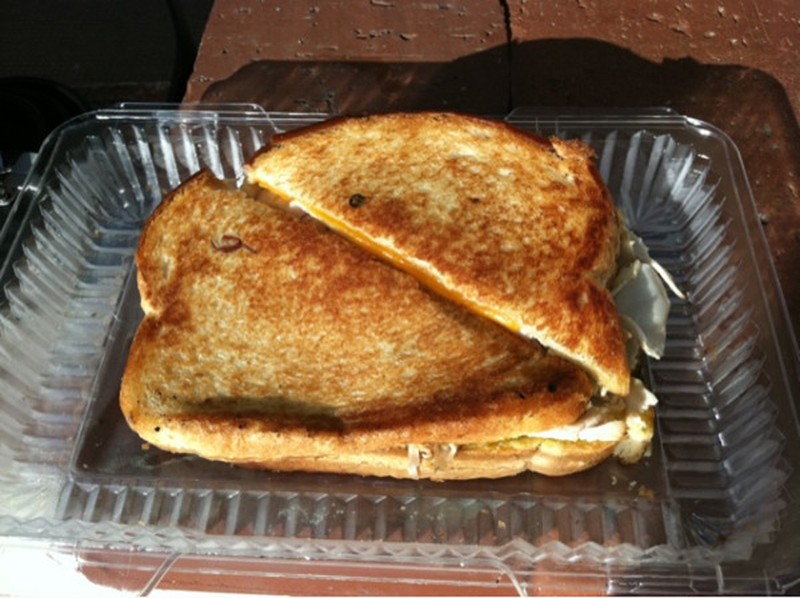 Sometimes face paint and getting a tattoo of your team's logo and dying your hair your team's colors just isn't enough to show your support. With a sport like football, where food plays such an integral part of the game from what the players eat to the art of tailgating) the next best thing to pay homage to those superstars in shoulder pads is to name a sandwich after them. Here are five of our favorite sandwiches named for NFL players (and Tebow has two!), plus a bonus dish for Drew Brees fans.
The Roethlisburger: Look, up in the sky. It's a hamburger… it's a cheeseburger… it's the Roethlisburger! This burger/sausage behemoth, named after Pittsburgh Steelers' QB, was created by Peppi's Old Tyme Sandwich Shop during Big Ben's rookie season, when he led the Steelers to a 15-1 record and the AFC Championship game. This burger contains nearly 12 ounces of ground beef, 12 ounces of sausage, and since Ben's an All-American scrambling QB, it's topped with American cheese and two eggs. Of course, when in the Steel City, squirt some Heinz ketchup on it.
Doug Flutie: Have your Hail Mary answered with this sandwich. Known for serving sandwiches named after local sports stars (Bobby Orr, Larry Bird, Ted Williams) The Fours in Massachusetts, which is one of the nation's first (1976) and best sports pubs — it now has four locations — serves up this sandwich named for the former Boston College and New England Patriots quarterback. It's a piece of fried breaded chicken breast with melted mozzarella cheese, topped with Buffalo sauce, lettuce and tomato, served on a roll. After ordering, throw another Hail Mary to see if Flutie's daughter, Pats cheerleader Alexa Flutie, will appear and feed you. Give us an A!
The Jetbow: You may need to chew for awhile after each big bite of Carnegie Deli's combo named after Jets quarterback/running back/upback/wildcat back/gratuitous shirtless trotter in the rain, Tim Tebow. Carnegie Deli owner Sandy Levine wanted to create a sandwich fitting for this "all-American boy" — 3.5 pounds of pastrami, roast beef, corned beef, cheese, lettuce and tomato. Now get down on one knee and pray it's worth the $22 price tag.
Tebowich: As if there's not enough controversy among the Jets over who should start at quarterback, the NFL Network added their own flame to the fire with sandwich-gate. This all started a year ago, way before Tebowmania took off in Denver, when Jets quarterback Mark Sanchez visited the NFL Network studio. Upon leaving, he ordered two extra turkey panini from the Huddle Café for the ride home. The concoction of turkey with green onions, cheddar cheese and pesto mayo on sourdough bread was so delicious, Sanchez tweeted a photo of the sandwiches (see bottom photo, above) and fans voted on calling the sandwich the "Sanchini." According to the NFL Network, the sandwich wound up being so "uninspiring…like Sanchez" and "underwhelming" the Huddle Café's chef searched for a year to create something new. Just one week after the Jetbow was created, the Tebowich was born. Huddle Café's chef Matz pays tribute to Tim Tebow by piling marinated skirt steak, fontina cheese, red onions, roasted red peppers, tomatoes and garlic aioli on focaccia bread. It must be nice to be a backup quarterback and already have two sandwiches named after yourself.
The Tom Brady: If you've won three Super Bowls, two Super Bowl MVP awards and married a supermodel, you should get a super sandwich named after you at a super place. What better place in New England than at Mr. Bartley's in Cambridge. Serving 7-ounce burgers since 1960 and voted amongst the best burgers in America by The Wall Street Journal, Mr. Bartley's single pat-ty is topped with cheddar cheese, guacamole, lettuce, tomato, red onions and French fries. Take that, clam chowdah and baked beans! The Tom Brady is the new heartthrob of New England's food scene.
The Drew Brees Breakfast: Not all meals were named for football players for their accolades in the pros. Former Purdue and current New Orleans Saints quarterback Drew Brees has his favorite hearty breakfast named after him at the Triple XXX Family Restaurant in West Lafayette, Indiana. Since 1929, Triple XXX, one of two remaining locations in America, has been selling the company's namesake root beer that dates back to 1895. Order a bottle to wash down what Brees would eat in college. Available 24 hours a day, the Drew Brees breakfast is two eggs cooked to order, choice of either chicken fried steak or one-third pound of Triple XXX's signature 100% sirloin, choice of fried potatoes or hash browns with sausage gravy and two grilled buttermilk biscuits.