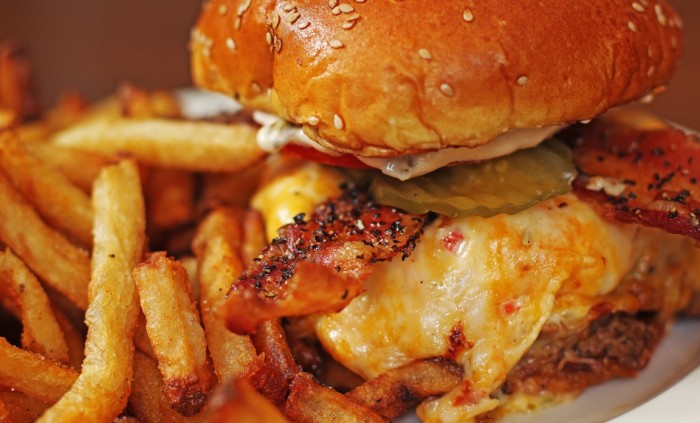 When twin brothers Jonathan and Justin Fox started cooking barbecue professionally in 2004, they operated out of Atlanta restaurant Smith's Olde Bar (not quite known for their brisket). It was a fact that they missed the Texas-style barbecue that they had grown up with and decided to take matters into their own hands. After expanding their service from one to three nights a week to meet the rabid demand of fans of their ribs, pork and brisket, the brothers decided to make the leap into their own barbecue restaurant which they named, well, Fox Brothers Bar-B-Q.
Since 2005, their business has continued to grow as they introduced more and more hungry Atlantans to the joys of Texas barbecue, in no small degree thanks to the popularity of their Fox Bros. "burger" — the double handful of a sandwich is like no other burger that most diners have ever had the lucky opportunity to tuck into.
First, they smoke a nicely trimmed, slightly fatty brisket over hickory coals low and slow for hours at 200-230 degrees. They then pile a heaping helping of the delicious meat on a buttered toasted sesame bun slathered with jalapeño mayo. The brisket is topped with tomato, pickled onions, thick-cut peppery bacon, pickles and their delectable pimento cheese. The result is a sloppy, juicy, smoky mess of a sandwich that demands that diners roll up their sleeves before digging in.
Served with some of their creative sides like a Frito pie served inside a precious snack-sized bag of the corn chips or their unique Foxaroni, a combo of Brunswick stew and creamy decadent mac and cheese, and you've got a meal that pretty much requires a nap before trying to do anything constructive the rest of the day.
Not that the Fox brothers have much time to nap. In July a violent storm blew through Atlanta and knocked down a tree with a trunk that was 70 inches around. It fell directly onto their restaurant, crushing several cars and disabling a good portion of the dining area. Fortunately, nobody was injured, although one of the company's catering vans took it pretty hard. After 40 hours of almost non-stop work, the boys were able to reopen the restaurant, proving it takes more than Mother Nature to keep a couple of good ole Southern boys down!
Fox Brothers Bar-B-Q
1238 Dekalb Ave
Atlanta, GA 30307
404-577-4030
foxbrosbbq.com
---
Most popular burgers of the week on Food Republic: