Fage Releasing A Packaged Tzatziki Sauce! Today Is A Great Day.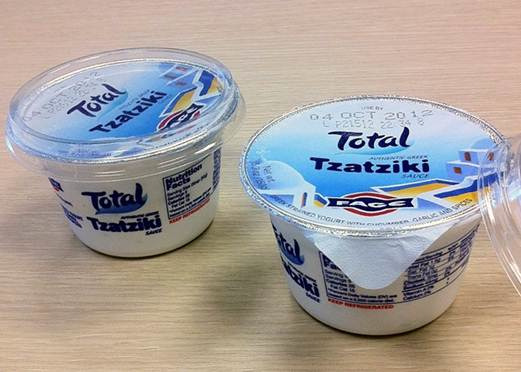 Ah, the Greek yogurt craze continues. We have already determined that Fage is the only Greek yogurt out there worth eating in an increasingly competitive market. Heck, we even investigated the story behind the soggy and circular "paper thing" in each cup. Fage is tasty, nutritious, and can even be used in a variety of recipes, like our béchamel sauce. Love the creamy product but too lazy to use the yogurt to cook with in your own kitchen? No problem.
But now something huge. Food Republic has learned that Fage is rolling out a new product in New York City: tzatziki sauce. "It tastes tremendous," says Russell Evans, Fage's Marketing Director about the release. The richly seasoned sauce, used mainly on roasted meat and vegetables, blends Greek yogurt with olive oil, cucumbers, garlic and spices.
Naturally, the traditional Greek appetizer/sauce will use Fage yogurt as its main ingredient. We also envision ourselves spreading in on warm pita bread, or eating it out of the container straight. Don't judge. Be sure to stay tuned in the coming weeks for Food Republic's full interview with Evans. And if you spot the package in a grocery store, please let us know on Twitter: @foodrepublic. That would be good of you.