Big Weekend: Copenhagen Cooking 2012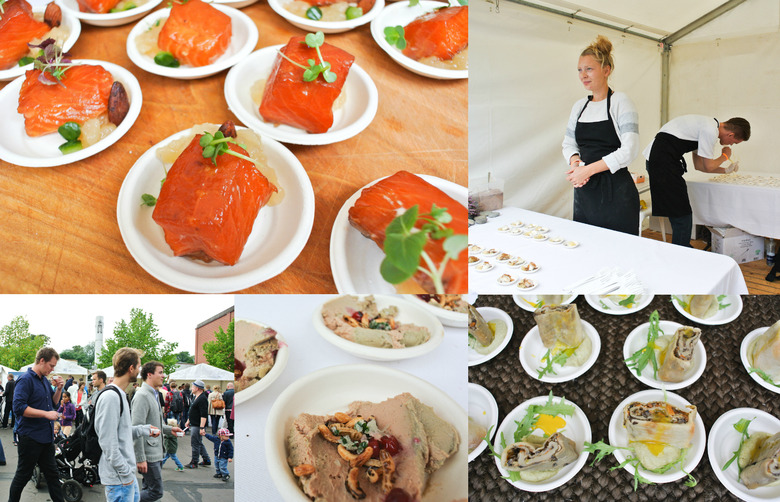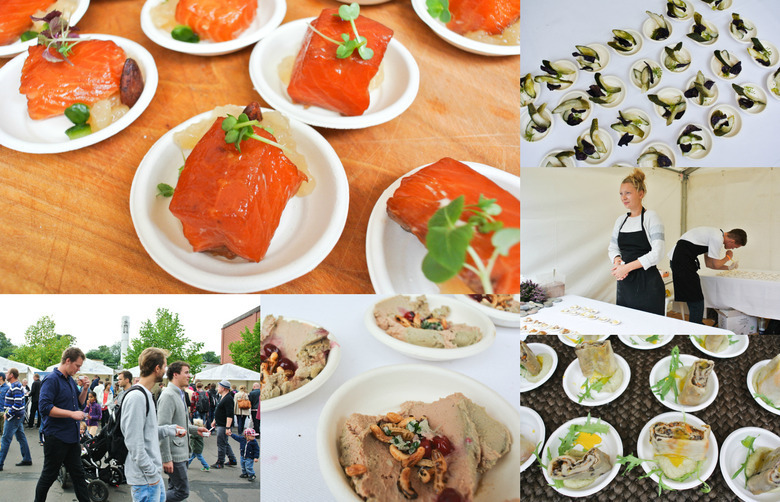 Scenes, and smoked fish, from the Nordic Taste held Saturday at the Carlsberg Brewery.[/caption]
For the past three days I have been posted up in Copenhagen, Denmark attending the 8th Annual Copenhagen Cooking festival. Unlike the splashier, celebrity chef–obsessed fêtes in the United States, CC12 was a purely Danish affair. Meaning, as I found out with great excitement: well-planned, alcohol-fueled and effortlessly cool. Plus, you may have been reading a little bit about this so-called "new Nordic cusine" thing. It's beyond legit, and I didn't even break bread at Noma (next time). Here's a report from some of the events.
Also see: At Torvehallerne Market, Impeccable Taste, Design And Smoked Scallops
René Redzepi honored at the Black Diamond
Walking into the Danish National Library, nicknamed the Black Diamond, I spotted René Redzepi driving one his many chefs around in a Christiania cargo bike while a team of local media chased in pursuit. René, a bouncy sort of guy dressed in chef's whites and apron, was on hand to received an award from Copenhagen's Lord Mayor and members of the Danish Royal Family (we all stood up as Princess Marie entered the auditorium). As Redzepi told me the day before, recognition was similar to the key to the city (though it was more a large piece of paper in a frame). The 20-minute on-stage interview was conducted completely in Danish, so I had to ask my neighbor to translate. There was a minor explosion of laughter in the crowd when Redzepi noted that he could "give or take" a 3rd Michelin star.
Afterwards we snacked on dishes presented by the acclaimed Kødbyens Fiskebar. A big highlight was a bleak roe mayonnaise, with the brightness of lemon, sprouting branches of rye sticks. Puff sugar rested atop a Riesling mousse made really interesting with lovage and freeze-dried raspberries.
Nordic Taste
The Nordic Taste, part cooking competition, part exhibition of the new Nordic cuisine, featured over 25 restaurants from Copenhagen and southern Sweden. Like the many walk-around tasting competitions I've attended in the United States, there were lines and some dishes ran out early — most notably Allan Poulsen's panko-breaded veal sweetbreads presented on a pile of freshly cut pines.
As I sat with Poulsen the night before in the cavernous salon above his Tivoli restaurant Nimb Louise, the boyish chef — one of Denmark's rising stars — casually mentioned that he eschews pepper in his restaurant. All pepper. "It's too hot," he explained while the French journalist in the room quietly shook her head. And though Poulsen was the biggest name at the Taste, held at the historic Carlsberg Brewery in the city's southwest side, the winning dish for me was a piece of hot-smoked salmon with apple compote from smoke-house Skanörs Fiskrögeri off Skanör Harbor near Malmö, Sweden.
The thick-cut hunk of fatty salmon brought together salt and campfire in a spectacular fashion. It's a dish that will forever be my benchmark for smoked fish. (Jewish deli lox will never be the same.) And there were other highlights too. Ro & Smag from Copenhagen served a savory strudel with mushrooms. Häckeberga Slott in Genarp, Sweden served a nice bite of smoked roe deer with horseradish and roasted onions. René Redzepi's Nordic Food Lab was also in the house, presenting demos throughout the two-day event.
Taste Of Copenhagen
The whole Restaurant Week promotion thing has been done over and over — around the world. It's always basically the same: Restaurants offer a discounted prix-fixe menu to diners looking to get a seat at the table of their favorite upscale joint. Restaurants, in return, fill those seats that might have gone empty during slower days. But leave it to the Danes to make the concept better. As part of the Cooking Copenhagen 2012, a number of the city's top restaurants offer heavily discounted reservations, with a slight twist. For example, Noma requires that the diners be under 20 years of age. At Kiin Kiin, the only Thai restaurant in the world with a Michelin star, you have to be a student. At Søllerød Kro, AOC and Kokkeriet, you must dine with your grandparents. So sweet.
Follow along over the next couple weeks as I recap my many visit to Torvehallerne Market, the best places to take part in the sophisticated Copenhagen cocktail scene, an interview with René Redzepi and the 14 undeniably excellent things I ate in Northern Europe's most buzzy food city.