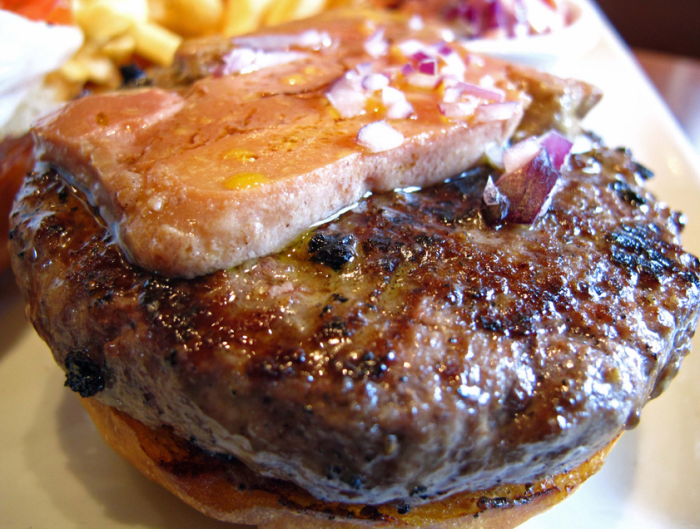 Newsflash: The French have deemed the burger très chic.
On a recent trip to Paris I spotted restaurants, pop-ups and even a food truck dedicated to the quintessential American classic: The burger. Not so long ago, burgers in Paris were not only few and far between, but (gasp!) shunned. Hard to believe, I realize, but Parisians had deemed the burger "trop Américain" and not worthy of palates spoiled and coaxed with stinky cheeses and velvety foie gras. So what's up with the burger craze? Well, it looks like the French have collectively changed their minds, joining the rest of the world on the burger-lovin' bandwagon, and even putting their advanced culinary spin on it.
How is the French burger, you may wonder? For one thing, expensive. I took it upon myself to scour every menu I laid eyes on, and noticed that not a single burger on a bistro menu came out under €13 ($16.) Pretty steep for mostly mediocre "burgies," as the French have comically dubbed them.
The bistro burgers come in all variations, of which I sampled three: There was the classic "un cheese" (cheeseburger) at Parisian diner Breakfast in America, which was a little on the dry side. Another popular burger is at hipster hotspot H.A.N.D. Although the burger itself was juicy, it lacked seasoning and was generally underwhelming. Then came the famed Black Angus burger with heirloom tomato at Ralph's, an upscale establishment inside the Ralph Lauren store in the swanky St. Germain neighborhood. This burger was the fairest of them all, but definitely not worth the €27 ($33) I shelled out.
The burger craze goes beyond the bistros. Paris saw its first food truck this winter with Le Camion Qui Fume. Kristin Frederick, a California native who graduated from culinary school in Paris, decided to take on the challenge and introduce the French to food trucks. After jumping countless hurdles, she now runs one of Paris' hottest food spots on wheels. People are waiting for hours, and shelling out €10 ($13) for the classique, a brioche bun with a thick, juicy patty, cheddar, lettuce, tomatoes, pickles and mayo. I chatted to a couple waiting in line who told me the longest they had waited was three hours, and that they stop by at least three times a week. While my campagne burger (sauteed mushrooms, caramelized onion and aged gruyère) was indeed delicious, it was not worth the 45-minute wait.
Although some burger spots like Le Camion Qui Fume and Breakfast in America are operated by Americans, others like H.A.N.D have French proprietors trying to bring a little bit of Brooklyn to the City of Lights, a trend that is apparently at its height. The New York Times ran a piece earlier this summer that set off a wave of snarkiness online, claiming that, "For many young Parisians, there is currently no greater praise for cuisine than 'très Brooklyn,' a term that signifies a particularly cool combination of informality, creativity and quality."
The burger craze made me wonder if burger bigshots like Shake Shack were queueing up for a chance to try their hyped product on the famously advanced Parisian palates. Asked about possible expansion to Paris, reps for Danny Meyer gave us the following response:
"Shake Shack has no plans to expand to Paris for the moment. For now, we are focusing on New Haven."
Fair enough.
---
More from Paris on Food Republic:
The Spot: Le Montana, Paris
5 Great Restaurants in Paris
A Frenchie In Paris