Demeyere Proline 11" Frying Pan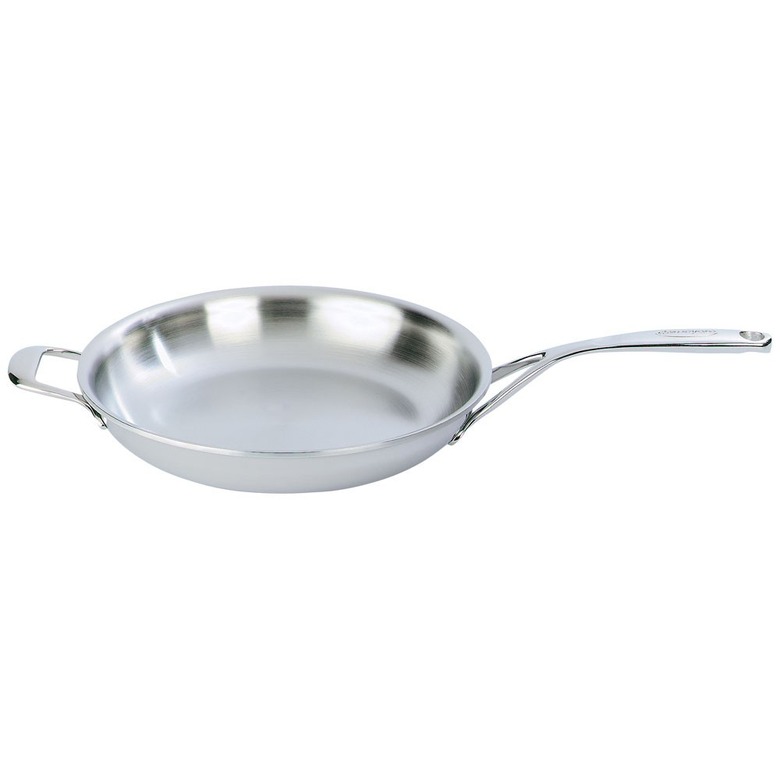 Demeyere Proline 11" Frying Pan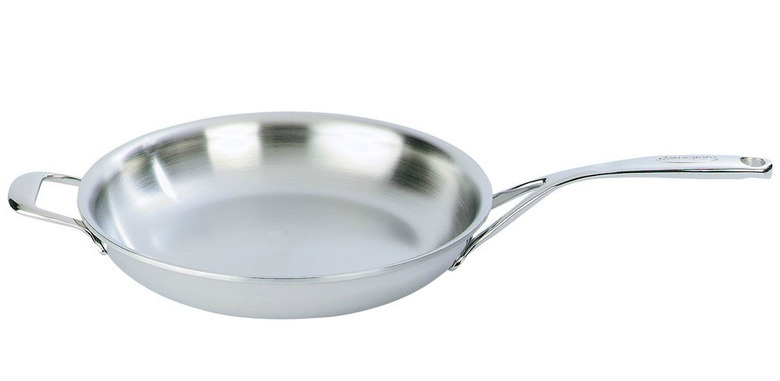 Should you upgrade to a luxury frying pan? Meet the Demeyere Proline 11-inch pan.[/caption]
It's all too easy to make a case against buying cheap pans from the supermarket housewares aisle or local big box store. They don't conduct heat evenly, the nonstick coating wears off quickly, and crappy plastic handles prevent them from being oven-safe.
It's the perfect example of getting what you pay for.
But how much is too much? Demeyere cookware, made in Belgium, manufactures fry pans that run as high was $415. The reason behind the cost is that it's constructed of a 7-ply material that includes stainless steel, aluminum, and special alloys made for induction cooktops. Demeyere literature says that the multi-layer design results in a surface with no hot spots, as well as heat distribution up to the rim of the pan.
With a current price of a mere $270, the brand's Proline 5-Star Frying Pan was worth testing against my trusty $40 Greenpan. Find out if it can turn a food from a home kitchen into a fine-dining quality meal.
Positive (+)
The size of this pan was ample, with more than enough room for two New York strips. It did heat evenly as promised, leaving a hard sear on the surface of the meat. The stainless steel handle stayed cool on the cooktop and was oven safe, making it ideal for a frittata that was started on the burner and finished under the broiler.
But the real surprise was that the pan was handy for baking projects. A satin, silver-toned finish was good for creating golden crusts (darker finishes on some cookie sheets will cook dough too quickly.)
Negative (-)
The only drawback in terms of performance was its nonstick capabilities. The Proline is meant to be nonstick without the use of a Teflon or ceramic coating, but our tests proved otherwise. Barbecue pork left burned remnants of marinade, and the whites of a fried egg glued itself to the surface and had to be pried off with a metal bench scraper. Even after a hard scrub, there was a visible stain where the protein had burned on the pan. Both problems would be solved with liberal use of butter or oil — which is the correct way to cook in the first place — but health-conscious cooks may want to avoid this.
The second issue is its hefty weight. Some might see this as a sign of quality construction, but others may not want to use and clean something so cumbersome on a regular basis.
Finally, because the pan is deep enough to cook liquids, it ought to include a lid. I happened to find an existing lid that was a perfect fit for the Proline, but it was a minor inconvenience to dig it up during cooking.
Verdict:
This is undoubtedly high performing, top-of-the-line cookware, but it's not for everyone. The fact is that my $40 go-to pan can cook vegetables or a piece of meat just as easily, and for a fraction of the price. Splurge if you'd like, but Demeyere is best suited for people with deep pockets and dream kitchens. Demeyere Proline 5-Star 11" Frying Pan; $269.95, surlatable.com
---
More product reviews on Food Republic: