Is Los Angeles Ready For A Fried Chicken Fest?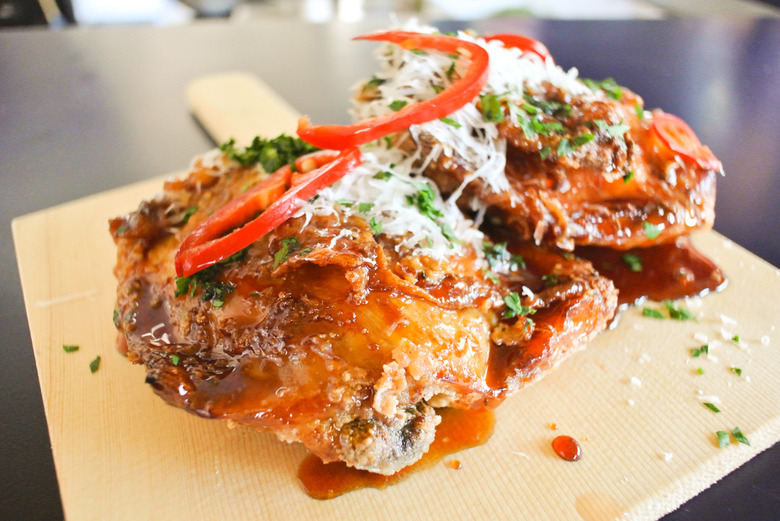 When we were in L.A. a couple weeks ago, we were impressed with the emerging downtown restaurant scene. You really should check out The Parish now. We even sipped cocktails at a rum bar hidden in a parking garage. L.A., as it turns out, is pretty badass these days. But what we didn't see a lot of was fried chicken, that ubiquitous Recession-era menu staple that sort of took over the world a couple years back.
But apparently we weren't looking close enough. Los Angeles has a pretty prominent fried chicken scene, at least this is the contention of influential SoCal blogger Joshua Lurie of Food GPS.
On Sunday he and Helen Springut are hosting the First Annual L.A. Fried Chicken Fest. Tickets are $55 and allows purchasers a piece of fried chicken and a side dish from each of the nine participating chef. "L.A. Fried Chicken Fest seemed like a natural because of the dish's versatility and because we have talented chefs in Los Angeles who can support so many unique versions, says Lurie via email. "Fried chicken is also global, and we wanted to celebrate how people see the dish around the world, whether it's through a Peruvian prism, filtered through Thailand, or made a la Morocco."
Oh yeah, the chefs. They are as follows:
Josef Centeno (Bäco Mercat + Bar Amá) 2012 James Beard Award Semifinalist, Best Chef (Pacific), 2011 James Beard Award Semifinalist, Best Chef (Pacific)
• David LeFevre (M.B. Post) 2012 James Beard Award Semifinalist, Best New Restaurant and Best Chef (Pacific)
• Mary Sue Milliken (Border Grill) Top Chef Masters Runner-Up
• Matt Molina (Mozza) 2012 James Beard Award Winner, Best Chef (Pacific)
• Bryant Ng (The Spice Table) 2012 Food & Wine Best New Chef
• Jazz Singsanong (Jitlada)
• Marcel Vigneron Top Chef Runner-Up + Haru Kishi (The Coop)
• Ricardo Zarate (Mo-chica + Picca) 2011 Food & Wine Best New Chef
The event runs from 4 to 8 p.m. at The Coop pop-up space (the former Gonpachi space) at 134 N La Cienega Blvd in Beverly Hills. Cocktail punches will be served by mixologist Josh Goldman with beers from Firestone Brewing Company. And best of all — well, just thinking about Bryant Ng's fried bird pretty much takes it — 10% of proceeds benefit Share Our Strength.
---
Read more about Los Angeles on Food Republic: