The World's 8 Weirdest Food Museums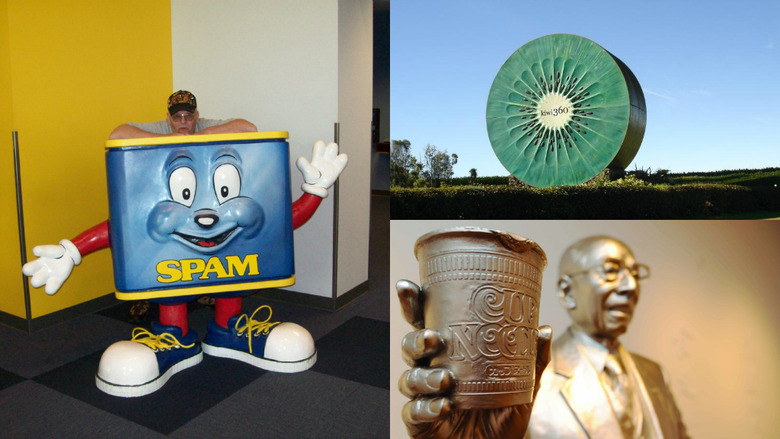 Never go to a museum hungry. The crowds, the lines, the weird buttons they make you clip onto your shirt will be all the more frustrating when you're in desperate need of a snack. It's hard to appreciate Cezanne's "use of light" when you can't stop thinking about how great a ripe pear would taste right now.
But at some of the world's most memorable museums, food is actually the focus. From the new gelato museum opening in Emilia Romagna this September to a 25-year-old Korean kimchi academy, there are entire institutions dedicated to locals' singular gastronomic obsessions.
These are strange, curious places. They are also entirely necessary stops for the voracious world traveler. Visiting a German temple to sausage or a Japanese instant ramen museum gives you both a pretty notable Facebook status update — as well as incredible insight to local culture and history. Here are the world's eight strangest food museums.
1. Bologna, Italy: Gelato Museum Carpigiani
Italy's Pink City, so nicknamed for its rose-hued buildings, leftist politics and impossibly delicious signature meat mortadella, can soon claim another culinary distinction. Manufacturer Carpigiani will open the world's first museum dedicated to the other Italian ice in Anzola Emilia this September. Highlights will include ancient gelato-making equipment, some 10,000 documents dating back to the dessert's inception in 17th Century Florence, as well as the first recorded recipe — reportedly not for a Medici-era Chunky Monkey.
2. Osaka, Japan: Momofuku Ando Instant Ramen Museum
Home to 108 Michelin stars, Osaka does not want for gastronomic prowess. Among its most influential innovators is Momofuku Ando, a Taiwanese-Japanese business giant who spent two years in jail for tax evasion, but is perhaps best known as the inventor of instant ramen. At his eponymous museum, travelers take in 40 years of product history, peruse vending machines stocked with limited-edition varieties, and even make their own customized cups from over 5,000 flavor options at the museum's My Cup Noodles Factory.
3. Bruges, Belgium: Frietmuseum
This three-story affair located in Bruges' beautiful 14th Century Saaihalle building aims to take the French out of your fries. Much like competing French and Italian claims to the origins of béchamel/besciamella, Belgian lamp collector and general eccentric Eddy Van Belle asserts his homeland to be the true birthplace of the fry. In 2009, he opened the museum to prove it. Exhibits include tuber tutorials, modern and antique fryers, and objets de spuds dating back to 15,000 BC Peru. Looks like we may have to change the name of our How To Make French Fries recipe.
4. Te Puke, New Zealand: Kiwi360
Located in the Bay of Plenty, just over 100 miles from Auckland, Kiwi360 hosts tastings, tours and even weddings on fertile grounds that account for 90% of the country's kiwifruit production. A 40-minute KwikCart tour takes visitors through a horticultural theme park of sorts, visiting orchards growing over 50 different varieties of fruit. Do not miss the museum gift shop, where you'll find several lines of kiwi beauty products alongside locally made Merino and Possum knitwear.
5. Seoul, South Korea: Pulmuone Kimchi Field Museum
For over 25 years, the Coex Mall has housed a small but thorough museum devoted to Korea's favorite fermented cabbage dish. There is a historical overview of the snack, prep tools and cookware from the different regions of the country, as well as kimchi cooking tips and nutritional benefits. Don't leave without checking out the kimchi sampling room, where a rotating cast of two kimchi per month is yours for the tasting.
6. Berlin, Germany: Deutsches Currywurst Museum
In Manhattan, the word "fusion" can bring to mind terrible mid-'90s restaurants where sizzle outsold steak. In Berlin, it equates a tasty snack so popular that the city commissioned an entire museum in its honor. Mitte's currywurst museum opened in 2009 to commemorate the 60th anniversary of the dish, first created by inventive Berliners who combined local pork sausages and ketchup with the curry brought over by U.K. troops.
7. Alkmaar, the Netherlands: Dutch Cheese Museum
Alkmaar's cheese ties are so strong that, like their Green Bay brethren in the New World, local residents are called kaaskoppen, or "cheeseheads." The city is home to one of only four traditional Dutch cheese markets still in operation today, and the accompanying museum is dedicated to Alkmaar's past five centuries of curds and whey. Highlights range from well-known Dutch exports such as Edam and Gouda to local specialties like Frisian Clove Cheese.
8. Austin, Minnesota: The SPAM Museum
Affectionately (and awesomely) dubbed the Guggenham, this 16,500-square-feet cathedral of canned meat is located in SPAM central, alongside parent company Hormel's corporate headquarters. Exhibitions range from a short film titled "Spam... A Love Story" to cooking tips to an actual letter from actual former U.S. President Dwight Eisenhower, who thanked the company for keeping our troops well fed during WWII. Ain't that America?
---
More magic eight lists on Food Republic: