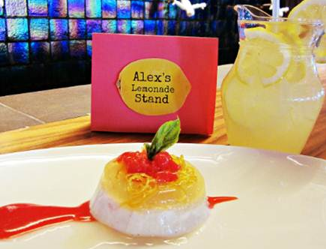 Today, a number of restaurants from around the country will donate all proceeds from the sale of lemonade to the Alex's Lemonade Stand Foundation, an organization that raises money to fight childhood cancer. In 2000, a 4-year-old cancer patient named Alexandra "Alex" Scott set up a lemonade stand to raise money to help find a cure for childhood cancer. The charity, started in memory of the late Scott, has raised over $55 million towards this goal to date, funding more than 250 national pediatric cancer research projects.
With today being National Lemonade Day, a number of restaurants have pledged their support. Hill Country's New York and Washington D.C. locations are participating, while NYC's Silverleaf Tavern is serving five lemon-inspired cocktails today to benefit the charity.
The cocktail of the month at NIOS in New York is a fresh lemon juice-based Red Island, with all proceeds from the drink aiding the foundation.
All Rosa Mexicano locations nationwide are also involved, and pastry chef Jai Kendall has crafted a "lemonade jello," available for the month of August, to commemorate the restaurant's ongoing partnership with Alex's Lemonade Stand Foundation.
With several restaurants already supporting the cause, the foundation is expecting others to get on board to raise money. Individuals can make donations to Alex's Lemonade Stand Foundation by visiting its official website, or by purchasing lemonade (and spiked lemonade drinks or lemonade desserts) today from one of the participating restaurants.