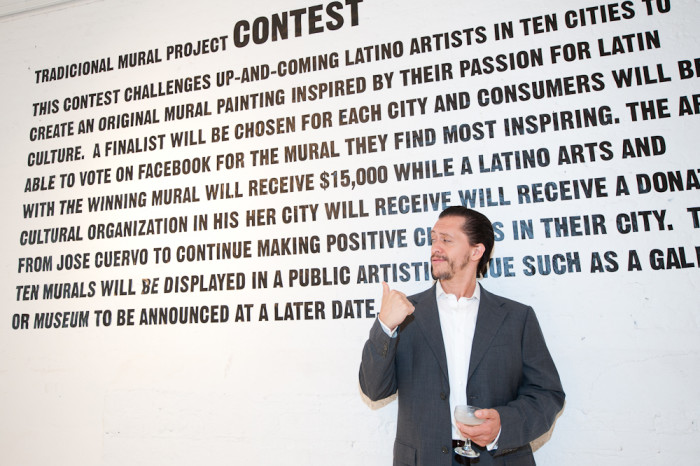 Actor Clifton Collins Jr. has got range, from his acclaimed role as gay hitman Frankie Flowers in Traffic to playing a Romulan in the latest Star Trek installment. He's also worked as a music video director, having directed two videos for country crossover act Zac Brown Band. The vid for the song "Chicken Fried" got our attention in particular because, well, anything relating to fried chicken gets our attention.
We checked in with Collins while he was in town to kick off a unique partnership with Jose Cuervo Tradicional. The Mural Project brings together Latin artists from around the country, who will complete murals to be voted on by Collins and the public via the brand's Facebook page. The winner receives a $15,000 grant and a $15,000 donation by Jose Cuervo to a nonprofit arts organization in his/her community.
We asked the actor for his food rituals and for the last time he did a tequila shot.
The first thing to hit your lips this morning was…
Water, then coffee.
Is there a food that you just can't look at?
Baby calf. In general, I stay away from veal and if I'm dieting, I stay away from carbs.
You directed a video for a song called "Chicken Fried." So on the topic of fried chicken, what's your favorite spot in the world?
The "Chicken Fried" music video for the Zac Brown Band was actually more about being grateful for the simple things in life than an actual "chicken" per se. Regarding the best chicken spot in the world, I'm probably not the best judge for this as I have not sampled from all the great chicken places. I can say that locally here in California, I do enjoy the garlic chicken at Versailles quite a bit.
Do you have any food rituals before filming scenes?
I don't personally know any actors that use a "food ritual" as part of their foundation before filming a scene. If you're doing a night shoot and you're tired, maybe a cup of coffee.
Last time you did a shot of tequila?
I did a shot of Jose Cuervo Tradicional Reposado at the launch of the Tradicional Mural Contest.
Favorite food to pair with tequila?
Any Mexican food goes well with good tequila.
---
More interviews on Food Republic: