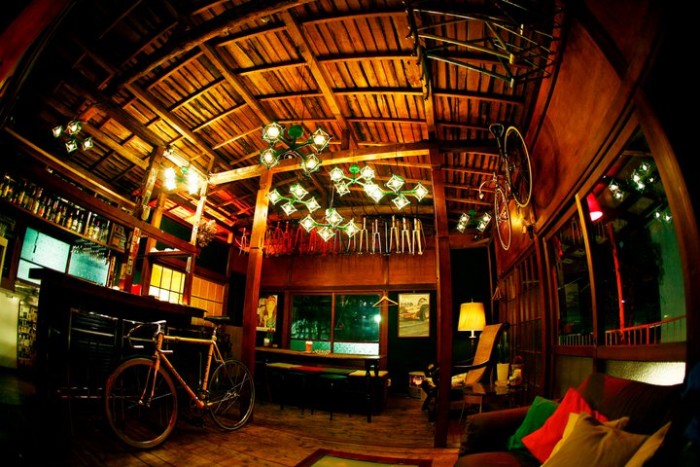 Every bon vivant enjoys great food, wine and, of course, a night on the town. From where to eat in what city to what to wear for every occasion, Food Republic's got you covered when it comes to food culture. That's why we've decided to launch The Spot, a weekly nightlife column where our nightlife insider will traverse sea and land (and velvet ropes) to bring you what's new and noteworthy in the world of nightlife from New York City to Tokyo.
The Location
Kinfolk Lounge Tokyo
上目黒 1−11−1(2F)
目黒区, 東京都 153-0053, JAPAN
Website
The Scene
A mix of international travelers, bike enthusiasts, local regulars and designers make up the hip crowd at Kinfolk Lounge. The somewhat hidden, intimate cocktail lounge is part of Kinfolk Studios, an international design studio that was started by six friends who had a vision of building their dream bicycles. They thought that if they built high-quality, aesthetically minded bikes, chances are other people would want them too. They were right on the money.
Since Kinfolk opened its doors in 2008, the studio has grown to include two locations (Brooklyn and Tokyo) in addition to the Kinkolk Lounge, and two rotating restaurants in the Brooklyn location: hotspots Yuji Ramen and Scandinavian pop-up Frej. The lounge in Tokyo is the perfect spot to sip the bartender's signature Ginger Mint Mojito while sitting under a racing bike that hangs from the ceiling and chatting to creative people from all over the world.
The Music
A mix of soul, funk, slow disco and electronic music make up the repertoire at Kinfolk Lounge. On Mondays, Kinfolk holds a Poker Night where the music is more mellow. Other nights feature mixes made especially for the hot spot.
The Drinks
The signature Ginger Mint Mojito was our drink of choice at Kinfolk. The bartender was not afraid to put the right amount of ginger into the cocktail. It was spicy enough, pungent, and not too sweet.
The Food
While the Tokyo location does not serve food, Kinfolk is located in Nakameguro. The fashionable district is home to several delicious late-night dining options.
The Door
The door policy is pretty relaxed, and the atmosphere welcoming. The Lounge opens from 6 PM till 12 midnight, giving you the perfect excuse for drinking at 7 PM on a Wednesday. If you stop by during the weekend, try making it there before it's too late as the place can get packed.
More Spots from Food Republic: