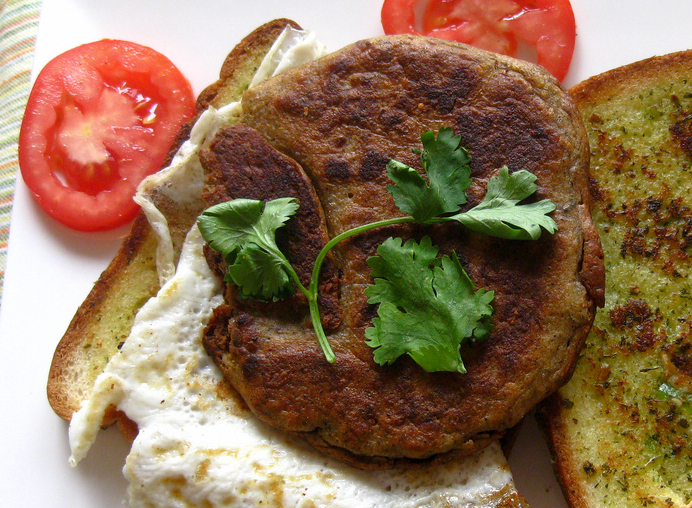 Have you ever experienced a bout of vegetarian food so delicious you forget there's no meat in it? The dog days of summer are the perfect time to load up on all the veggies you'll be replacing with meat come winter, and this vegetable cutlet recipe is at home in a bun or as a side dish for grilled chicken or shellfish.
The Indian spices liven up the vegetables, while the crisp exterior and creamy interior provides a pleasant comfort food effect. Speaking of comfort food, I like these best with a little ketchup hacked in the following manner: 1/2 cup ketchup, 1/4 teaspoon garam masala, 1 clove finely minced garlic.
3 medium potatoes, boiled
½ cup cooked peas
½ cup carrots, chopped finely and boiled
½ cup French beans, chopped and boiled
½ cup cauliflower, chopped and boiled
2 green chiles, chopped finely
1 tablespoon flour
1 teaspoon cornstarch
¼ teaspoon freshly ground black pepper
1 teaspoon garam masala
½ teaspoon very finely minced ginger
1 teaspoon Kosher salt
¼ cup semolina
Canola oil, for frying
1. Peel and mash the potatoes.
2. Combine the potatoes, peas, carrots, beans, cauliflower, chiles, flour, cornstarch, pepper, garam masala, ginger and salt in a large mixing bowl.
3. Shape patties with a greased hand, dredge in semolina, and fry until golden brown on both sides, 3 to 4 minutes.
4. Drain on paper towels or, if you want to go completely authentic, yesterday's Times of India.
I had these humble patties for the first time as a little kid in one of the bougiest places on earth: Bombay's Willingdon Club, India's first country club. It famously used to boast a sign on the door that said "No Dogs Or Indians," and now my grandfather is one of its oldest members. He says these are "pretty good." I say they're pretty easy to make, freeze nicely and make a killer masala burger with some fresh cilantro and hot sauce, a truly awesome perch for a poached egg and a perfect solution for the impromptu visiting vegetarian.
More Indian food for lunch on Food Republic: